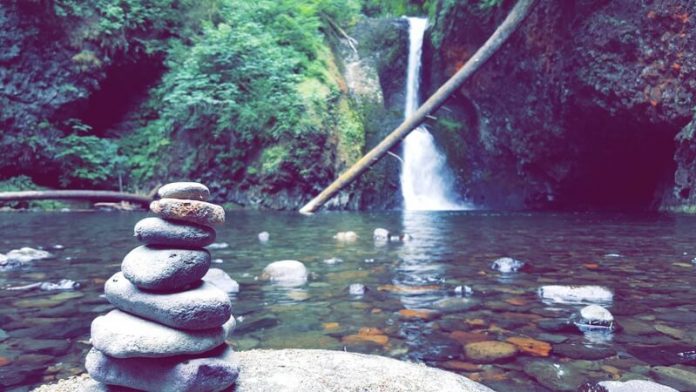 Pros: 2 impressive waterfalls. Plus an extra one just a few miles away (Abiqua Falls). Swimming & Cavern.
Cons: Short hike, remote, Access road was tricky to find just off GPS. Read directions above.
Adventure Details

Difficulty: Easy
Length of Hike: 0 – 1 mile round trip
Distance from Portland:1.5 hours
Elevation Gain: 150 feet

Seasons: Year-round.
Use: hikers
Road Conditions: Gravel
Swimming: Yes, in the summer.
Bathroom: Yes, outhouse at the parking lot.
Overnight Camping: Yes, there is a nearby campground, just keep following the gravel road past the falls.
Region: Willamette Valley, OR
Congestion: Low
Preferable Season(s): Spring, Summer, winter, fall
Day-Use/Parking Pass Required: No
Dogs allowed: Yes
Upper and Lower Butte Creek Falls are a great place to visit on a hot day. Enjoy a brisk yet stunning hike down to the water from the parking lot. Best of all, there is never that many people there, If any. Both upper and lower falls are an easy quarter mile from the parking lot, if that.
Getting there can be tricky, GPS to Crooked Finger Rd NE Scotts Mills, OR 97375.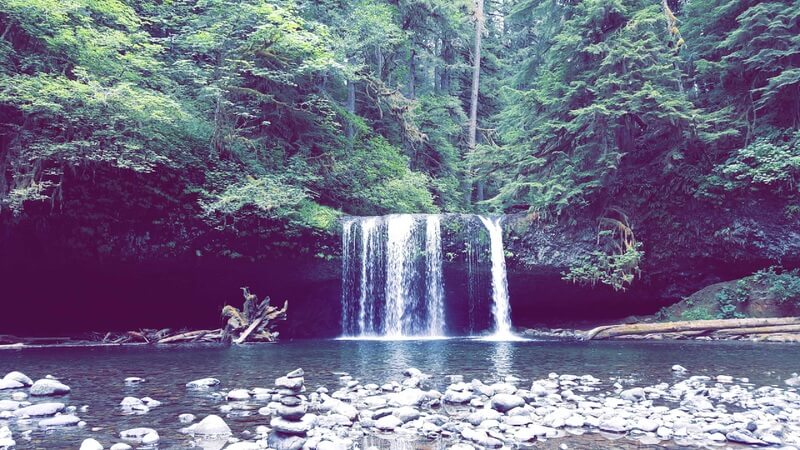 It's a nice 1 hour and 30 minute drive from Portland on back roads in wine country. In fact, you just might drive right by St. Josef's Winery — if you do you should check them out. Beautiful winery and great wine. It's a perfect post-hike reward.
When you get to Crooked finger road drive down crooked finger rd for about 9 miles until it becomes a gravel road. Right before it turns to gravel you will pass Camp Dakota http://www.campdakota.com/ This place is amazing! They offer yurt rentals, RV sites, tent sites, teepee rentals, cabin tents, and group camping sites. But best of all are the Activities they offer, like zip lines, high ropes challenge course, paintball, a rock climbing wall, high adventure programs, team building programs, gold panning, treasure hunting, and an 18 hole disc golf course. This is the perfect place to post up for a weekend getaway with more than 10 falls just a few miles away.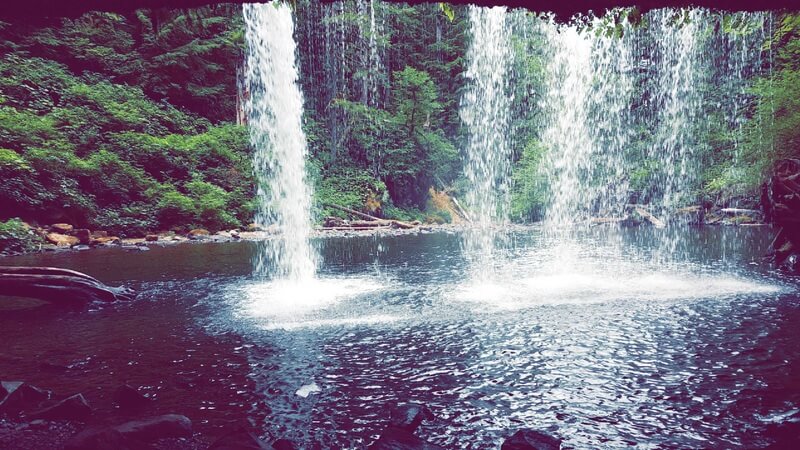 So when you pass Camp Dakota continue down the road for about 2 miles until you see a small sign on the left pointing to Butte Falls. Follow that road for about 2 more miles and you will end up at the parking lot with restrooms. NO parking pass required!
Now if you noticed on the gravel road on the right before turning left to get to Butte Falls, there is a sign that says ATV staging area. That will take you to the more impressive Abiqua Falls. More on that hike soon.
Oh, and did I mention Butte falls are located just 5 miles north of Silver Falls State Park!? So make a day of it and see as many waterfalls in a day as you can. And as always, please remember to leave no trace. Always leave the trial better than it was before you got there.