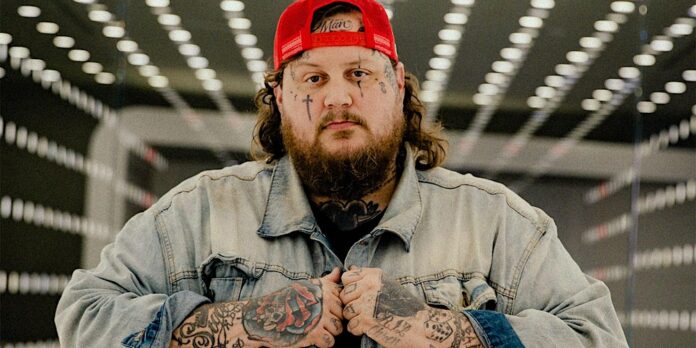 Bend, Oregon is in for a musical treat as one of hip-hop's unique talents, Jelly Roll, is gearing up to bring his celebrated "Backroad Baptism Tour" to town. And guess what? He's not coming alone. The electrifying event will feature Struggle Jennings and Caitlynne Curtis, with the evening's festivities emceed by the hilarious comedian Josh Adam Meyers.
For those not familiar with Jelly Roll's artistic journey, it's a rich tapestry of collaboration and musical evolution. One of his groundbreaking collaborations, "Pop Another Pill," performed with Memphis rapper Lil Wyte, garnered over 6.3 million YouTube views. This partnership paved the way for the album "Year Round" by the hip-hop group SNO, launched on the Hypnotize Minds label in April 2011. Produced by renowned artists DJ Paul and Juicy J, SNO's track "Come Here White Girl" was even spotlighted by XXL as one of "The 10 Most Memorable White Rapper Collaborations."
Sign up for monthly emails full of local travel inspiration and fun trip ideas. In each newsletter we'll share upcoming events, new things to do, hot dining spots and great travel ideas.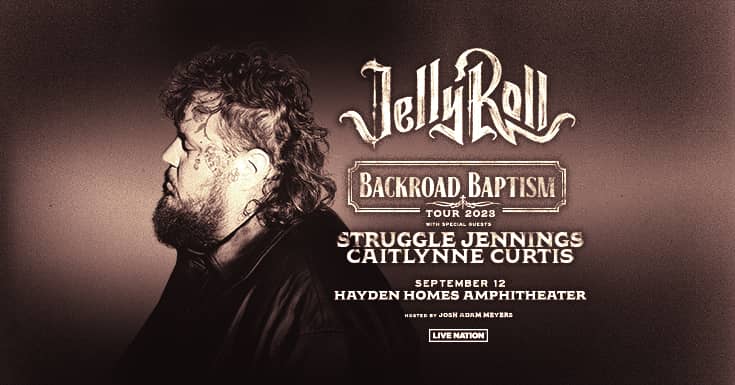 Who is rapper Jelly Roll and what is his real name?
Jelly Roll has been a prolific artist, dropping mixtapes that resonated with fans such as the "Gamblin' on a Whiteboy" series and the "Therapeutic Music" series. October 26, 2012, marked the release of his independently launched debut solo studio album, "The Big Sal Story". Moreover, he has showcased his versatility by releasing two collaborative albums each with Haystak and Lil Wyte, four with Struggle Jennings, and one with the group SNO, which featured Lil Wyte and BPZ.
Jelly Roll has captivated audiences with his 2021 chart-topper, "Son of a Sinner." Diversifying from rap to the poignant twangs of country, he has carved a niche and amassed multiple accolades along the way. Born amidst the vibrant rhythms of Nashville, Tennessee, in the Antioch neighborhood on December 4, 1986, Jelly Roll's musical journey began with hip-hop's energetic beats. In 2021, he embraced the soulful world of country music. His distinctive sound, a harmonious blend of retro rap, heartwarming country, and timeless rock, sets him apart in the music industry.
A fun tidbit for fans: Jelly Roll's 2013 mixtape, originally named "Whiskey, Weed, & Waffle House," had to be retitled to "Whiskey, Weed, & Women" after the Waffle House brand took issue with their name and logo's usage on the album cover. The revamped cover? It cheekily featured a "cease and desist" stamp where the Waffle House logo once sat.
If all this musical backstory has you excited, make sure you don't miss out on what promises to be an unforgettable evening. The concert is all set to take place at the Hayden Homes Amphitheater, located at 344 SW Shevlin Hixon Dr in beautiful Bend.
On Tuesday, September 12, 2023, attendees can expect an evening of excitement and entertainment. The doors will swing open at 5:00 PM, allowing fans to gather and settle in. Just an hour later, at 6:00 PM, the show will kick off, promising a night to remember.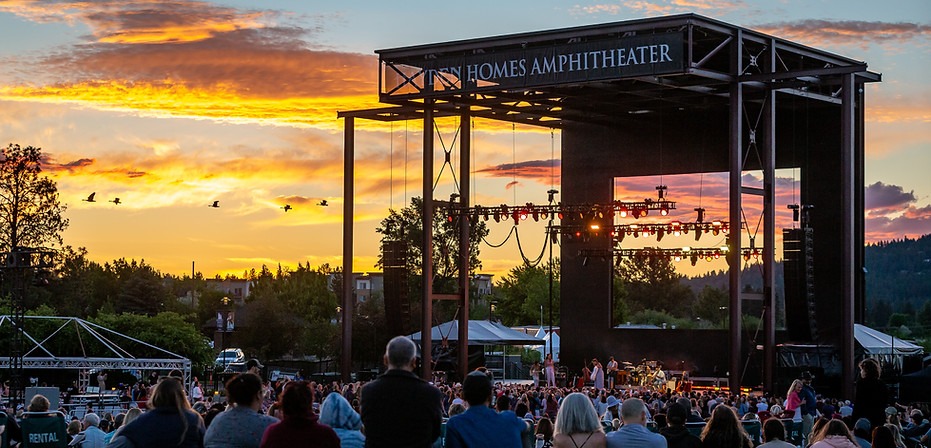 Details:
Date: September 12
Event Category: Concerts
Venue: Hayden Homes Amphitheater, 344 SW Shevlin Hixon Dr, Bend
Organizer: Live Nation
Want to ensure you've got a seat to this sensational showcase? Head on over to Ticketmaster to grab your tickets now. With the lineup this tour is boasting, they're sure to sell out fast. Don't miss out on an evening of laughs, lyrics, and legendary performances in Bend!