In the latest developments of the Tunnel 5 Fire in the Columbia River Gorge, evacuation plans have been adjusted while containment efforts strive to control the blaze. This article provides a comprehensive update on the current situation, incorporating information from two reliable sources, namely KGW News and The Columbian. By merging the key details, we aim to deliver a unique account of the ongoing firefighting operations and the impact on affected communities.
---
As the Tunnel 5 Fire continues to burn in the Columbia River Gorge, officials have made adjustments to evacuation plans to ensure the safety of residents and mitigate the fire's impact. The blaze, which remains at 5% containment, has posed significant challenges for firefighters who are working tirelessly to control its spread and minimize damage.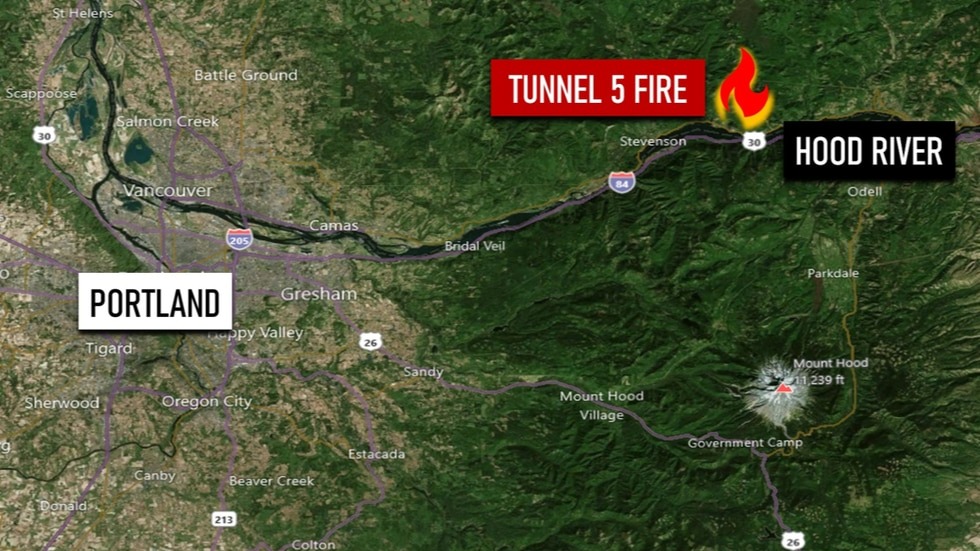 According to KGW News, authorities have modified evacuation orders to better address the evolving situation. The fire, which initially prompted Level 3 evacuations, indicating a high risk to life and property, has now seen some areas downgraded to Level 2 or even Level 1. These adjustments take into account the changing fire behavior and allow residents to return to their homes or be on standby for potential evacuation if conditions worsen.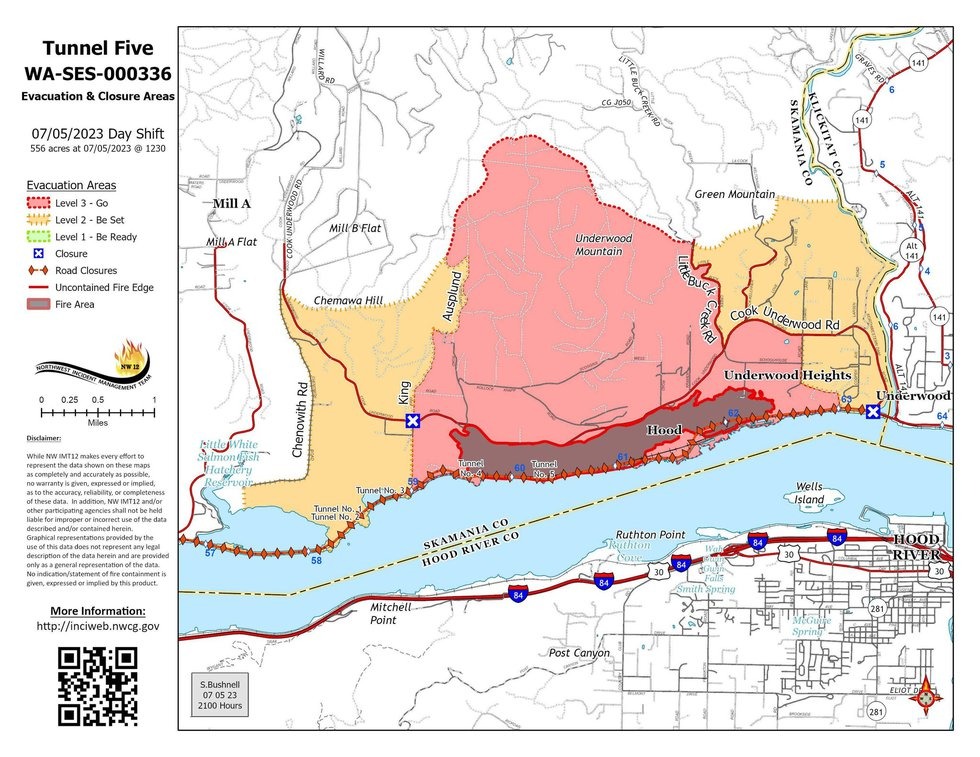 The Columbian reports that despite the efforts of fire crews, the Tunnel 5 Fire has proven to be a formidable adversary due to various factors. Challenging terrain, strong winds, and dry vegetation have contributed to the fire's persistence. Firefighters have been strategically positioning resources and implementing containment lines to prevent further spread into residential areas and protect critical infrastructure.
With regards to containment progress, the fire remains at 5% containment, highlighting the significant work that lies ahead. Firefighters are employing a multi-faceted approach, including aerial and ground operations, to gain control over the blaze. Helicopters equipped with water-dropping capabilities have been instrumental in attacking hotspots and inaccessible areas. Ground crews, consisting of highly trained firefighters, are constructing fire lines, clearing vegetation, and extinguishing flames whenever possible.
The Tunnel 5 Fire has had substantial impacts on nearby communities, and the efforts to combat the blaze have garnered support from various agencies and organizations. Local fire departments, alongside state and federal partners, have joined forces to tackle the fire's challenges collectively. Incident command centers have been established to facilitate coordination and resource allocation, ensuring a cohesive and efficient response.
Community members have also rallied together, providing assistance to evacuees and support to emergency responders. Temporary shelters and resources have been made available to those displaced by the fire, offering a safe haven during these difficult times. Additionally, volunteers and nonprofit organizations have been actively providing meals, supplies, and emotional support to affected individuals and families.
A look at the Tunnel Five Fire near Underwood, Washington. This footage is from the first day of fire activity.#wildfire #wafire #Tunnel5Fire
Clearly the local vegetation was very receptive to fire. It's now a Type 2 Incident and the cause is under investigation.

Thanks to… pic.twitter.com/nsdnWP0KxG

— The Hotshot Wake Up (@HotshotWake) July 6, 2023
In conclusion, the Tunnel 5 Fire in the Columbia River Gorge continues to present challenges for firefighters as they battle to gain control and limit its impact on communities. Evacuation plans have been adjusted to reflect changing fire conditions, allowing residents to return to their homes in some areas. Nevertheless, the fire remains at 5% containment, necessitating ongoing efforts to suppress its spread. The combined dedication of firefighters, support from various agencies, and the solidarity of the community will be crucial in overcoming this destructive blaze and aiding the affected individuals on their path to recovery.
The investigation into the origin of the fire is still ongoing, with initial reports suggesting that it may have been caused by human activity. Authorities are now seeking assistance from the public and requesting any video footage captured around the time when the fire initially erupted.