You'd be hard pressed to find an Oregonian who's not familiar with the McMenamins chain of pubs, hotels, breweries, distilleries, and music venues—seriously, what can't these guys do? McMenamins loves taking old, historic buildings and converting them into innovative spaces to eat, drink, play, and stay.
And, if you live anywhere near the I-5 corridor from Roseburg, Oregon up to Everett, Washington, you've got at least one McMenamins within an hour's drive of you, but some of their locations are so exceptional, they call for a special trip. One such spot is the Old St. Francis School.
Right in the heart of the central Oregon city of Bend, you'll find the St. Francis School. Yes, it really was a school from 1936 to 2000, when it moved to a much larger campus on the east side of town.
It was then that the visionaries at McMenamins saw an opportunity they couldn't pass up and swooped in to purchase the property and begin laying plans for a new hotel. Since its completion in 2004, the St. Francis School has become a popular gathering spot boasting a hotel, multiple bars, restaurants, a movie theater, music venue, and the pièce de résistance—the soaking pool!
All McMenamins properties pay homage to the original building, and St. Francis is no different. The former Catholic schoolhouse is now home to 60 guest rooms, each with unique hand-painted murals, many featuring portraits of the priests, nuns, and teachers who worked at the school. Most of the rooms have been retrofitted from old classrooms and feature a private bathroom, TV, coffee maker, and robes which you can wear on your way to the soaking pool.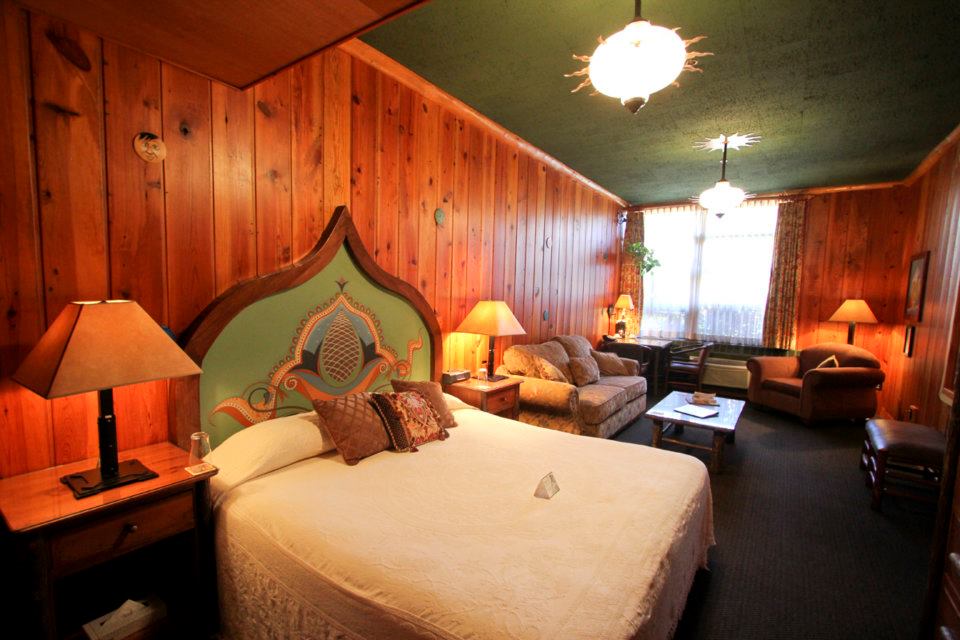 The main pub has both indoor and outdoor seating, cozy booths, and plenty of brewed-on-location beers on tap. O'Kanes Bar is located in the school's old garage which is now outfitted with stained glass windows and a toasty round oak stove dating back to 1896. There are also two other bars, a movie theater, hidden passageways and rooms (which are just as cool as you imagine, and one of them is a bar!) and the shining star of the hotel—the soaking pool.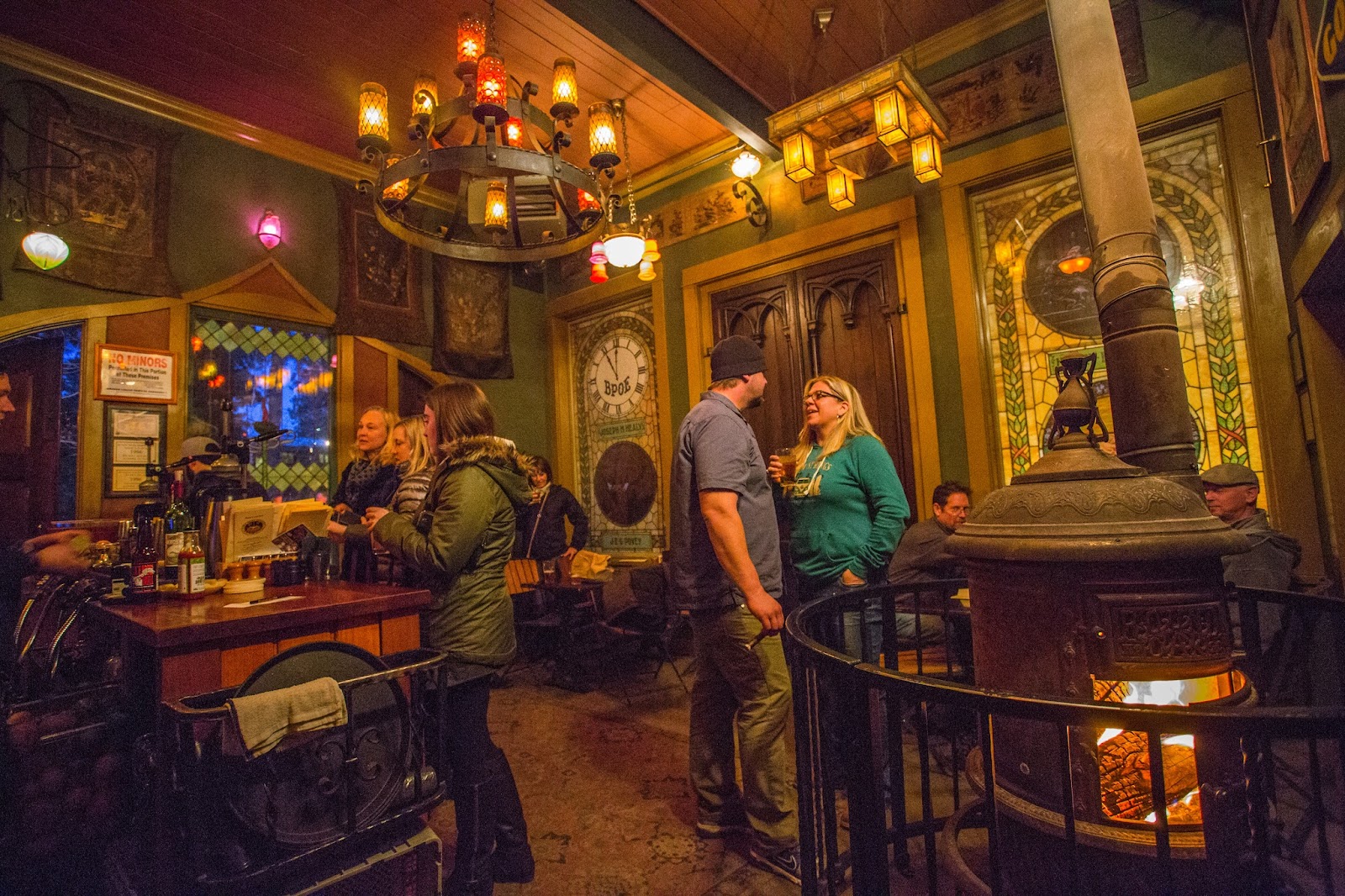 Stepping into the St. Francis' soaking pool feels something like being an ancient Roman emperor; it's so luxurious you almost expect someone to be feeding you grapes. The pool is surrounded by turquoise mosaic tiles and beautiful murals of St. Francis himself harvesting grapes.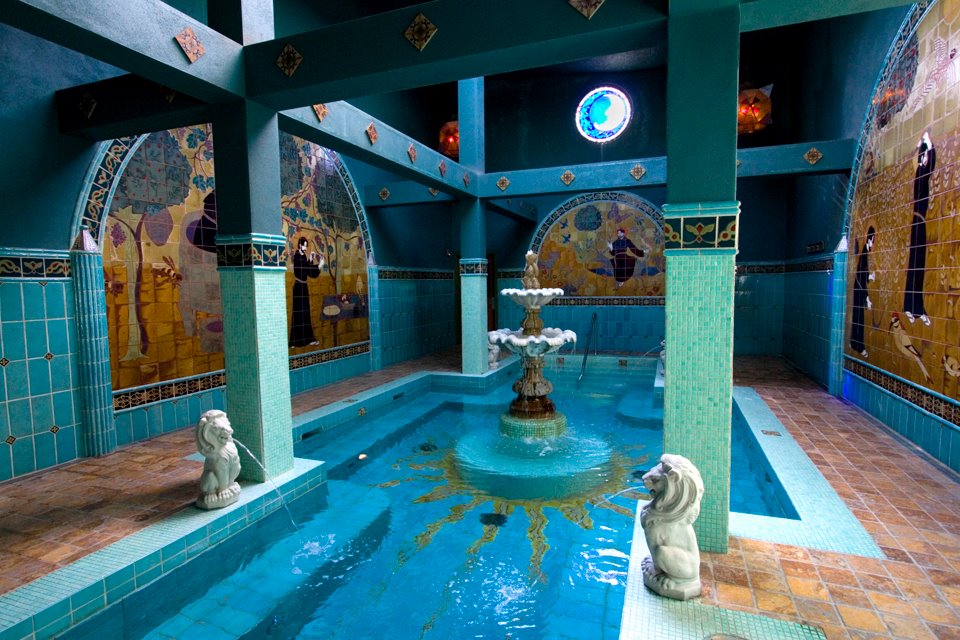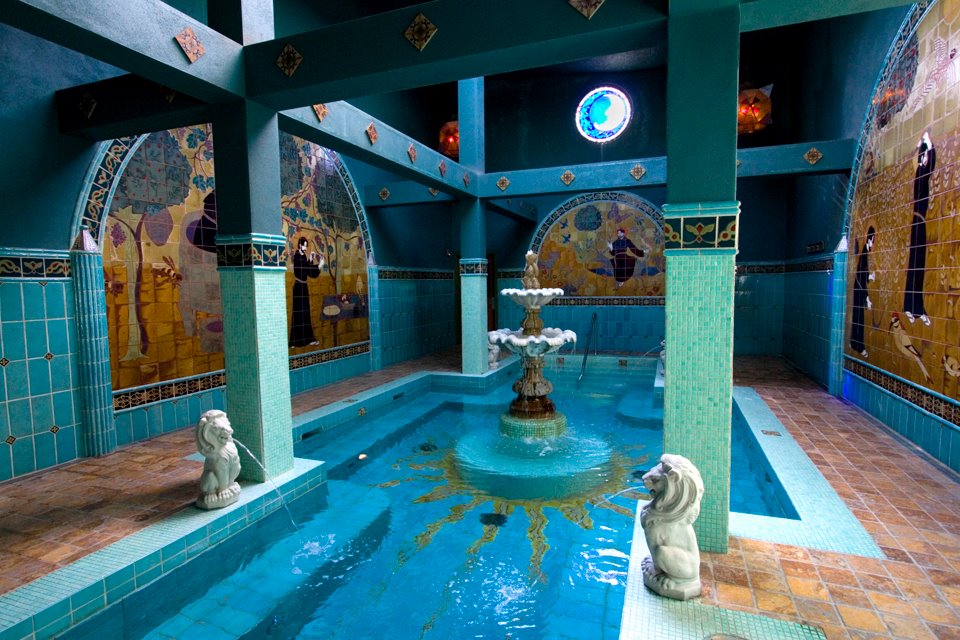 History lesson! St Francis of Assisi was a Catholic Friar who lived from 1181 to 1226 and was the founder of the Franciscan order. He shunned material possessions, committed himself to a life of poverty, and was known for his love of animals and the environment, supposedly referring to all creatures as "brother" or "sister." Basically he was an all-around cool dude. End of lesson.
The pool is filled with soft, warm saltwater so your fingers won't turn to prunes, has a fountain in the center, and an open ceiling that lets it all in—rain, sun, or snow—and we're here for it! It's light and airy during the day and dark and inviting at night. Just walking into the space is instantly calming and relaxing. And even though everyone should stay at the hotel at least once in their lives, you don't have to be a hotel guest to enjoy the amenities! The pool is open to the public every day but Saturday from 10:30 am - 4:30 pm, with Saturdays and evenings reserved for guests.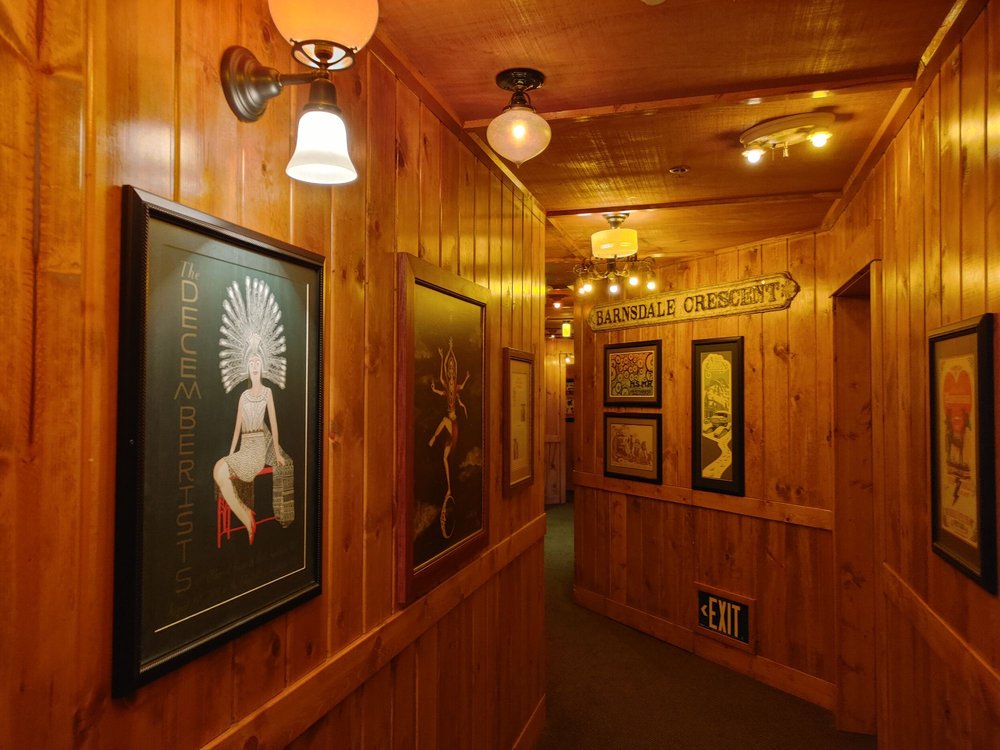 Honestly, once you check in the St. Francis School, you'll have a hard time leaving. Whether you're spending your evening in the soaking pool, catching a flick at the movie theater, dancing to live music in Father Luke's room, playing shuffleboard at the Fireside Bar, or simply enjoying a pint of Hammerhead Ale and some cajun tots at the main pub, you may just forget to explore the rest of the city. That said, if you can drag yourself away from the splendor that is the Old St. Francis School, you'll be a short walk from everything awesome Bend has to offer like its thriving downtown, the Old Mill District, Drake Park and the Deschutes River (that you can and should float in the summer), and more fantastic Bend breweries.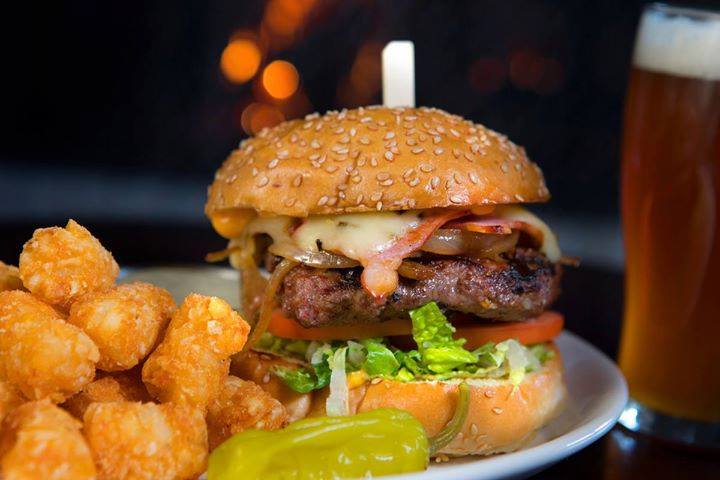 If you do end up staying and enjoying this quirky and unconventional hotel, plan your next trip to the Kennedy School in NE Portland, another McMenamins schoolhouse-turned-hotel masterpiece that features it's own open-air soaking pool.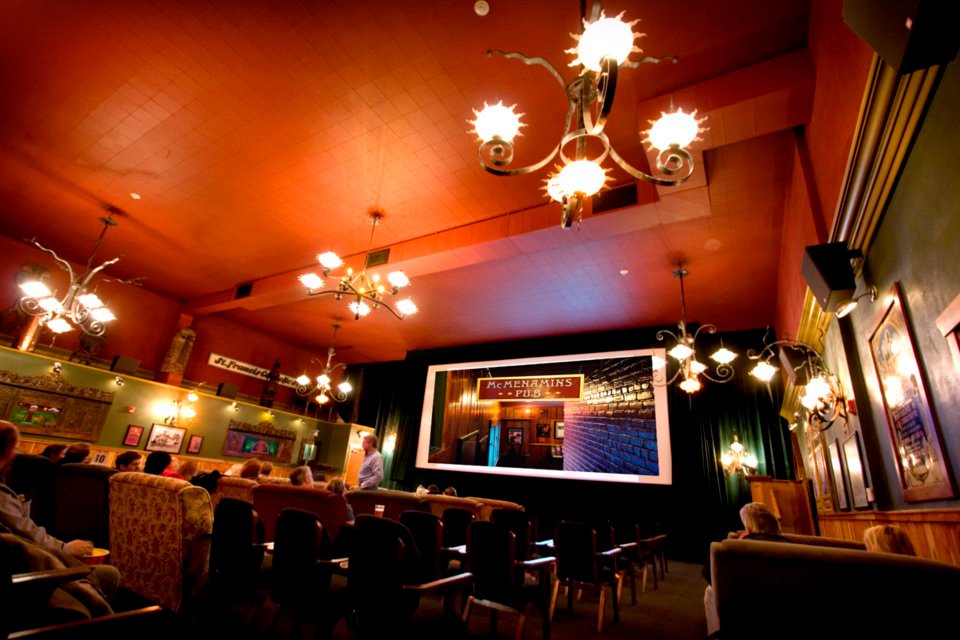 Address: 700 N.W. Bond Street, Bend, OR 97703
Phone: (541) 382-5174
Main pub hours:
Sunday – Thursday, 7 am – 10 pm
Friday & Saturday, 7 am – 11 pm
Soaking pool open to the public:
Sunday-Friday, 10:30am-4:30pm with reservation