As of Sunday, fires still continue to burn Across Oregon and Southwest Washington with smoke still prominent over much of the inland areas. In an effort to keep downed powerlines from sparking new wildfires, due to high winds nearly 50,000 Oregon homes and businesses in Portland General Electric and Pacific Power territory have had power shut off.
Firefighters also reported Sunday they had completed strategic burning operations along the fire's northwest edges and were working to set up protective measures along the Cascade Lakes Scenic Byway, a 66-mile stretch of highway east of the fire dotted with campgrounds and resorts, including the Mt. Bachelor ski area, which is hosting a fire command center. Crews also started preparing to create structural reinforcements around Lava Lake Resort.
Air Quality Expected to Improve in Oregon
While the Statesman Journal has reported the fire danger is still eminent across western Oregon, a meteorologist has told them, that as the winds died down over the weekend, this will begin to improve. The National Weather Service meteorologist, Shawn Weagle, told Statesman Journal, "the heavy smoke and poor air quality is likely to stick around through the weekend, before getting pushed out of the area around Sunday night and especially Monday."
The air quality advisory was extended through Monday by the Oregon Department of Environmental Quality. Curry, Deschutes, Douglas, Jackson, Josephine, Klamath, Lake, eastern Lane, Umatilla, Union, and Wallowa counties are under the advisory as smoke from fires rage across Oregon and central Idaho.
While some areas in Central Oregon have good air quality, most of the area was in the "moderate" air quality level as of Saturday morning. Others were qualified as "unhealthy for sensitive groups" with some areas at unhealthy levels.
Sign up for monthly emails full of local travel inspiration and fun trip ideas. In each newsletter we'll share upcoming events, new things to do, hot dining spots and great travel ideas.
The largest fire currently in Oregon is the Double Creek Fire burning in the northeastern part of the state, which is not far from the Idaho border. The fire has burned more than 230 square miles as of Saturday, growing 65 square miles overnight. CBS reports as of Saturday there are 18 wildfires burning across Oregon and Washington. There are around 406 square miles of active fires, uncontained blazes and around 5,000 people on the ground fighting them between the two northwestern states.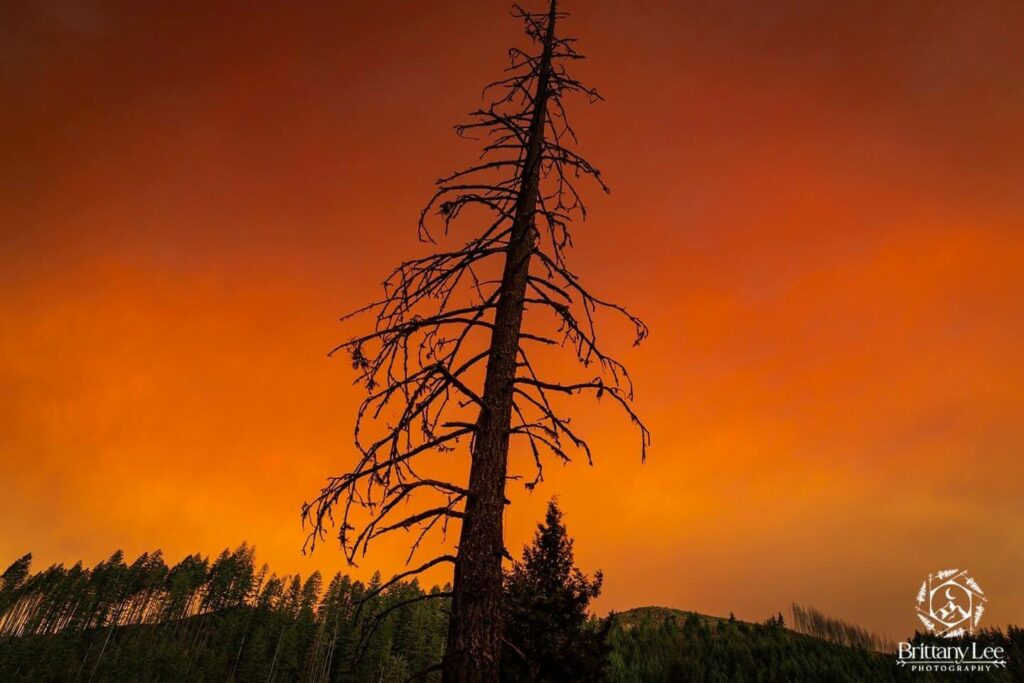 In central Oregon, the Cedar Creek Fire east of Oakridge has been reported to have burned nearly 81 square miles. On Friday, local officials ordered residents to immediately evacuate the greater Oakridge, Westfir, and High Prairie areas due to increased danger from fires. The Cedar Creek Fire has burned more than 50,000 acres and was reported Saturday to be 12 percent contained.
Air conditions still remain at dangerous levels in most of the southwest and northeast Oregon.
Depending on the weather in your area, smoke levels can rapidly change. Make sure to check current conditions on the Oregon Smoke Information Blog, and DEQ's Air Quality Index. You can also download the OregonAIR app on your smartphone to check smoke levels. OPB has recently posted on how Oregonians can better prepare for a power outage, which you can read here.