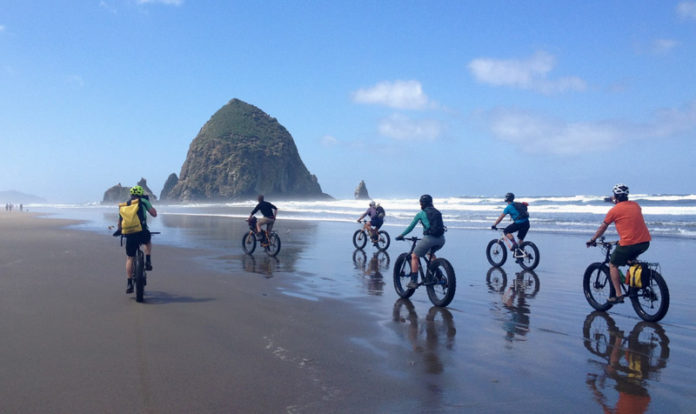 Looking for an excuse to head to the Oregon Coast this year? You will definitely want to check this one out as we head into summer. The Cannon Beach Fat Bike Festival is back again for 2022. With races, poker rides with awesome prizes, tasty food, amazing beer, and good company, you can't go wrong!
Cannon Beach Fat Bike Festival 2022
What makes Oregon's Cannon Beach Fat Bike festival so special is that it takes place on one of the most scenic coastlines in the Pacific Northwest. Riders will get to ride their bikes around Hug Point, around the community of Cannon Beach, and to a nearby waterfall. There's nothing quite like a sunset beach ride, or enjoying good brews around a full moon bonfire, and you won't find a better group of people to enjoy riding with!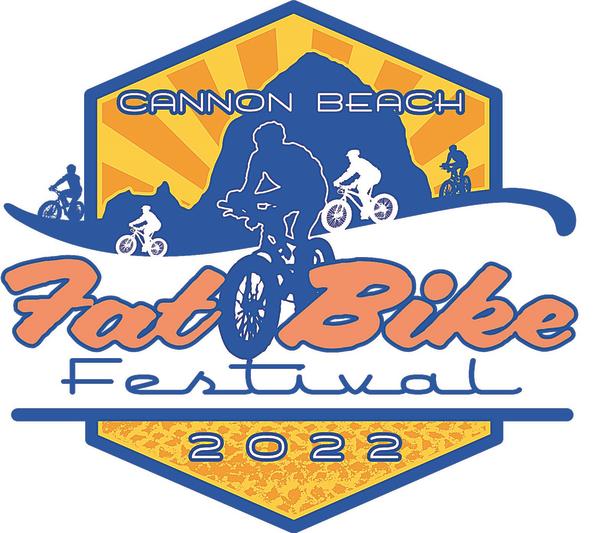 Come and enjoy a weekend of fun Fat Bike events and explore the beaches & quaint community of Cannon Beach by Fat Bike. Events planned throughout the weekend include a beach bike ride, a self-guided ride on the Klootchy Creek Trails, a "Community Scavenger Hunt" around town to discover hidden treasures and tasty treats, a bonfire with Fat Bike games, and activities to finish off the day. We will have a 13-mile beach bike ride to Hug Point and the scenic waterfall during low tide. Lots of fun Fat Bike activities but still plenty of time to explore and enjoy Cannon Beach.
All activities will be under current COVID Guidelines and under the Oregon Health Authority Sector Guidance – Outdoor Recreation and Outdoor Fitness Establishment Order & follow all CDC Guidelines.
Due to limited availability, there will not be Fat Bikes to demo this year. You will need to bring your own Fat Bike to join the event. Event Phone: (541) 270-7969
Fat Bike Festival Events Schedule
Friday, May 20th
5-7pm  |  Packet pick up & social gathering @ Cannon Beach Chamber ~ Community Hall,  207 N Spruce St, Cannon Beach, OR 97110
7:30-8:30pm | Fat Bike Meet Up – Meet at the Chamber at 7:30pm for a sunset beach ride along Ecola Creek and on to Haystack Rock to kick off the weekend.
Saturday, May 21st
9:30am -12:30pm | Fat Bike Beach Ride to Waterfall. Meet at the Chamber at 9:30am for a guided 13-mile Beach Ride to waterfall & back. Enjoy a picturesque beach ride past Haystack Rock, along the old "Oregon Beach Highway," and to the beautiful waterfall at Hug Point. Staff will be scattered throughout points on the ride to assure safety.
2-5pm  |   Community Scavenger Hunt – A scavenger hunt around town. Your passport will be in your packets and your adventure can begin as soon as you finish your beach ride. Can be done by bike or on foot. Families are welcome to join you on this interactive community Scavenger Hunt to find the hidden treasures and wonderful places of Cannon Beach! You can earn prizes for visiting the most locations.
7-9pm | Beach bonfire and Fat Bike games. Meet at Tolovana Beach State Recreation Site (in front of Mo's Restaurant) to enjoy bonfire, brews, & fat bike beach races & games. We will have several activities set up along a stretch of beach and rotate small groups through each game/race/task where they will sample beverages from local breweries and enjoy the warmth of a bonfire.
Sunday, May 22nd
We encourage everyone to go and ride the Klootchy Creek Trails, just 5 miles outside of Cannon Beach @ Klootchy Creek County Park. E-bikes are allowed October – August. Many options for beginners  & intermediate and a couple of black diamond (very difficult) options as well. Link to Trailforks to download the maps directly to your mobile device. https://www.trailforks.com/region/klootchy-creek-trails/
A free access permit from Greenwood Resources Lewis & Clark Timberlands is Required. Click here to sign up online. Create an account, then request an Oregon Permit. A printable vehicle placard and user card will immediately be available online. If you are without a printer you might be able to get away with a handwritten vehicle placard with the permit number on it.
Here is link on where to park & meet to ride the trails: Klootchy Creek Google Map HERE!
What Is A Fat Bike Festival?
A fat bike is an off-road bicycle with extra wide tires perfect for soft unstable terrain like snow, mud, and sand. A fat bike festival is a place for fat bike enthusiasts and riders to get together and spend a weekend enjoying each others company, enjoying good food, and riding fat bikes.
Masks are no longer required in most indoor public settings, however,  some businesses, healthcare providers, or transportation may still require you to wear a mask. Read more from the Oregon Health Authority.