The U.S. Coast Guard and crews from the Tillamook County Sherriff's Office recently responded to a reported capsized sailboat just north of Rockaway, near Nedonna Beach on Sunday, Oct 3rd. The boat was said to be found just south of the south Nehalem Jetty, according to the official press release posted by TCSO on Facebook.
Many calls began flooding in around 6:50 p.m. reporting that a sailboat was getting tossed around the surf near Rockaway Beach. The Rockaway Fire-Rescue, Garibaldi Fire-Rescue, Nehalem Bay Fire-Rescue, and Tillamook Ambulance all responded to the scene.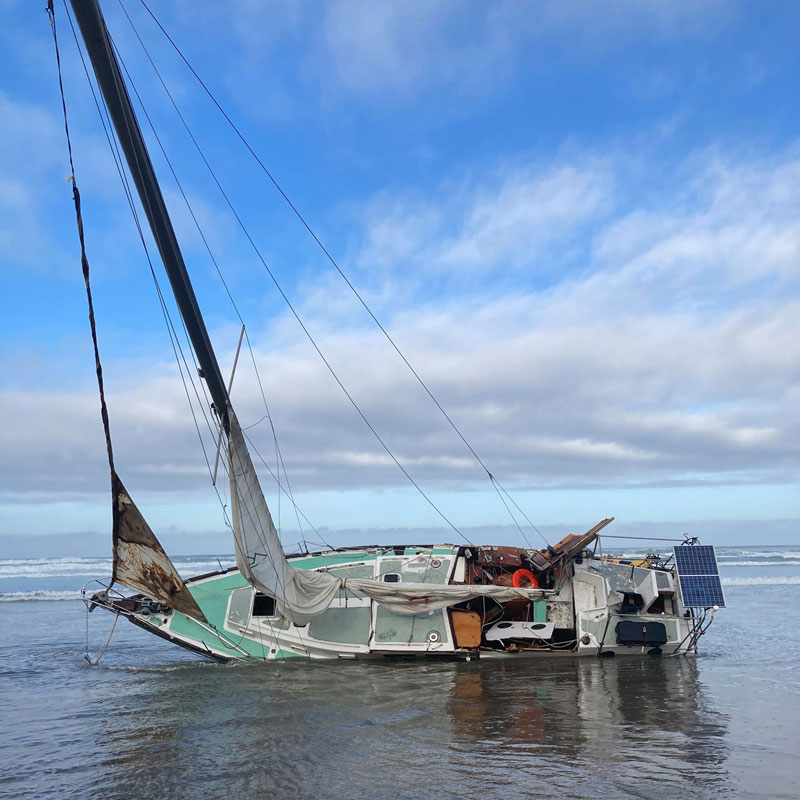 The official report says two bodies were found on the boat, and fire personnel located a woman who was unconscious. The victims were, one man, and one woman were believed to be the only people on board at the time of the incident. USCG personnel was able to gain access to the vessel where they located a deceased male adult.
The Tillamook County Sherriffs arrived at 8:20 p.m. CPR was initiated on the woman, however, they, unfortunately, were not able to save her. The woman was found lying on the beach, near a dinghy.
According to the report, the deceased was a married couple on the 42′ sailboat, which was registered out of Astoria. The Coast Guard said the name of the sailboat was Bagheera, and it left at 4 a.m. Sunday, from an unidentified location. It was reported the sailboat was headed to California. At this time their names have not been released, however, the victims were identified and the immediate family was notified. USCG continued their search in the nearby waters of the north Oregon coast town for more potential survivors.
"Thanks to the efforts of Tillamook 911 Dispatchers, the victims were identified and immediate family has been notified. This investigation continues," the sheriff's office said.