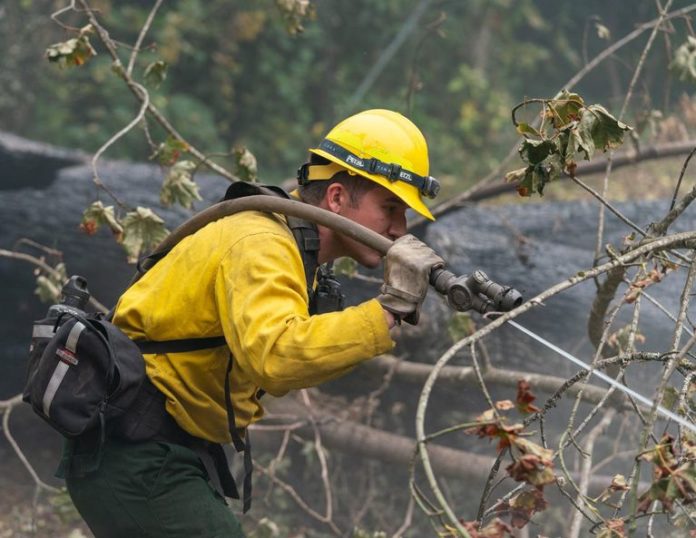 With raging wildfires across Oregon, there couldn't be a better time for some relief from the rain. As the weather had predicted a storm, for once it was spot on.
The Oregonian reports heavy downpours have started in Portland early Friday morning, and reportedly the first measurable rainfall in nearly a month. And to excite things a bit more, lightning has been reported everywhere.
Lightning vs tree . Lightning always wins. From viewer Sean Lutzi in Oregon City. pic.twitter.com/zijKTohvwG

— jeff kirsch (@jakatkatu) September 18, 2020
Recently there was a flood warning as issued by the National Weather Service for northwestern Clackamas County and southwestern Multnomah County, which was scheduled to last until 6:30 a.m. At this time no major flooding seems to be apparent. Many tweets came in showing awe-inspiring lightning and ping pong-ball sized hail in Oregon.
Oregon Lightning pic.twitter.com/oHzbFJorw4

— Chelsea (@CH3L5EA_) September 18, 2020
#Oregon #Clackamas #Washington Co,Hallelujah!Our Prayers answered!3AM-Took Video👇🏼& 1st breath of FRESH AIR-no thick dk brown smoke,since9/07/20!So worried-A huge mega dry strike⚡️lightning/Thunder storm swirled 8hrs prior to Raining! #Breathe #Portland #Fire #ClackamasWildfires pic.twitter.com/sAhvKEsPJs

— TinyDancer PDX (@TinyDancer_1_) September 18, 2020
Also some relief in Portland, as the air quality is no longer the worst among major cities around the world. For the rest of Oregon, parts of the coast have had a huge improvement with better air quality as we start the day early Friday.
Many other parts of Oregon continue to have very unhealthy air, including Salem, Bend, Pendleton, Portland, Burns, and Baker City. The air in Grants Pass, Medford and Springfield at this time are considered moderate.
Hit the link here to read more about flash flood warnings for the weekend which cover Lane County Cascades and the northern Oregon Cascades that's expected to last through tonight. The weather service reports loose rocks and other debris could potentially tumble down hillsides as a result of the heavy rain.
Grafe, the chief of fire protection for the Oregon Department of Forestry, said Thursday that the moisture would hit an ideal area.
"If I could script it, that's exactly where I would [put it]," Grafe told OPB, calling it "good news for Oregon."
WIth winds being recorded up to 60 miles per hour, if the moisture from the rain doesn't hit the burning areas first, the winds could potentially be problematic and would be a concern for the containment lines firefighters have established.
"For the next 24 hours, we're expecting some challenges with the weather," Grafe told OPB Thursday. "The storm front does bring favorable moisture, however, there are some downsides and it's those winds and it depends on where the winds land."
Here are some online tools that offer up-to-the-minute emergency information on wildfires, evacuations and air quality in the Pacific Northwest: