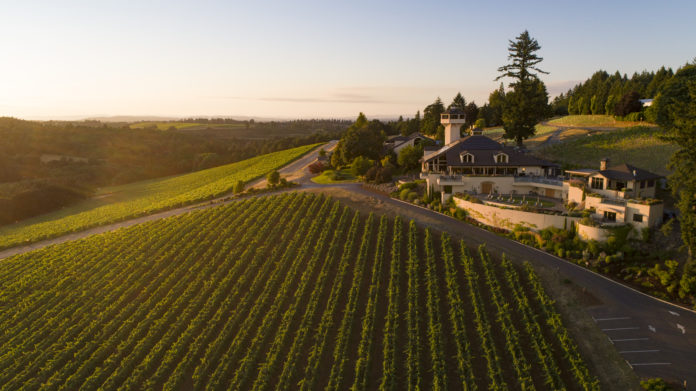 Sustainability is the name of the game at Willamette Valley Vineyards in Turner Oregon, just outside of Salem. Founder Jim Bernau believes Pinot Noir made with consideration for the environment, employees and community simply tastes better. From introducing rehabilitated raptors for natural pest control, to installing an innovative new system to recycle water, Willamette Valley Vineyards is an industry leader in sustainable practices.
Soil, Energy, Water, and Wildlife - Protecting The Land From The Start
View this post on Instagram
Willamette Valley Vineyards was founded in 1983 by native Oregonian Jim Bernau, who had a dream of creating world-class Pinot Noir. He's certainly succeeded, growing Willamette Valley Vineyards into one of the regions' leading wineries and earning the title, "One of America's Great Pinot Noir Producers," from Wine Enthusiast Magazine. It's also the number one visited winery in Oregon. One of the reasons the wine is so good is because Bernau cares not only for his wine and his community, but also the land.
View this post on Instagram
"Treating the land [well] has been really important to us: to be as natural as possible, to avoid using pesticides and herbicides that can kill the life in the soil," says Bernau. "The life in the soil's important for the aromas and flavors to be brought up into the vine and into the fruit and reflect in the wine. It's also important to our health and [the health] of all living creatures."
Since the winery's founding, stewardship has been a key principle in their winemaking and farming practices. All of the vineyards are certified sustainable through LIVE (Low Impact Viticulture and Enology) and Salmon-Safe programs. The steps to sustainability don't end there though. In order to lower carbon dioxide exhaust emissions and reduce the impacts to climate change, their delivery vehicles and tractors use biodiesel.
View this post on Instagram
There are also electric vehicle charging stations available for guests at the winery. The estate also has twelve solar water heating collectors and 116 kilowatts of photovoltaic generation capacity, which reduces emissions to prevent 1,780 tons of carbon dioxide from entering the atmosphere.
A state-of-the-art greywater system was installed, which allows Willamette Valley Vineyards to use significantly less water. The recycled treated water can be used to irrigate landscape beds, potted plants, and for other non-food uses. The most important impact of the new system is that water used in the winemaking process can be returned to the soil safely and efficiently.
For pest control, Willamette Valley Vineyards has partnered with the Cascades Raptor Center in Eugene to place rehabilitated barn owls and kestrels in their vineyards. This helps to create a balanced eco-system by controlling pest populations naturally. New birds are introduced each year.
View this post on Instagram
There's also been an effort to support the native mason bee population in Oregon by installing special bee boxes at the Estate and Elton vineyards.  These bees don't provide any specific benefit to the vines in the vineyard, which are self-pollinating. With 40% of the insect population down due to agriculture and development, the goal is to provide safe nesting places so the mason bees can thrive and replenish their population.
Other sustainable practices at Willamette Valley Vineyards include biodynamic farming at Bernau Estate, bottle and cork recycling, using only FSC Certified cork, and working to protect and restore remaining oak habitat in the Willamette Valley.
Visiting The Scenic Estate At Willamette Valley Vineyards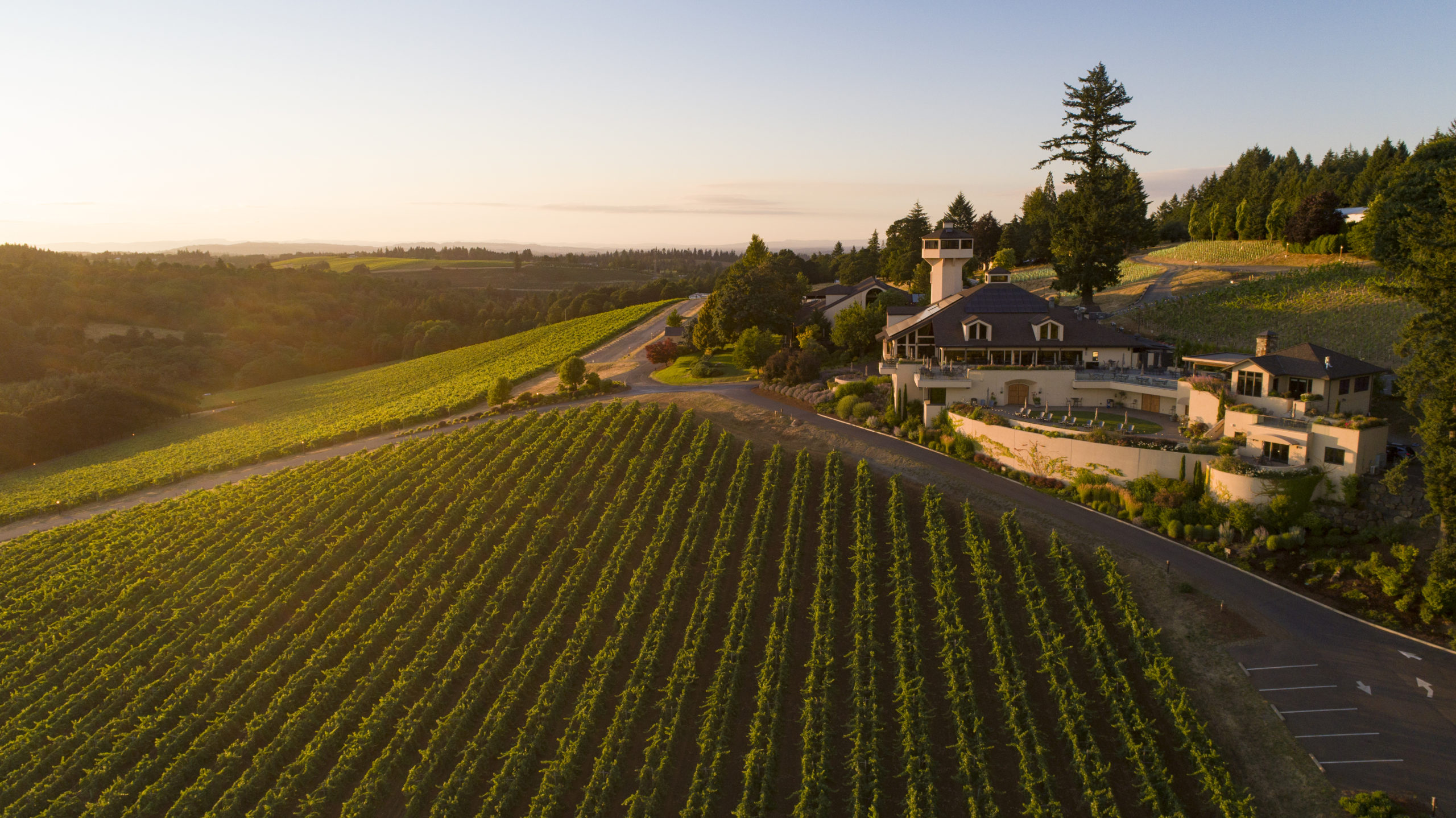 There's nothing quite like watching the sun set over a vineyard as you sip a glass of whole cluster Pinot Noir with a loved one. Not only is all of the barrel-aged Pinot Noir from their own estate-grown vineyards, but all of the vineyards are meticulously farmed with love by hand.
Visitors will enjoy the Estate Tasting Room which features a cozy setting and elegant fire places.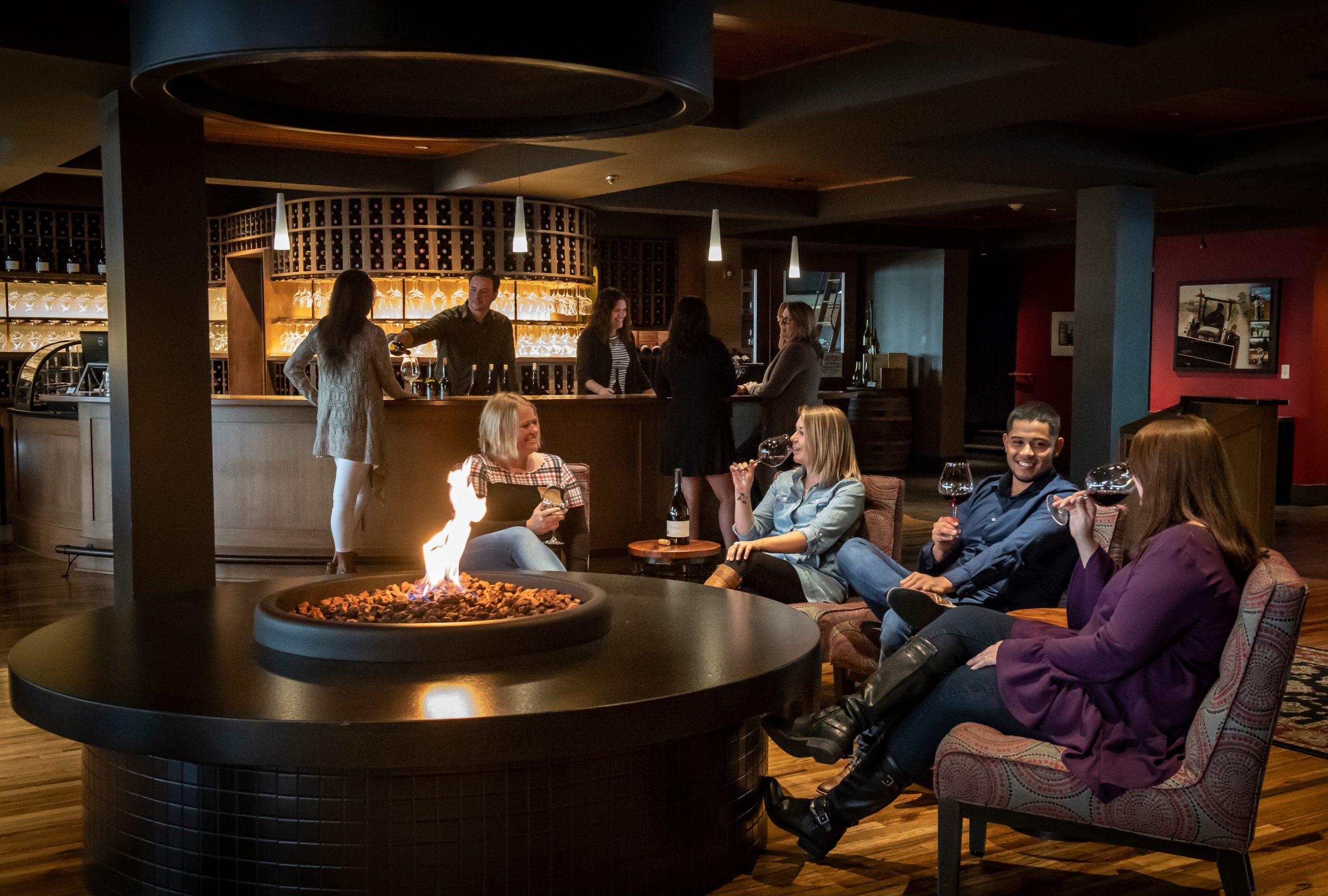 There's an expansive patio and you'll be impressed by the 65-foot lookout tower which has incredible views of the vines as well as Mary's Peak.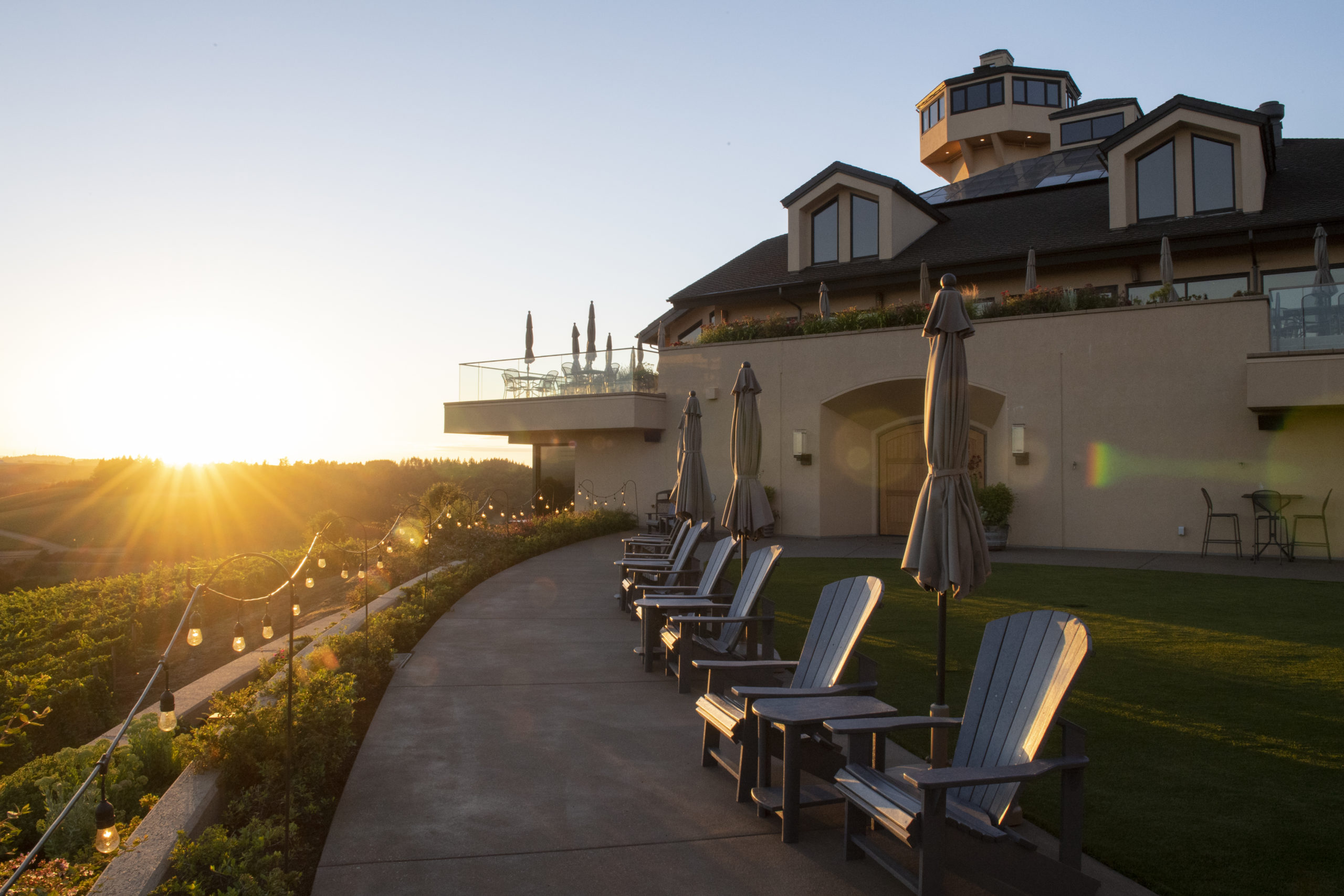 This isn't just a visit to a winery, it's an experience you'll hang on to. It's an experience that will draw you back again and again.
Guests wishing to stay the night or even the weekend can book a stay at the winery suites.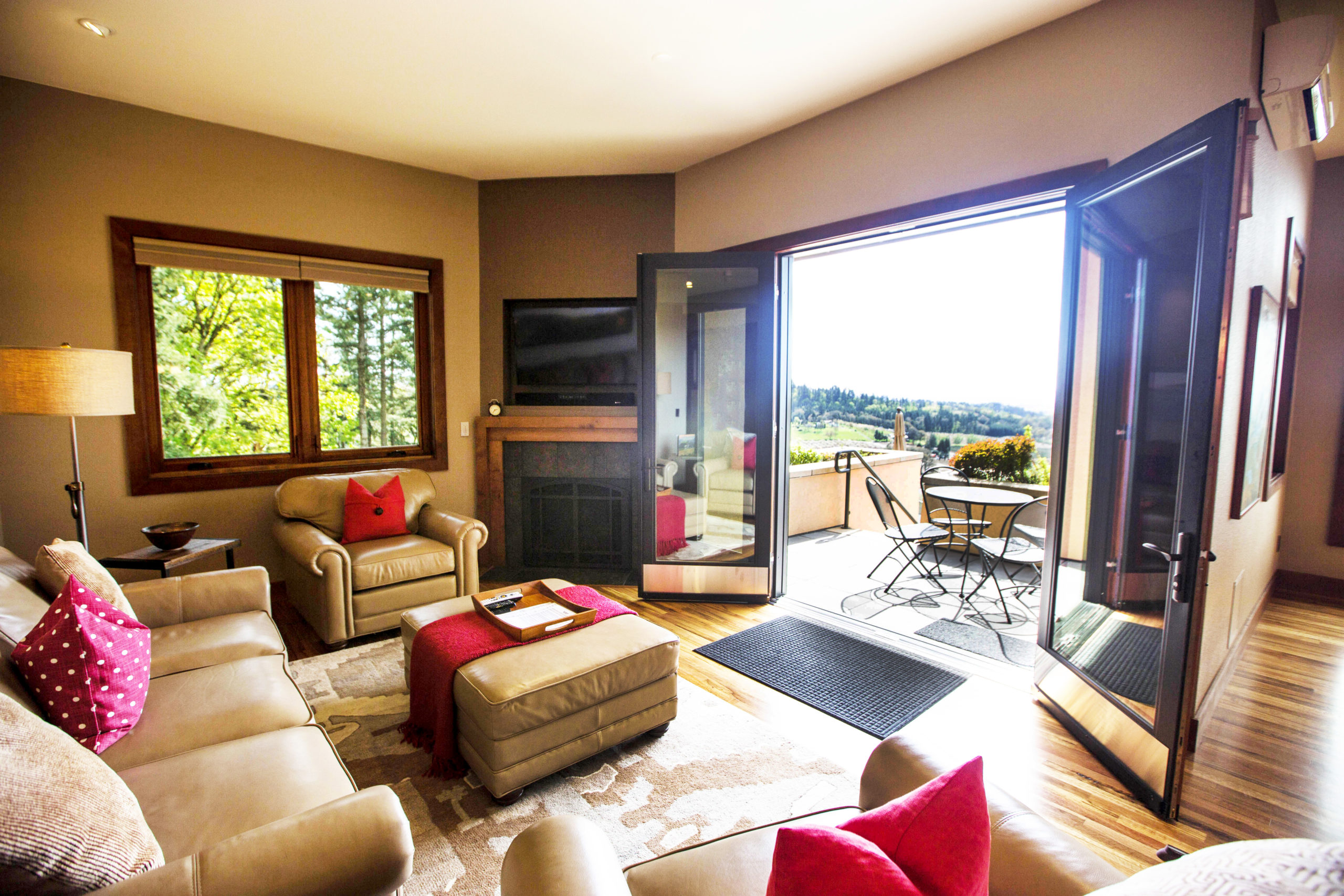 The two winery suites feature a master bedroom overlooking the Estate Vineyards, a spacious living area, and a private patio, which is the perfect place to relax and enjoy a glass of hand crafted wine.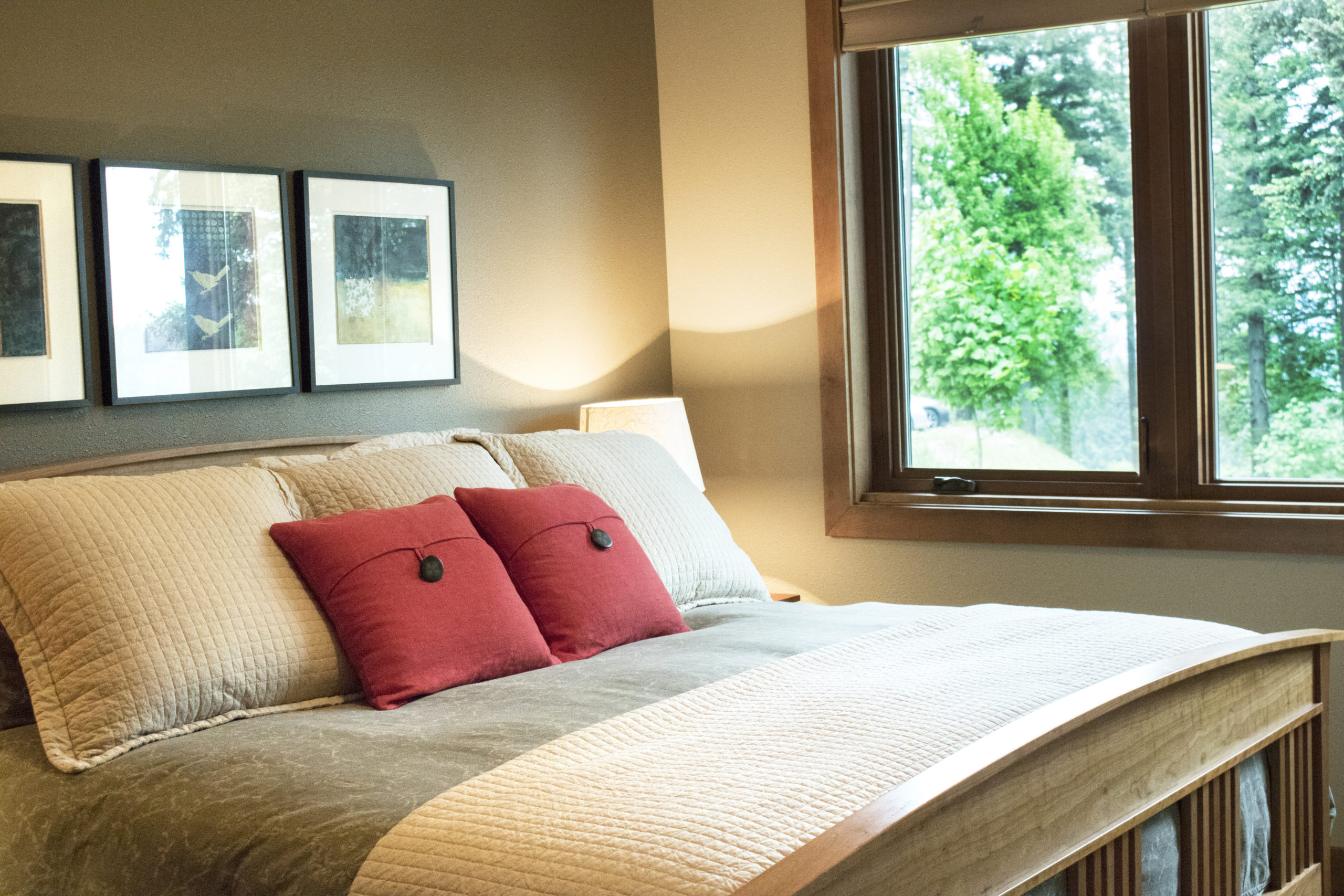 The suites include a private winery tour and tasting and a $150 wine credit.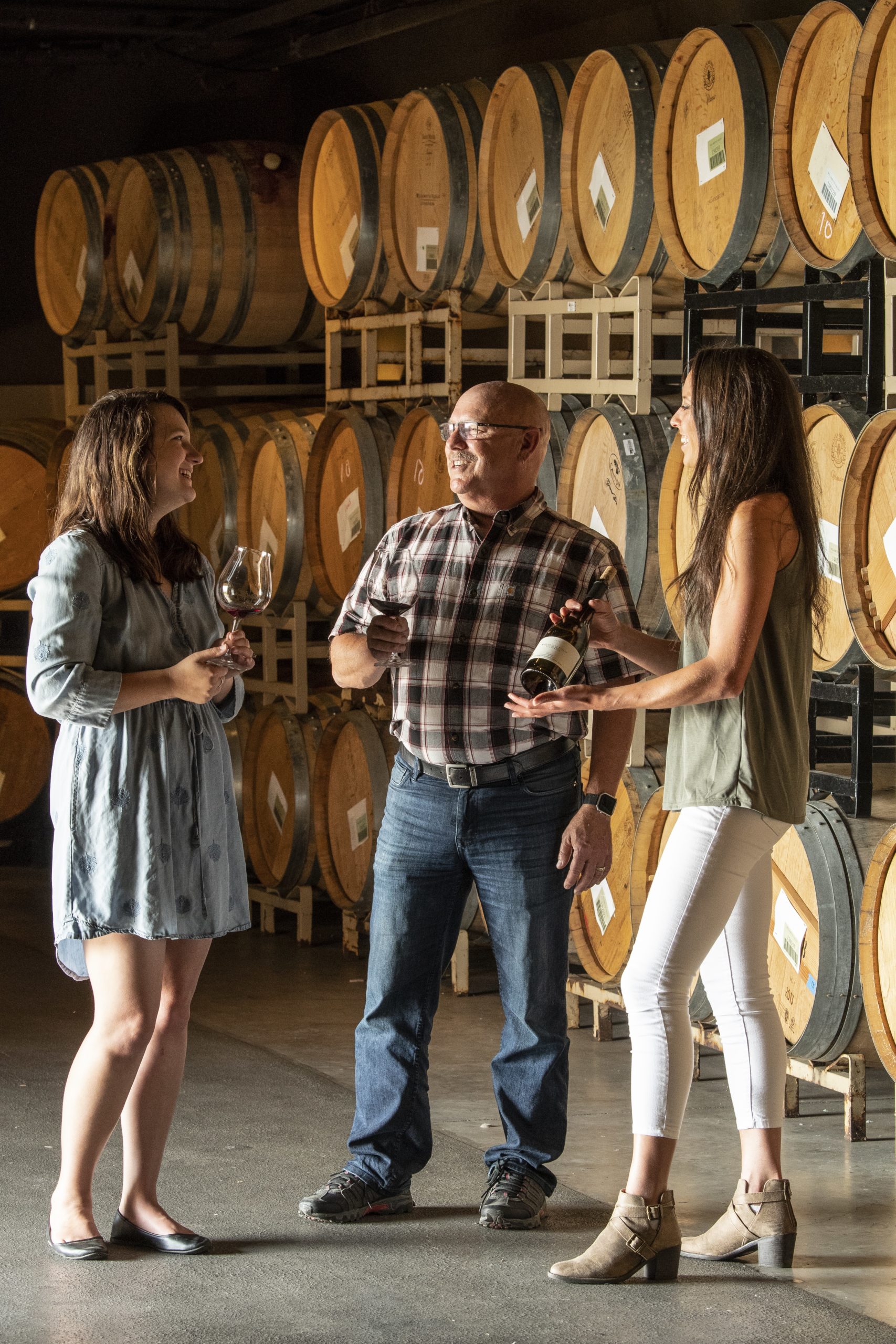 If you'd like a private detailed behind the scenes tour and tasting at Willamette Valley Vineyards, you can reserve online here or call 503-588-9463. The cost is $30 a person and tours are offered daily. The tour lasts 90 minutes and includes wine tasting of 5 hand-selected wines and a cheese plate for your party.
Learn more about the Estate Tasting Room and plan your visit here. Don't forget to check their official Facebook page for upcoming events.
Have you been to Willamette Valley Vineyards? What's your favorite wine there? Did you stay in the guest suites? Let us know in a comment and tag the loved ones you'd like to get away with for the weekend.