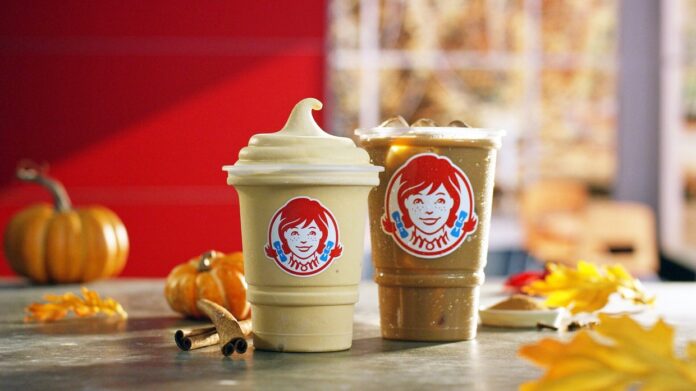 In a recent announcement, the renowned burger joint unveiled its latest frosty that nobody asked for: the Pumpkin Spice Frosty and its beverage counterpart, the Pumpkin Spice Frosty Cream Cold Brew, which will be available for a short period in their outlets.
Wendy's describes the new Pumpkin Spice Frosty as a velvety, mouthwatering fusion that incorporates the signature smoothness of their classic Frosty with undertones of pumpkin, complemented by comforting spices like cinnamon and nutmeg. Lindsay Radkoski, the Head of Marketing in the US for Wendy's, expressed, "With unique offerings ranging from our summer Strawberry Frosty to the festive Peppermint Frosty last winter, and now introducing the autumn-inspired Pumpkin Spice Frosty, we aim to resonate with our loyal Frosty enthusiasts by introducing iconic flavors that reflect the season." She went on to share her anticipation for the customers to relish this new dessert option during the fall.
As for the Pumpkin Spice Frosty Cream Cold Brew, this chilled drink is crafted using the identical syrup that goes into the making of the Pumpkin Spice Frosty. John Li, the Senior Culinary Innovation Officer at Wendy's, shed light on the creation of this drink, "We endeavor to amalgamate traditional flavors with our distinctive Wendy's touch. The inception of the Pumpkin Spice Frosty Cream Cold Brew came from blending the ever-popular pumpkin spice essence with our trusted Frosty cream base, resulting in a singular autumn delight that stands out."
In a promotional twist, Wendy's has collaborated with Uber One, allowing customers to grab an additional Pumpkin Spice Frosty on purchasing one, accompanied by a medium-sized serving of fries. However, patrons should note that this promotion will only be around for a short span and might differ across outlets.
What other Frosty variations can you find at Wendy's?
Besides the freshly launched Pumpkin Spice Frosty and its Cream Cold Brew counterpart, Wendy's menu typically boasts both Vanilla and Chocolate flavored Frosty treats.
Interestingly, Wendy's latest release did mention a temporary halt on their Vanilla Frosty.
Simultaneously, fans of the Strawberry Frosty will have to wait a bit; this fruity favorite will take a seasonal hiatus but is expected to make a return when spring blooms.
Earlier this summer, Wendy's introduced its Frosty Cream Cold Brew. This refreshing concoction blends cold brew coffee with their signature Frosty cream, allowing customers to choose from vanilla, chocolate, or an enticing caramel syrup, all seamlessly mixed over ice.
What are the recent culinary innovations at Wendy's?
Wendy's, in its bid to stay ahead, seems to be jumping into the pumpkin-flavored bandwagon, joining giants like Starbucks and Dunkin'.
On another note, Wendy's has set its sights on rivaling McDonald's with the introduction of its English Muffin Sandwiches. Not stopping there, it's also taking on Taco Bell with the debut of its Loaded Nacho Cheeseburger and enticing Queso Fries.
How excited I am about pumpkin spice?
It's no secret that pumpkin spice has taken over the seasonal menu game, often appearing in everything from lattes to scented candles and even deodorants. Its omnipresence during the fall has left many rolling their eyes, questioning if we've reached peak pumpkin spice saturation. As for this new offering from Wendy's, I couldn't help but chuckle. "Really? Another pumpkin spice product to dodge?" I mused.
Should I ever find myself near Wendy's this fall, it certainly wouldn't be for the allure of the Pumpkin Spice Frosty. While others might be lured in by the siren call of a classic Frosty, the Pumpkin Spice Frosty wouldn't even tempt me in the slightest.