Is this not one of the strangest and most unique fish you have ever seen? Recently, the manager of Seaside Aquarium, responded to a find on the north Oregon coast. Keith Chandler, called it "bizarre" after a witness described it as a strange fish lying around at Gearhart.
According to Beach Connection, the discovered fish is known as an opah, or a Lampris guttatus. The fish, likely never seen before by the aquarium is also known as a Moonfish. According to the article, this extremely rare fish is rarely seen on the Oregon coast. Chandler shared that he may have seen a baby at one time, and furthermore there has only been one other documented case of this fish around 37 miles off the north Oregon coast back in 2009.
The fish is said to weigh in at 100 pounds and is 3.5 feet long. The crew got a report at 8 a.m., at which they quickly responded to recover the fish after seeing photos.
Tiffany Boothe who represents the Seaside Aquarium, said Opah can grow as large as 6 feet long and can even weigh more than 600 pounds.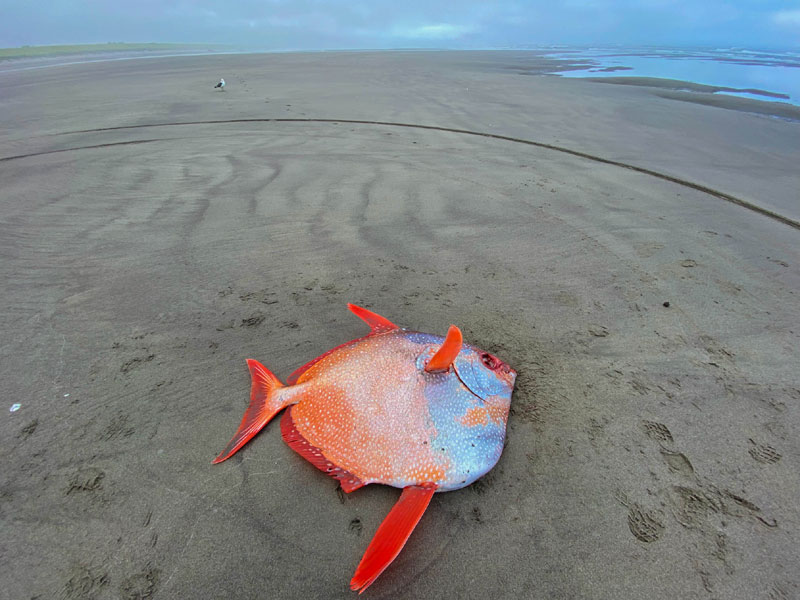 The story goes on to say there is not a lot known about their biology, and they live deep in the ocean, but scientists assume the are very similar to other palaegic fish. Personally, I've never seen anything quite like this on the coast.
Hit the link here to head over to Beach Connection and read the full story.