VANCOUVER, WA—It's been 35 years since Mount St. Helens erupted May 18, 1980. In April of 1980 a photographer for The Columbian, Reid Blackburn, took photographs during a flight over the simmering volcano.
When Blackburn returned to The Columbian studio, he had set that roll of film aside. The craziest part to this story is, that roll of film wasn't developed until 2013. Why wasn't this one roll of film ever developed? Tom Vogt of The Columbian has a possible explanation:
Maybe he didn't feel the images were up to his standards. Maybe he didn't trust the camera; it was the only roll he shot with that camera on the flight.

But he would have had more than one camera, said former Columbian photographer Jerry Coughlan, who worked with Blackburn at the newspaper.

"We all had two or three cameras," set up for a variety of possibilities. Riding in a small plane, "You didn't want to be fumbling for lenses," Coughlan said.
About five weeks later he had gone up in an airplane to capture the images of the smoldering cauldron, and sadly he was killed in his vehicle while covering the historical landmark.
33 years later in 2013, that roll of film was discovered by The Columbian photo archivist Linda Lutes, who had been contacted by a photo editor working on a geology book. She had discovered a Columbian photo of a logjam on the Cowlitz River, which had been taken on the day of the eruption and wanted to use the image.
Lutes was unable to find that image after searching through a couple of boxes which were labeled "Mount St. Helens",  but in her search, discovered a ripped paper bag with negatives falling out. Lutes had put the negatives in a nice envelope to ensure they would not be ruined, and was determined to find out what was on that roll.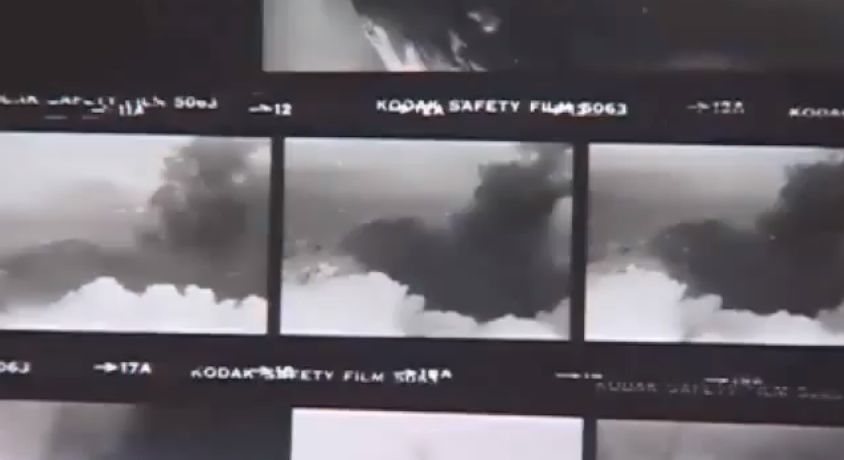 Troy Wayrynen, a photo editor for The Columbian thought it'd be cool to figure out what was on this roll as well, but wasn't sure if anyone still processed black-and-white film these days. He was in luck when he had found a Portland photo supply company that was able to develop the film for them.
"Anytime any portion of a legacy of Reid can come forward, it excites me and it elates me," said Blackburn's widow Fay, who still works at the Columbian.
KGW NewsChannel 8 also posted this report on YouTube:
Read the whole story and see the rediscovered photos at the Columbian.