Following a Winter Storm Warning that went into effect on Christmas day for much of western Oregon, and southwest Washington as well, snow has arrived in just about every corner of Oregon it seems. Labeled a 'Christmas Miracle' as its rare the state sees a white Christmas, the snow does not appear to be slowing down anytime soon. The Snow forecast for Oregon is showing snow accumulation over the next week.
Travel in Oregon at this time is expected to be challenging all around the holiday as snow continues to dump in Oregon and the Pacific Northwest, as roads become iced over and potentially dangerous. Thursday evening, Governor Kate Brown declared a state of emergency due to projected extreme weather across Oregon, which is expected to end January 3, 2022.
Sign up for monthly emails full of local travel inspiration and fun trip ideas. In each newsletter we'll share upcoming events, new things to do, hot dining spots and great travel ideas.
At this time transportation crews are working hard to keep major roadways, side streets, and roads in the higher elevation clear with plows and deicer. The winter storm warning is scheduled to remain in effect through 4 a.m. Monday.
"Anyone with travel plans should stay aware of the latest weather information, have alternative travel plans, or delay travel if possible," a statement from the National Weather Service said.
How Much Snow in Western Oregon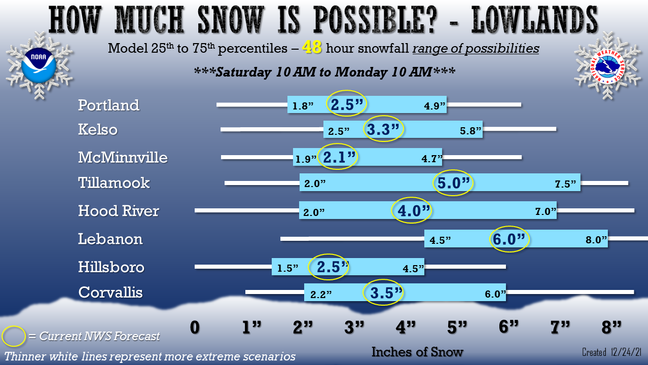 Even the Coast Range, which is pretty rare in Oregon, we could also see 2 to 8 inches of snow with the Cascades seeing from 8 to 15 inches of blowing and drifting snow. Salem is likely to get around 1 to 3 inches with Eugene getting 3 to 5 inches.Up north in the Columbia River Gorge area we could see 2 to 8 inches, and more snow in higher elevations at 500 feet or above. You can hit the link here to see the official snow forecast for northwest Oregon throughout the week, updated around 4am on Monday.
3️⃣ Carry chains/tractions devices. FYI gloves & something to kneel on are a super helpful. Putting chains or cables on w/bare hands & kneeling in wet stuff = 🚫 fun. Remember the posted speed is for normal dry conditions. Slow down for inclement #salemwx conditions. #salemoregon pic.twitter.com/lGZ8X1R2uv

— Salem Police Department (@SalemPoliceDept) December 26, 2021
Thousands Without Power as Snow Dumps on Oregon
According to Pacific Power, as of 7:45 a.m., more than 5,500 customers have lost power across Oregon. The outages included Claptsop County, Douglas County, and Josephine County as Oregonians have woke up Sunday to no power. According to KATU Meteorologist Rhonda Shelby the snow will continue throughout Sunday, heavy at times, and will continue to snow into the early Monday morning.
PGE recommended the following to best be prepared — including an emergency kit:
Flashlight or headlamps.
Battery-powered or hand crank radio and alarm clock or watch.
Car charger for your cell phone, laptops and/or tablets.
72-hour supply of ready-to-eat food and water.
Extra blankets.
Bottled water for people and animals (if you rely on electricity to pump water).
Keep those reports coming! Be sure to include a general location, time, & amount in the report. We appreciate you!

They are incredibly helpful for us to keep track of the storm, gather data for future research, & document impacts. You really are the eyes on the ground. #PQRObs pic.twitter.com/jWDadh7szh

— NWS Portland (@NWSPortland) December 26, 2021
Traveling Safely With Snow in Oregon
The Portland National Weather Services' Facebook and Twitter page, along with detailed forecasts at weather.gov/pqr/ will keep you up to date on the latest conditions. Another great resource to check road conditions with real-time reports is tripcheck.com.
Driving in winter is hazardous, so it's important to be prepared for driving in icy conditions. Visibility can be limited and the road surfaces can become very slippery. Here are some things to keep in mind to ensure you are driving safely, courtesy of worldnomads.com.
Check your car before leaving home. Is the battery okay? Are the tires inflated enough? Are your windscreen wipers working? Does the air-conditioning work if you need to de-mist the windscreen?
If you have hired a car, ask the rental staff about any compulsory road rules in winter. Do you have to drive with dipped headlights? Are snow chains or specific tires compulsory?
Always drive to conditions. The road surface may have black ice, so avoid speeding or braking suddenly. Take corners and curves smoothly and leave plenty of distance between you and the driver in front in case they brake suddenly.
Give yourself plenty of time to get from A to B. Driving in snowy conditions means you will drive slower than normal.
During snow season, snow chains will be required if you're not driving a four-wheel drive. Check with your rental company or the motoring authority in the country you are traveling for more information.
Try to avoid driving at dusk and at night. Not only is visibility reduced, but you may also run into wildlife.
If driving long distances, pack extra food, water, blankets and a flashlight with spare batteries. It's helpful to keep a full fuel can just in case it's a long way between gas stations. If you can, take regular breaks to avoid fatigue and if possible, share the driving.
Keep your phone charged and carry a power bank with you in case of an emergency. If driving in remote areas, carry a locator beacon where there is no cell phone reception.
Emergency Supplies for Traveling
Good equipment for vehicles include snow tires or chains and emergency supplies including:
Extra gas
Blankets
Shovel
Water (one gallon per person per day for several days, for drinking and sanitation).
Food (at least a three-day supply of non-perishable food)
Battery-powered or hand-crank radio and a NOAA Weather Radio with tone alert
Flashlight
First aid kit
Extra batteries
Whistle (to signal for help)
Moist towelettes, garbage bags and plastic ties (for personal sanitation)
Wrench or pliers (to turn off utilities)
Manual can opener (for food)
Local maps
Cell phone with chargers and a backup battery
Power Outages in Oregon
PGE – click here
Pacific Power map – click here
Clark Public Utilities map – click here
Roads and Transportation Information
ODOT – click here
PBOT – click here
WSDOT – click here
TriMet – click here
C-TRAN – click here
Warming Shelters in Oregon
211Info – click here
Click here for a full list of warming shelters – click here