As the gas prices continue to skyrocket across the United States, some not-so-fun news for Oregonians was reported today by Oregon Catalyst. Per their article, the latest data compiled by AAA shows that filling up in Oregon has made the top 5 list for states paying the most at the pumps at an average of $3.79 per gallon. This is a huge jump from the Oregon average price per gallon in 2020 being at $2.67 when the national gas price average was $2.17 per gallon. At $2.67, this was the lowest annual gas price average for the state since 2016.
Gas Prices in Oregon Continue Rise
At a time when inflation and the cost of living, in general, has become almost unbearable, this of course is making things extra difficult for the average income family. If that's not all bad enough, the timing could not be worse when families are struggling just to put gifts under their trees for Christmas.
The article explains Oregon's gas prices are uniquely higher due to a "hidden gas tax" known as the Clean Fuel Standard, which is similar to California's Carbon Tax that was passed — a tax which Oregon has been trying to pass for some time. According to the article, the exact figure on the total fee costs is unknown and has not been shared with the media. While I can't speak to this, as this subject is a bit out of my realm, the truth is most Oregonians don't even know the Oregon Clean Fuels Program, exists.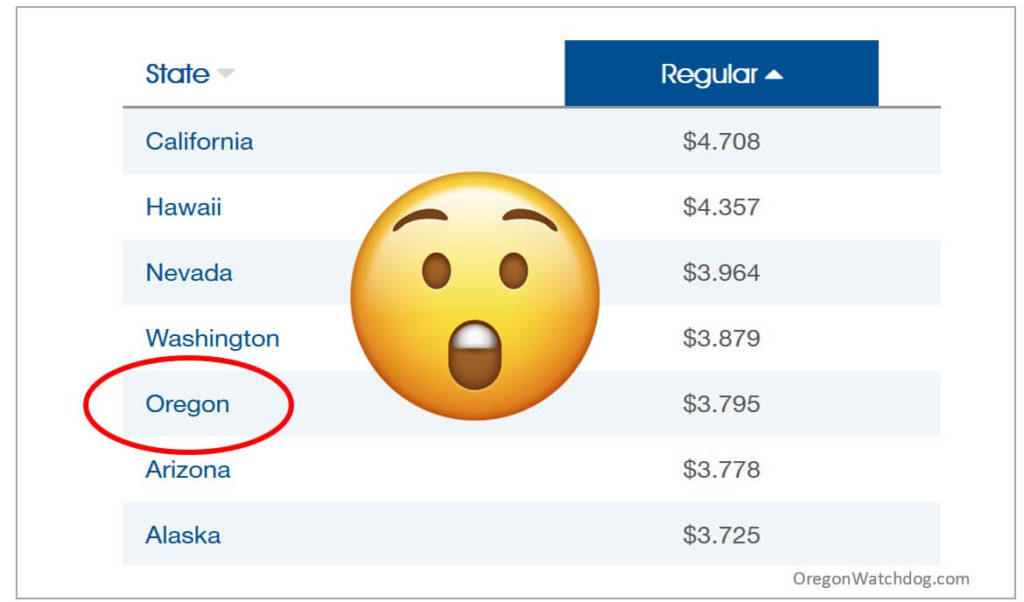 What is the Oregon Clean Fuels Program
As stated here at Oregon.gov, "the clean fuel standards are the annual average carbon intensity with which a regulated party must comply. There is a standard for gasoline and gasoline substitutes, one for diesel and diesel substitutes, and one for alternative jet fuel. The baseline year for the program is 2015 and the standard for that year represents 10 percent ethanol blended with gasoline and 5 percent biodiesel blended with diesel. The current rule requires a 10 percent reduction in average carbon intensity from 2015 levels by 2025."
The 2009 Oregon Legislature passed HB 2186 authorizing the Oregon Environmental Quality Commission to adopt rules to reduce the average carbon intensity of Oregon's transportation fuels by 10 percent over a 10-year period. The 2015 Oregon Legislature passed SB 324 allowing DEQ to fully implement the Clean Fuels Program beginning in 2016. You can read an overview of the Clean Fuels Program in detail here. In 2020 Kate Brown strengthened Oregon's Clean Fuels Program when signing an executive order to reduce Oregon's greenhouse gas emissions.
According to rewneworegon.org, Oregon's transportation sector emits nearly 40% of our state's climate pollution. They continue to say burning dirty fuels like gasoline and diesel is the largest source of climate changing pollution and it's only getting dirtier. A poll as shown in the article suggests 65% of Oregonians all over the state support the Clean Fuels Standard.
Also worth mentioning is Oregon's Clean Trucks Rule, which was recently approved in November by the Oregon Environmental Quality Commission, will also soon require manufacturers to sell a certain percentage of zero-emission trucks in the state of Oregon. This will take aim at emissions released from medium and heavy-duty vehicles. Starting with model year 2025, manufacturers are required to increase the percentage of zero-emission truck sales.
The Highest Gas Prices in Oregon Have Ever Been
The highest record average price per gallon ever in Oregon was around $4.30 back in 2008, depending on where you filled up.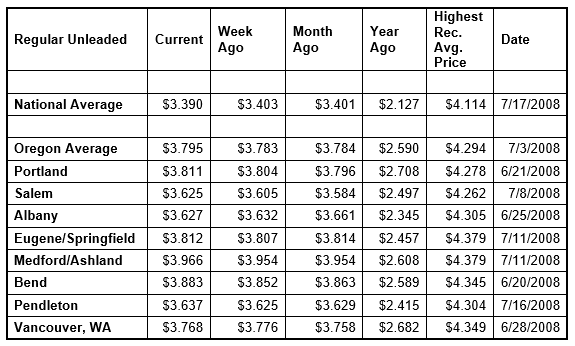 Yesterday, AAA reports crude oil prices have tumbled after news of the Omicron varient, which can hopefully put some downward pressure on pump prices in the coming weeks.
"Drivers should get a little relief at the pumps but it's too soon to say if lower crude oil prices will last. For now, fears of a global economic slowdown caused by the Omicron variant are pushing crude prices lower, which should translate into cheaper gas prices in the next couple weeks," says Marie Dodds, public affairs director for AAA Oregon/Idaho.