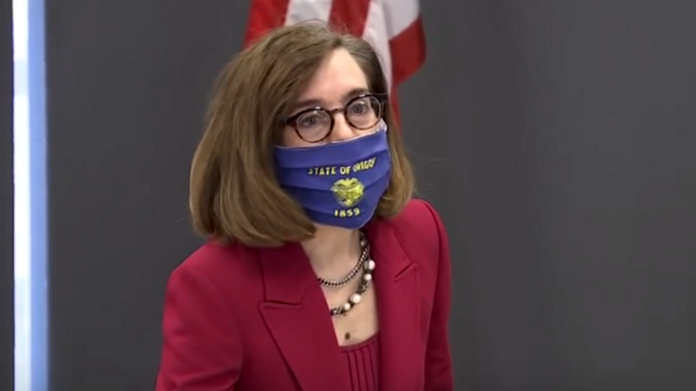 In an unsettling video recently with an interview just days before Thanksgiving, Oregon's governor Kate Brown has encouraged residents to call the authorities on their neighbors who are violating the most recent round of COVID-19 protocols.
The video interview from KGW comes just days after Kate Brown has threatened to arrest any citizens caught having more than six people from two separate households. Not only can you be arrested or fined, but Brown has also made it clear citizens can be charged with a misdemeanor crime. The 2-week freeze will likely have a devastating effect on Oregon businesses, many of which are still struggling from over six months of restrictions on their businesses.
"This is no different than what happens if there's a party down the street and it's keeping everyone awake," Brown said in the interview Friday. "What do neighbors do [in that case]? They call law enforcement because it's too noisy. This is just like that. It's like a violation of a noise ordinance."
As you would expect, this has not only citizens as ourselves very concerned about our own personal liberty, but it also has many sheriff's and mayors across Oregon flat out defying her orders. As reported by KGW, last Friday, the Marion County Sheriff's office said in a statement, "We recognize that we cannot arrest or enforce our way out of the pandemic, and we believe both are counterproductive to public health goals."
Tootie Smith, the incoming chair of the Clackamas County Commission who publicly rebuked Gov. Kate Brown's 2-week COVID freeze mandate, said "We do not need to be treated as second rate slaves in our own homes" during an appearance on FOX News.
"This is about saving lives and it's about protecting our fellow Oregonians," she said. "We have too many sporadic cases in Oregon. We can't trace these cases to a particular source. We have to limit gatherings and social interactions."
The restrictions in place are expected to run from Nov. 18 through Dec. 2, and include the Thanksgiving holiday. Restaurants, like before, will be limited to take-out only. Gyms are being forced to close again. As a part of the freeze museums and outdoor recreational facilities are to be closed, and stores expected to have limited capacity.
The situation in Oregon is of course not unique. The Centers for Disease Control and Prevention had advised against traveling for the holiday as the coronavirus cases go up. A New Jersey police chief vowed to limit enforcement of a recent string of coronavirus orders from Democratic Gov. Phil Murphy ahead of Thanksgiving, and would rely primarily on community judgment rather than low enforcement intervention.
In a video that recently went viral, a gathering of small business owners was in defiance of coronavirus restrictions in western New York. The owners and the officers ultimately were pushed out as the business owners refused to comply.
"I'm asking for you guys to have some compassion," one man says to the health inspector, "for the people that have lost everything."
Business owners in Buffalo, NY demand "health inspector" leave private property. "Go get a warrant."

People have had enough of the #COVID19 tyranny curbing their life, liberty and the pursuit of happiness. pic.twitter.com/7lo6YKKVrU

— Justin Hart (@justin_hart) November 21, 2020
Here in Oregon, Lebanon Mayor Paul Aziz also took a stand against Kate Brown, as he said in light of Linn County having lower rates of infections, the governor "acted beyond her authority" and the impacts of the freeze will be "devastating to our community financially and on our citizens' mental health."
Below is the full 10-minute interview with Governor Brown:
In this article, three preeminent experts, Dr. Martin Kulldorff, professor of medicine at Harvard University; Dr. Sunetra Gupta, an epidemiologist at Oxford University; and Dr. Jay Bhattacharya, a physician, and epidemiologist at Stanford University say lockdowns do more harm than good.
Do you feel lockdowns are necessary to combat this virus? Are you ok with Gov. Brown's approach to arresting citizens in Oregon for not following her orders in light of COVID-19? Sound off in the comments.