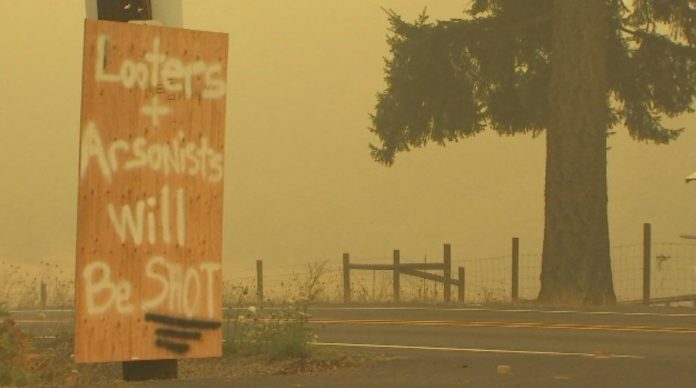 Oregonians already broken and stressed from the wildfires are sending a message to those who seek to do harm: don't even think about it.
As the very real threat of arson and looting persists during the horrific wildfires raging across Oregon, citizens are taking a stand against criminals… And with good reason.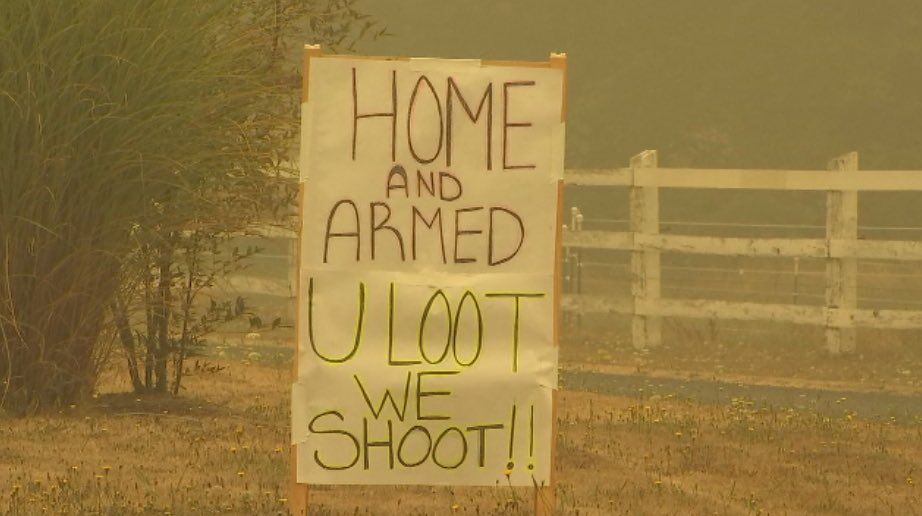 In Clackamas County signs have been posted by residence warning those who seek to take advantage of the horrific situation. As of Saturday, Estacada and Colton remained under a Level 3 evacuation order, meaning "go now".
Some of the many warnings residents have posted between Colton and Estacada. @fox12oregon pic.twitter.com/gOstHelXH0

— Devin Eskew (@Devin_Eskew) September 12, 2020
"Home and armed u loot we shoot!" and "Looters + arsonists will be shot" were two of the signs that were seen, KPTV reported. Jackson County Sherriff's Office spokesperson, Mike Moran, spoke with The Oregonian, saying "There have been a few incidents, but they are not widespread."
We are at a loss for words. Deputies & @Corbett_Fire responded to a small brush fire in the 1700 block of NE Brower Rd in Corbett at 3:52pm. Neighbors heard pops and saw 6ft flames in the forest. Using a shovel and water, they were able to put it out. Deputies found fireworks… pic.twitter.com/dGrEzULBgU

— Multnomah Co Sheriff (@MultCoSO) September 12, 2020
So far, Oregon has seen multiple cases of arson, and arrests have been made. One of the most recent was Michael Jarrod Bakkela, who was charged with two counts of arson, along with 15 counts of criminal mischief and 14 counts of reckless endangering.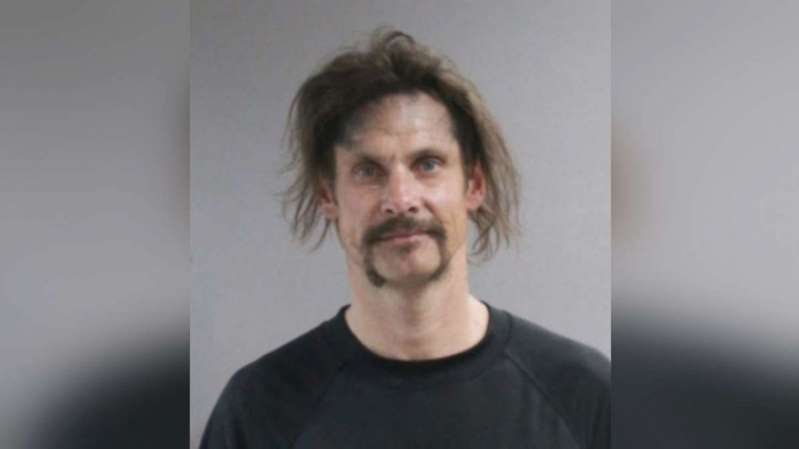 Local residents of Phoenix called 911 after witnessing a man light a fire behind their home around 5 p.m. local time, police said. According to witnesses, they had fled their house "due to the impending fire," the sheriff's office said.
At the time of the Oregon State Police trooper and Jackson County Sheriff's Office deputies arrival, the arsonist "was standing close to a very large fire threatening several homes," the sheriff's office alleged.
Around six hours prior, the Almeda Fire had already started and eventually merged with the fire allegedly started by Bakkela. Police are attributing "significant damage" as a result of the fire. The man was initially arrested for a probation violation on a charge stemming from unlawful possession of meth. Friday afternoon he was charged in connection with the Almeda Fire.
In a separate investigation, police said Friday a man suspected of starting the Alemda Fire was found dead about a mile from the origin point of the fire, in north Ashland. ABC also reports a second death connected to the Almeda Fire. The fire has already burned more than 5,700 acres and leveled 700 structures.
Here are five more outdoor arson cases that have been reported in recent weeks across Oregon, Washington and California:
#1. Police arrested a man for arson over Sweet Creek Fires.  Lane County Police announcement.  Oregonian notes "A 44-year-old man was arrested Tuesday on suspicion of arson in a wildfire that has burned nearly 400 acres and prompted evacuations west of Eugene, deputies say"
#2. Police in Washington arrested a man who was caught setting a brush fire. fire in the brush along SR-167.  Police were forced to close the northbound ramp on the highway.
#3. Arson arrest in Spokane, WA:  KHQ-TV 6 News is reporting that police have arrested a woman for multiple arson incidences; "According to Spokane Police, Officer Mohondro arrived on scene he saw some grass and a pallet on fire outside of a commercial business… The same officer spotted another fire a few blocks away. SPD said the fire was next to an old oil drum under a tree which gave the fire the potential to explode into something much larger was very high."
#4. Arson arrest in California fire:   San Fransisco Chronicle reports, "Ivan Geronimo Gomez, 31, of Fresno was arrested and booked into Monterey County Jail on Aug. 19 after state park rangers detained him near the fire's origin point, the Sheriff's Office said. Sheriff's detectives arrested him on suspicion of five charges, including arson of forestland, setting his bail at $2 million. Jail records list illegal marijuana cultivation as another charge, along with throwing objects at a vehicle with intent to cause great bodily harm, battery and exhibiting a deadly weapon that wasn't a gun."
#5. Police arrest a man in Lane County: The Hill reports, "Authorities in southern Oregon charged a 44-year-old man, Jason Maas, with first-degree arson after he allegedly started a fire in the woods near the frisbee golf course at Dexter State Recreation Area on Wednesday."
@LaneSheriffOR has arrested 44 year old Jonathan Maas in connection with a brush fire (~5ft in diameter) set in the Dexter area on 9/9/20. Thank you to the kind folks who spotted the fire and extinguished it! (This incident is NOT related to the Holiday Farm/McK fire.) pic.twitter.com/Ld4H35nqFR

— Lane County Sheriff (@LaneSheriffOR) September 11, 2020
Oregon is experiencing the greatest loss of property and human lives in Oregon's history from wildfires, as stated by Governor Kate Brown. With more than 100 major fires, at least 33 deaths have been reported in California, Oregon, and Washington. Brown said Friday that many people are still missing and more than 40,000 have fled their homes as the state prepares for a "mass fatality event."
Hard to find the words for the fire destruction @SenJeffMerkley, @repgregwalden & I are seeing on our tour now of Talent and Phoenix. Will work my tail off to get all possible federal help to the residents & businesses of these southern Oregon towns & so many others statewide. pic.twitter.com/VfcUEWAwHm

— Ron Wyden (@RonWyden) September 12, 2020
In more news, Oregon's Fire Marshal Jim Walker submitted his resignation on Saturday to State Police Superintendent Travis Hampton, just hours after he was placed on administrative leave. The role is reported to be taken over by Chief Deputy Mariana Ruiz-Temple.
A source told Oregon Live that Superintendent Hampton had lost confidence in Walker's ability to manage the wildfires that have inundated the West Coast.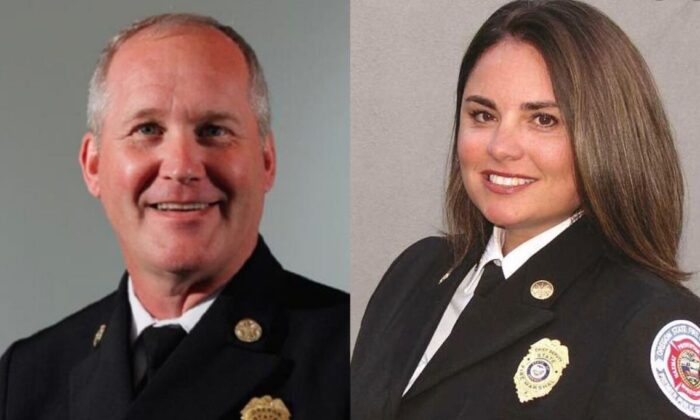 Beware of false arson claims and rumors on social media:
The FBI on Friday released a statement addressing rumors that have spread across social media that "extremists" were intentionally starting fires. It's important to verify with a news source before broadcasting any arson news as 911 dispatchers have become overwhelmed with people reporting fake arson situations.
It has also been reported Facebook is actively taking down false reports of antifa arson in Oregon, as Facebook said Saturday. Checkpoints have been set up across Oregon by locals as a result of arson.