A wildfire has broken out near Mosier in the Columbia River Gorge and has grown to around 800 acres overnight, according to the Oregon Department of Forestry. Mosier is located about 70 miles east of Portland. The fire, which started around 5pm Wednesday, is said to be human caused as there has not been any lightning in the area recently. At this time, the point of origin and exact cause are not certain.
Update on #MosierCreekFire @MyODFW confirms the fire is human caused since there has been no lightning in the area. No point of origin and no exact cause determined yet but that will be investigated. #Fox12Oregon pic.twitter.com/AGO4GlPHSw

— Debra Gil (@DebraGil) August 13, 2020
The fire has prompted hundreds of homes in the Columbia River Gorge to be evacuated, as The Wasco County Sheriff's Office said shortly after 5pm it was "inundated with calls" about a blaze in the town of Mosier.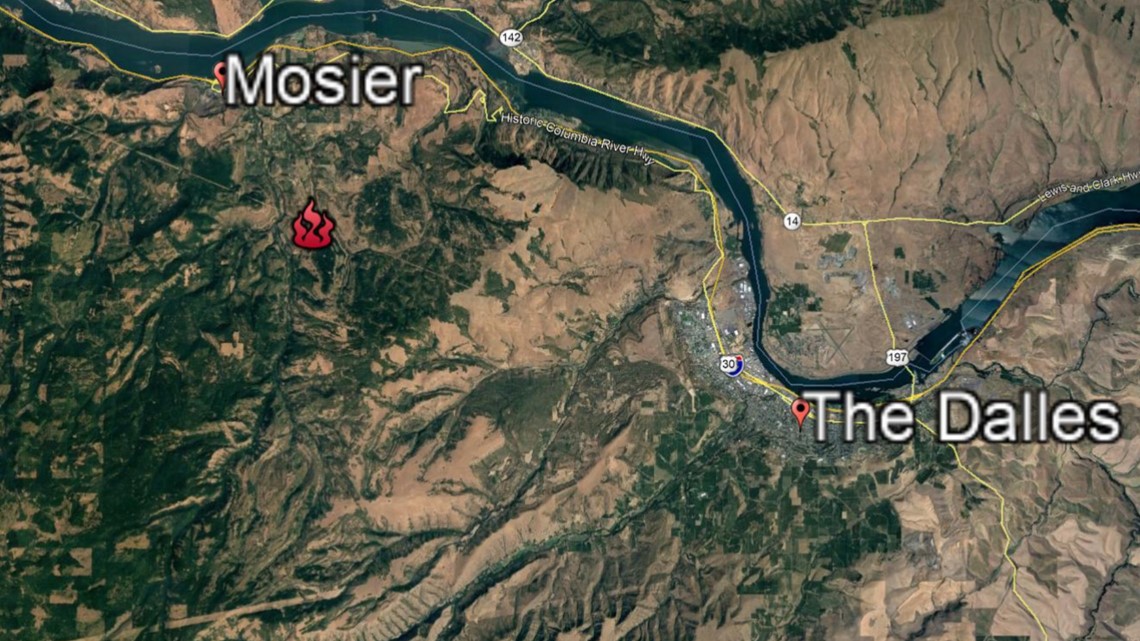 KPTV reports Level 3 (GO NOW) evacuations were in place for around 150 homes, and Level 2 (BET SET) evacuations were in places just east of the fire for 500 homes almost into The Dalles. 250 homes in the Browns Creek and rural areas south of The Dalles have been impacted, with a Level 1 (BE READY) evacuation in place.
Governor Kate Brown invoked the Emergency Conflagration Act. This order authorizes structural firefighters and equipment from around Oregon to assist local fire departments in battling the wildfire.
As of Thursday morning, The Shilo Inn in The Dalles has been set up as a shelter location to those evacuating the fire, and the evacuation orders remain in place. At this time, around 100 firefighters from several agencies are fighting the fire. Crews are attacking the fire from the ground and from the air, with four large air tankers, fire boss aircraft dipping from the river, and several helicopters.
Another view from Air 12 showing the #MosierCreekFire burning in the gorge tonight. 😔 At last check it's scorched 500 acres. No word on a cause. 150 homes are being told to evacuated now. #Oregon #Wildfire #OrWx #ColumbiaRiverGorge #Mosier #Dalles #HoodRiver #fire @fox12oregon pic.twitter.com/zjeBXGGJ6Q

— Bonnie Silkman KPTV (@BonnieSilkman) August 13, 2020