In the wake of the re­cent an­nounce­ment from Kate Brown re­quest­ing that peo­ple stay home dur­ing the Pan­demic, peo­ple are choos­ing to ig­nore the strong warn­ing.
Gov­ern­ment of­fi­cials and doctors worldwide agree that the only way to stop the ram­pant spread of the COVID-19 virus is by so­cial dis­tanc­ing which equates to stay­ing home and staying put un­less for ab­solute ne­ces­si­ties. The statistics are scary, but many peo­ple in Ore­gon right now aren't tak­ing this se­ri­ously. A death rate of 1% may seem paltry, but based on the US population in 2019 this equates to a potential three million losses of life.
My buddy took this time lapse video driving from the #OregonCoast to Portland today.

In the middle of a pandemic, this doesn't look like social distancing to me. pic.twitter.com/8VZJv1PvR6

— Morgan Romero TV (@MorganRomeroTV) March 21, 2020
The novel coronavirus entered the US population near our northern neighbors in Kirkland, WA. Being so close to home, one would imagine Oregonians and vacationers would take the threat seriously, but the glut of visitors to Warrenton, OR was so heavy that local government had to intercede.
Astoria Mayor Bruce Jones was furious.
"Today we have been appalled by the sight of tens of thousands of irresponsible vacationers flocking to the coast, as if this was just another spring break week, with callous disregard for residents' health and safety," he wrote tonight. "This, despite the governor's strong urging to stay at home and prohibitions on gatherings larger than 25, [Centers for Disease Control and Prevention] recommendations against gatherings larger than 10, and the constant urgings of the CDC to practice social distancing and stay home except for essential tasks."
Saturday afternoon, Warrenton Mayor Henry Balensifer issued an immediate 24-hour "eviction notice" to tourists. "We can't handle having thousands of people flood the city."
Small coastal towns in Oregon are simply not medically equipped to handle an influx of individuals. Said Balensifer, "My message is: tourists, don't come here. Not right now. We'll welcome you back later, the beach is always going to be here, clams are still in the ocean—they don't catch COVID-19."
The beach is just one of the places peo­ple are find­ing respite dur­ing the COVIC-19 Pan­demic, but the Co­lum­bia gorge was also packed this week­end due to the sheer amount of peo­ple want­ing to get out­doors (and reasonably so). Hik­ing is one of the only safe ac­tiv­i­ties to do dur­ing the COVID-19 out­break, but af­ter see­ing the crowds, it's starting to look like hik­ing may also put you at risk due to the swarm of people.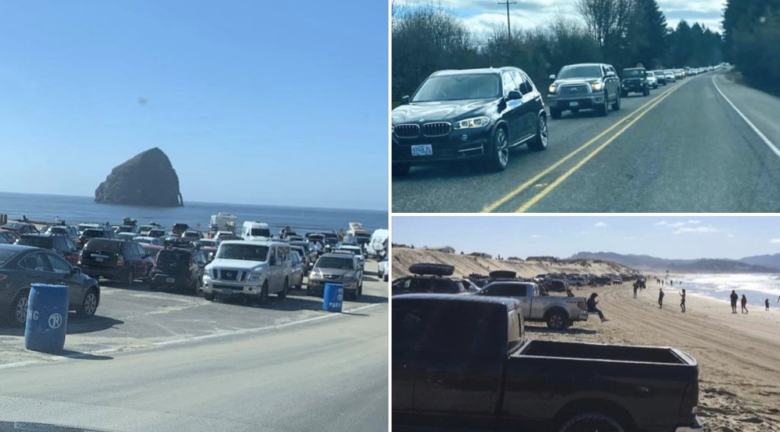 ODOT also re­cently an­nounced, "Ex­pect big de­lays Tues­day on the His­toric Co­lum­bia River High­way, ODOT will stop all traf­fic for more than 20 min­utes at a time be­tween 8 am to 4:30 pm at Horse­tail Falls to re­move trees threat­en­ing the road. Flag­gers will con­trol the clo­sures. Crews will work to keep each clo­sure to a min­i­mum. Dri­vers should plan for de­lays and heavy traf­fic in the area," the an­nounce­ment con­cludes, in what is prob­a­bly an un­der­state­ment." –via Willamette Week
Understanding what "stay home", "shelter in place", and "social distancing" entail are crucial at this time. Grocery shopping, visits to the pharmacy and other critical business will still be allowed, and many studies have shown that exposing oneself to fresh air and sunshine is beneficial if not necessary as Americans buckle down during this crisis.
The danger in not following safe social practices lies in the fact that such a large percentage of Covid-19 cases are completely asymptomatic. While one may feel absolutely well, they may be carrying a high viral load, unknowingly infecting others they come into contact with. In this writer's humble opinion, that possibility is frightening and a risk I'm not willing to impose upon my fellow humans.
Be safe out there, everyone.
–Original story via our friends at The Oregon Daily