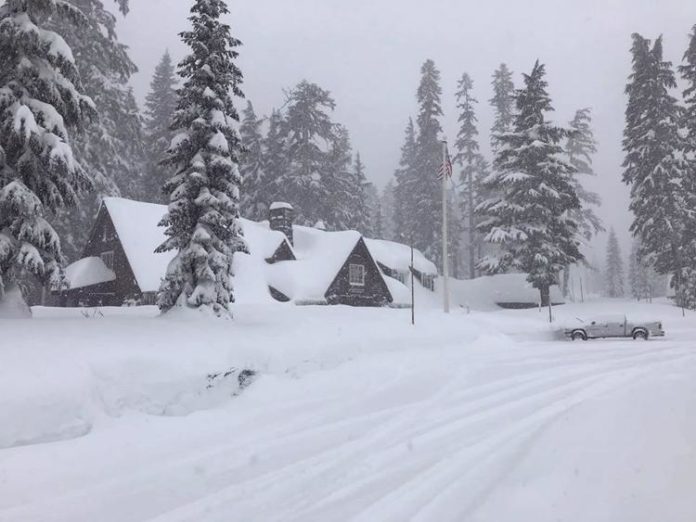 Crater Lake has completely lost telephone and internet connection early Monday morning, effectively cutting off any communication between residents and National Park staff. The Rim Café and Gift Shop at Rim Village have closed, as well as the road in from park headquarters.
The park's management assistant, Sean Denniston, had no estimate on when the road to the rim will be reopened, as crews are giving their highest priority to keeping the South Entrance on Highway 62 clear and open. Park staff still need to be able to get through to their homes near park headquarters in Munson Valley, but the weather station there had shown a whopping 56″ since Wednesday, January 8th.
Highway 62 from Prospect and the Rogue Valley to Crater Lake's south entrance was closed earlier this week because of fallen trees and heavy snow and was still closed Tuesday afternoon with no estimates on when the road might be reopened.
Denniston further emphasized that park visitors need to "be prepared for winter conditions". Extreme caution should be taken, he went on, "because many people tend not to be adequately preparing. Our concern is for visitors who don't have experience driving in the snow." People who do choose to visit are advised to have vehicles with chains and/or traction tires and to carry shovels.
We will keep you updated on the situation if updated information becomes available. "Hopefully it's not too extended," Denniston said.
h/t Herald And News