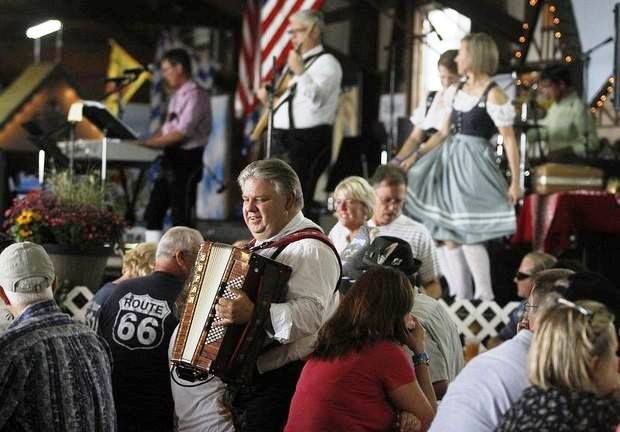 The Mt. Angel Oktoberfest is looking to be bigger than ever this year!  With 5 Biergartens, traditional Bavarian music, and a host of activities for all ages, Oktoberfest is a rich cultural celebration everyone should experience at least once.
Check out this quick showcase of Oktoberfest 2015:

Oktoberfest – A Rich History Of Celebration And Giving
The Mt. Angel Oktoberfest is one of the longest standing and best loved folk festivals in the Northwest, and will continue to be so for years to come.  What was once a fall festival to celebrate the bounty of the earth has turned into a community effort unparalleled in the Pacific Northwest.  The festival started in 1966 with a focus on Bavarian culture with a lot of Swiss and Austrian components.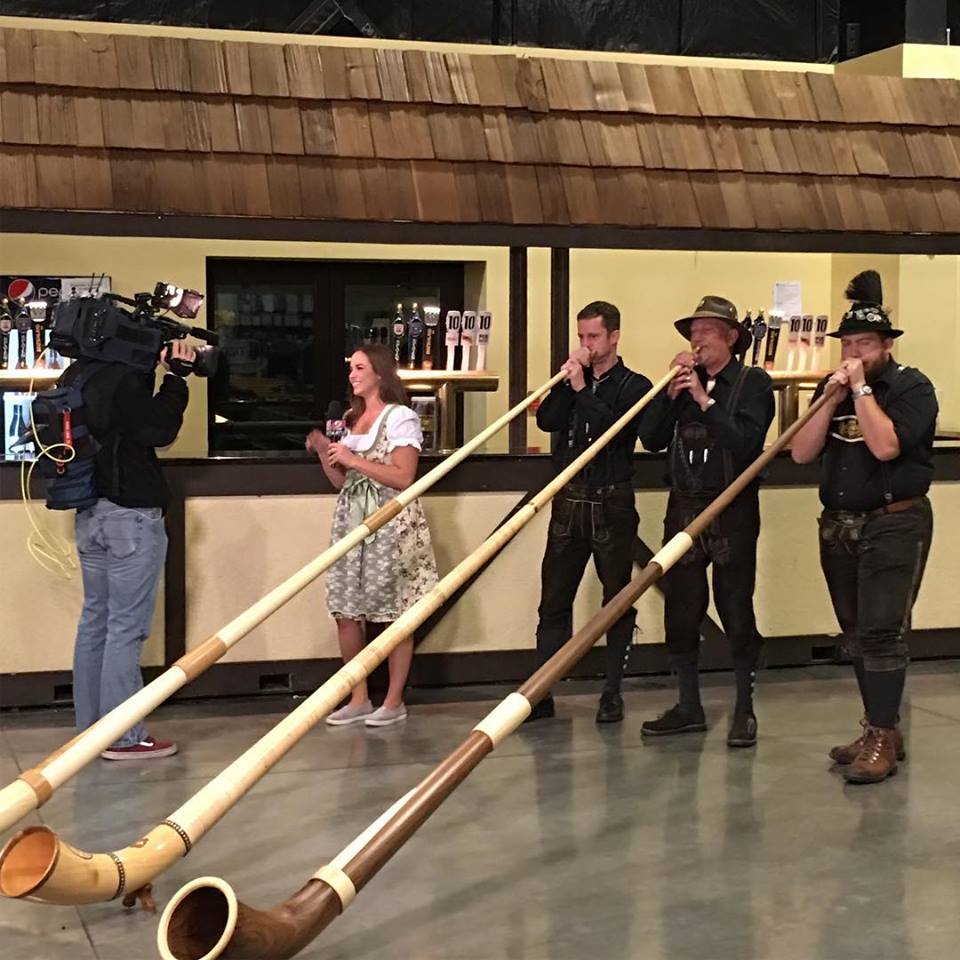 The Mt. Angel Oktoberfest has been known to have up to 400,000 people in attendance, which is a good thing considering that all the food booths lining the streets of the festival are run by non-profit agencies.  These non-profit food booths are put on by local fire departments, children's sports teams, churches, school programs, and other agencies that are there to help people.  In 2018 these non-profit groups brought in over $800,000 to support their causes.  Some of the money is given away to other non-profits through grant programs.  Over the last 54 years of the festival, over $3.4 million dollars has been donated.
Aside from all the good that comes from the festival, it's worth it to note that Oktoberfest is organized and run by volunteers. "It is the largest all volunteer led event in the Northwest," said Monica Bochsler.
Oktoberfest 2019 Lineup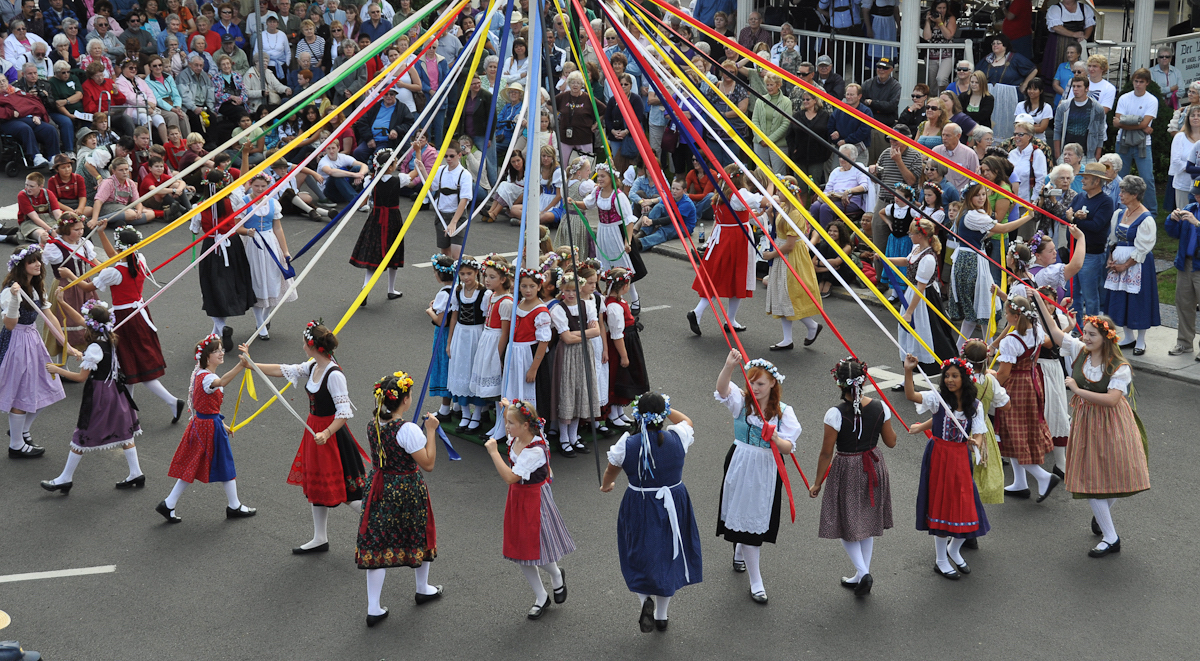 Oktoberfest kicks off each year with a traditional May pole dance preformed by Mount Angel school children, and goes on through the weekend to include live music, good food, a biergarten, car shows, and even a wiener dog race.
"Our festival is very family oriented," said Monica Bochsler, "kids are welcome in the Biergarten and Weingarten until 9:00pm and in the Alpinegarten, Prostgarten and Hopfengarten until close."
Drinks and Music
The festival fills the streets of Mt. Angel and includes 5 Biergartens, the Weingarten, the Alpengarten, beer, wine, craft beer and cider.  You'll also want to check out the Hopfengarten if you want to try brews from small breweries that aren't always on the shelf at the local grocery.  The Hopfengarten has no cover charge.
While you're enjoying a drink with friends and family, you'll be treated to traditional music with accordions, cow bells, yodelers and bands that have a Bavarian or Alpine influence.  Bands will also play traditional drinking favorites because it wouldn't be Oktoberfest without that.  Oktoberfest bands come from as far away as Munich, Canada, and New York to play at the Mt. Angel Oktoberfest and to make sure festival goers have a good time.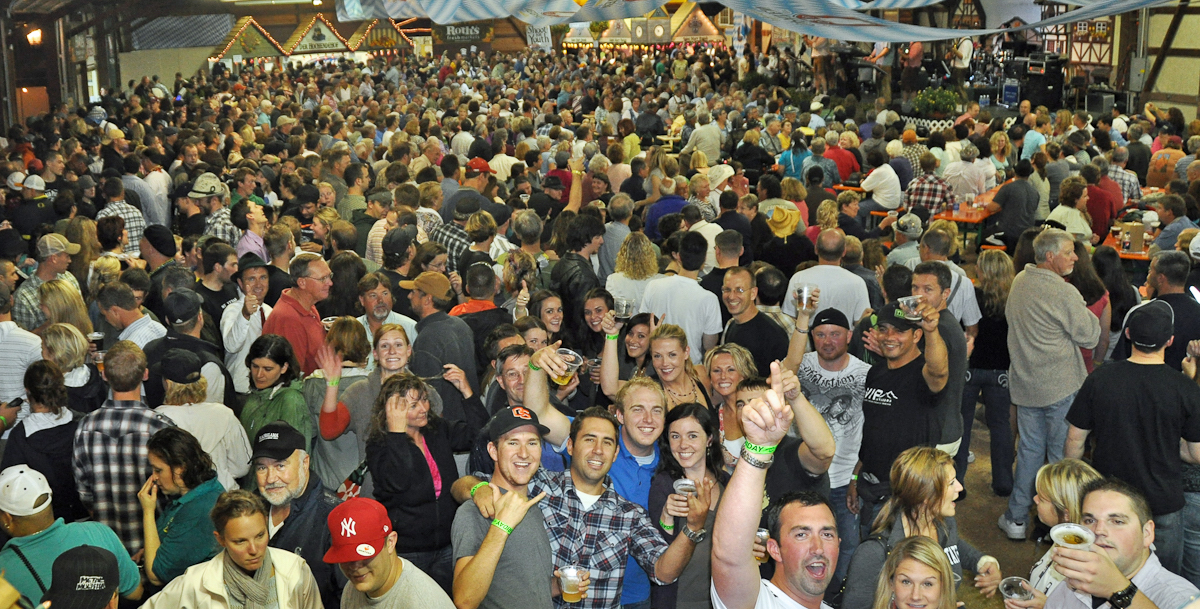 Good Food
You'll find a variety of amazing foods at Oktoberfest.  Some of the offerings include:  Spätzle, sausage with sour kraut, dough boys, sausage on a stick, Berliner sandwiches, donuts, cakes, cabbage rolls, meatballs and cheese curds.
Check out this guy, who tried to eat his way through the Mt. Angel Oktoberfest one year:
Dances And Activities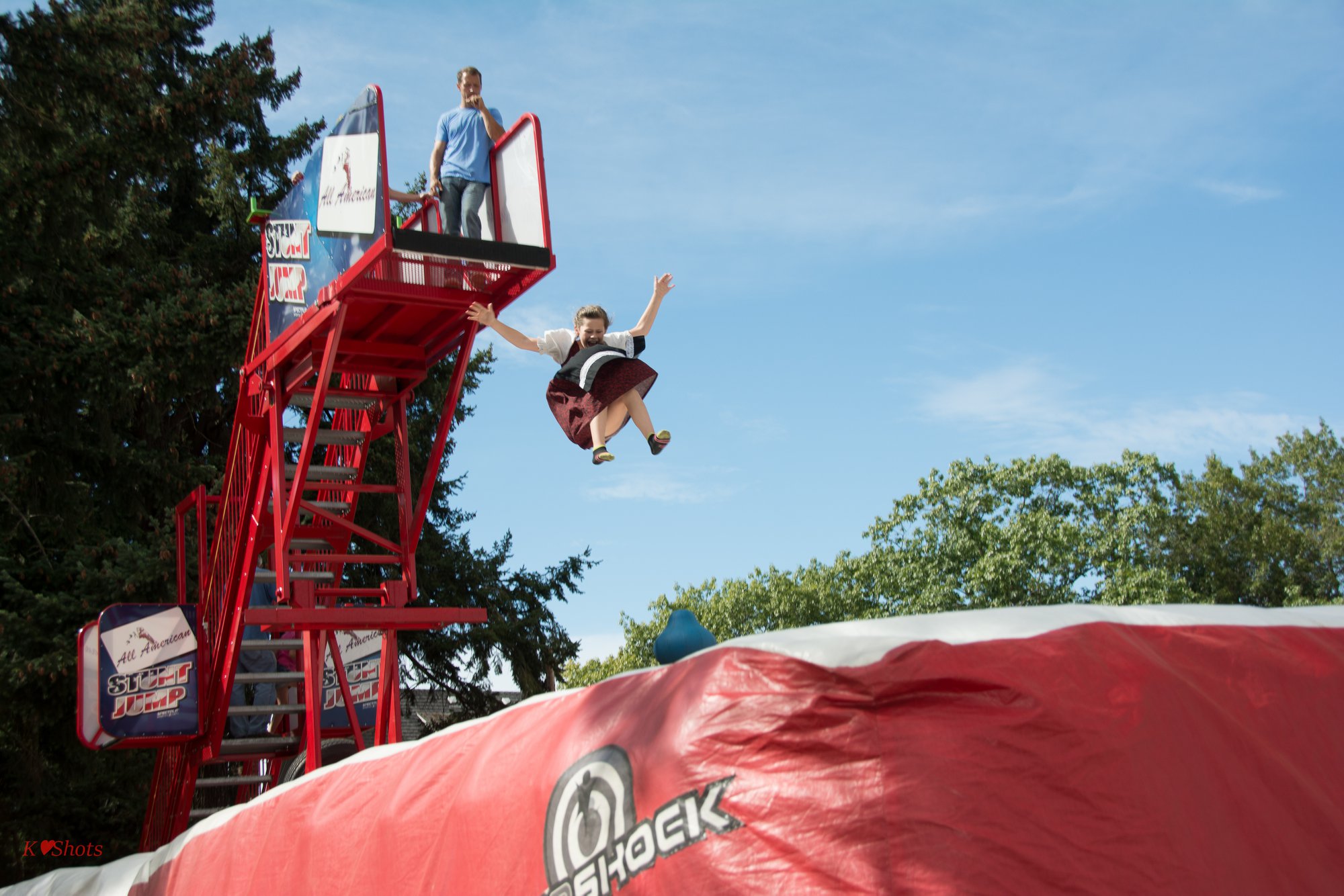 Oktoberfest offers several nightly street dances to keep things lively, as well as a host of other activities which the kids are sure to enjoy.
If you're looking for a quiet place to relax, be sure to check out the Prostgarten, which is the perfect place to sit and have a quiet chat with a loved one while enjoying amazing food.
Car enthusiasts will enjoy the car show, with over 100 vehicles on Saturday and 100 new vehicles on Sunday.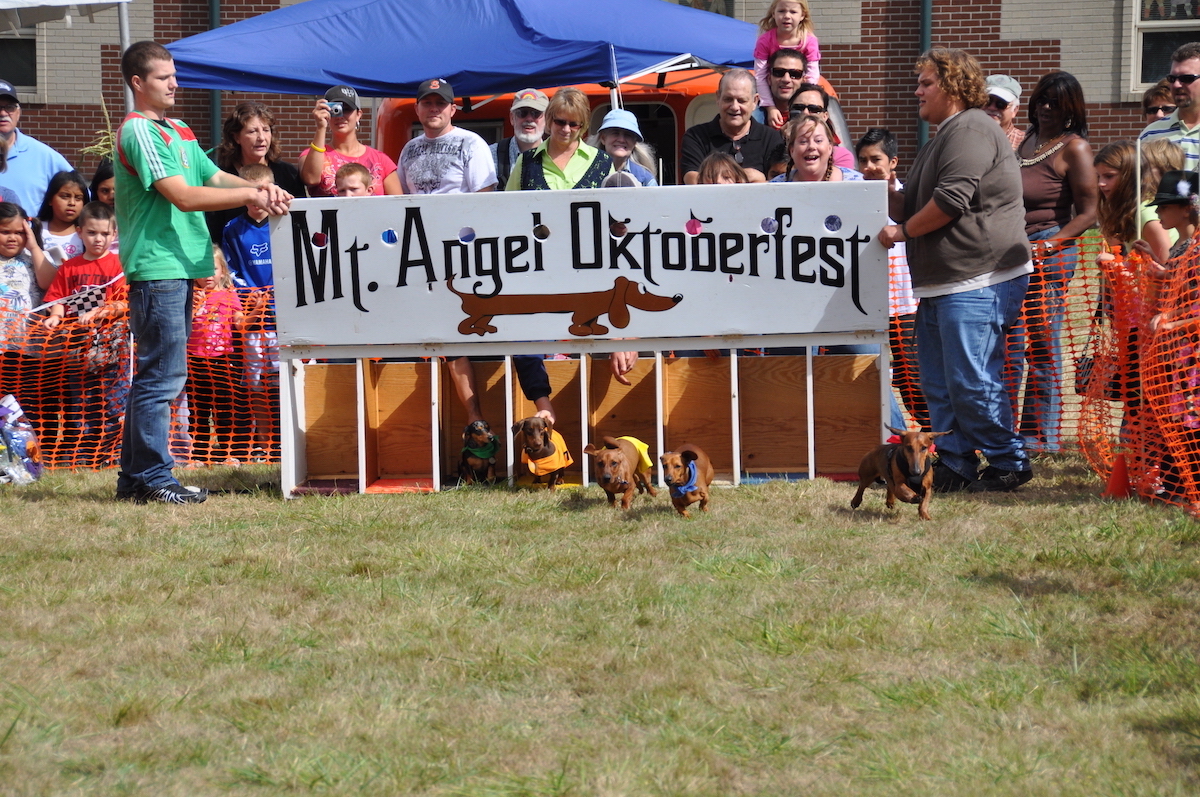 If you're attending with children, there's a free Kindergarten full of free entertainment for young and old alike.  The Kindergarten features a 4H barnyard, pony rings, interactive bouncing amusements, climbing walls, and other physical activities.  The Kindergarten is where the famed wiener dog race takes place.
Other activities include a 10K fun run, a 5K run/walk, a half marathon, golf and volleyball tournaments.
Oktoberfest 2019 Info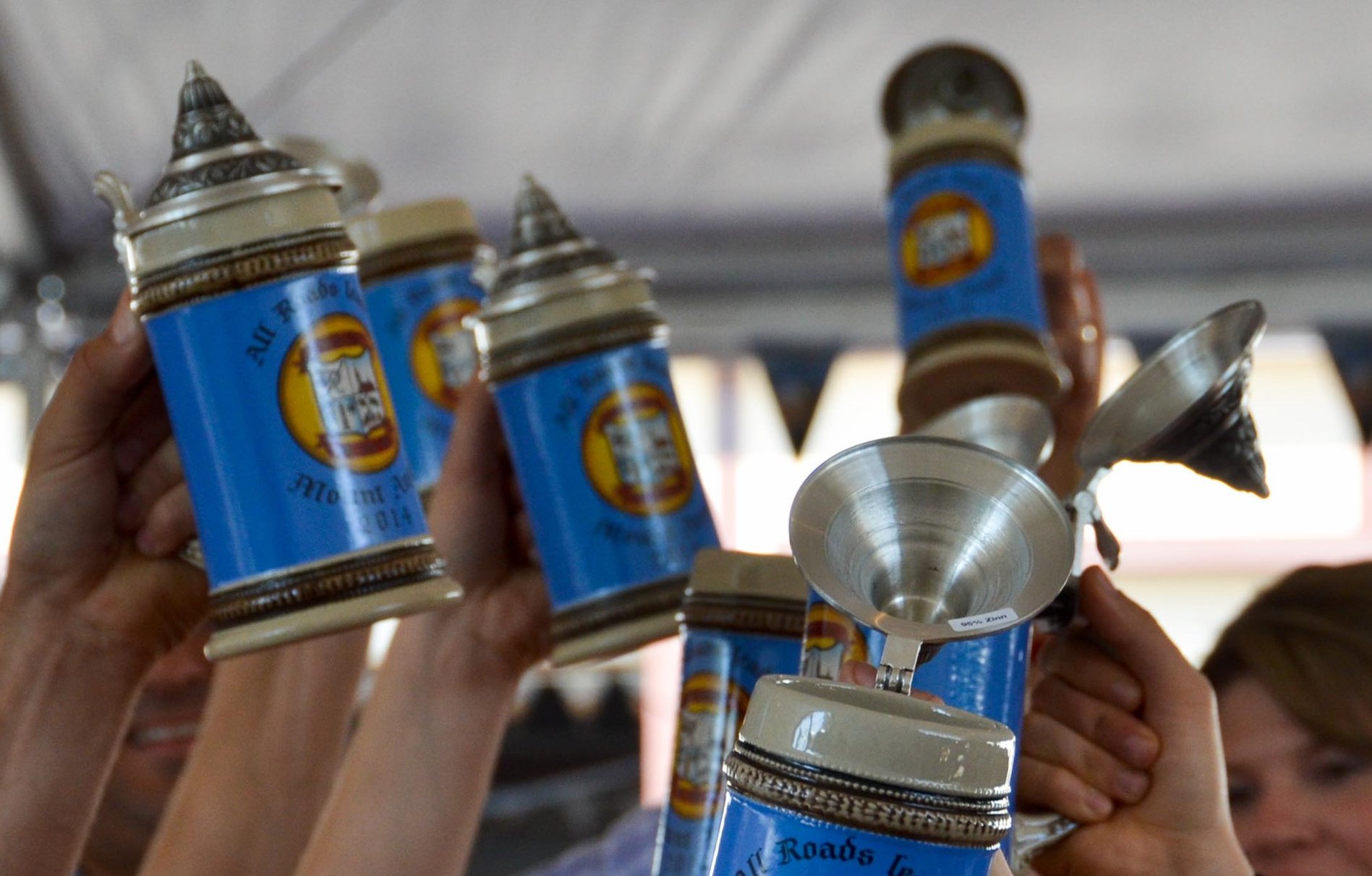 Dates: September 12 – 15th 2019
Location: Garfield St., Mount Angel Oregon, 97362
Tickets: Most events at Oktoberfest are free, however three venues have a cover charge for adults 21 and over.  Purchasing a wristband will allow you entry to all three paid venues.  A wristband for all four days costs $30, or you can buy a wristband for just the day you want to attend for between $5 and $15 depending on the day and time of purchase.  You can purchase wristbands here.
Take Note: There is never a charge for people under 21 years old to get into the three paid venues, though there are certain hours people under 21 are not allowed in those paid venues.
Have you been to the Mt. Angel Oktoberfest before?  What's your favorite part?  Tag everyone you want to take with you!