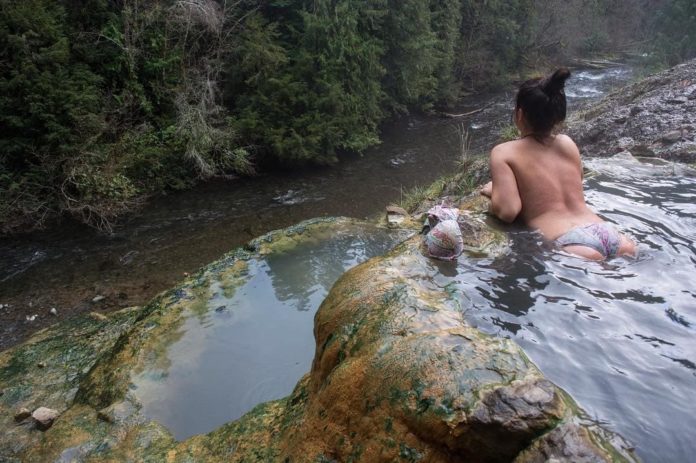 While I've never officially hiked naked on Naked Hiking Day, the unofficial holiday which falls on June 21 of every year is here once again. The day of the summer solstice is also today, and this particular holiday has always intrigued me a bit. I mean… How many people really hike naked today? I'm pretty open-minded to things, and of course, I've soaked at a number of hot springs naked in Oregon. But I've never hiked naked. While this may sound kinda fun, I'm not sure if this is something I will be doing anytime soon.
And hiking in your birthday suit is even more common than you might think. In Europe, it's especially common, and a U.S. outdoor author Colin Fletcher wrote a lot about hiking naked through the Grand Canyon and the Pacific Crest Trail on warmer days.
Hiking naked and the Law
Of course, before you strip down you might want to make sure it's legal in your state. While I recognize folks from other states may be reading this, I'm a bit lazy and don't feel like doing all the research – so I'll just mostly stick to the Beaver State. If you are hiking on U.S. federal lands such as a National Forest or Bureau of Land Management area, according to this article, while state and local law may take precedence there is no federal law against nudity. Also worth mentioning, the U.S. Bureau of Land Management and Colorado Parks and Wildlife warned potential naked hikers in 2017 that they would not be tolerated on state lands and would be dealt with according to the local laws if on federal lands.
As far as Oregon goes, the simple answer is, according to The Oregonian, it's not so simple. While Oregon state law may actually be pretty lenient on nudity, letting your junk hang in the open or letting out the twins could potentially get you thrown in jail. Public nudity is broadly legal in Oregon. The law says you can do as you like, as long as you don't do it with the intent to cause arousal in others. To put it another way, nudity is legal in Oregon as long as there's no chance that anyone might be enjoying it.
And if you're going to do it, the National Forests of the Pacific Northwest is the place to be. While nudity may be banned in "developed recreation sites," like campgrounds and day use areas, the U.S. Forest Service has gone on the record to say there is no policy anywhere against hiking naked in the wilder parts of the forests.
So when you're at the trailhead, yes, keep your clothes on. But once you venture out onto the trail, and out of sight from the parking area, so long as you are not making someone else uncomfortable or harassing anyone else, stripping down is just fine.
"We want people to enjoy their national forests and be respectful of not only the forests themselves but also be respectful of the other visitors they encounter," Glen Sachet, the acting regional media specialist for the forest service explained to the Oregonian. Keep in mind, this article was from 2015. We aren't fully sure if that still stands today. According to past articles, this policy is pretty much the same when it comes to national parks.
As far as tribal land goes, each tribe dictates its own policies. Sexual nudity is banned on The Umatilla, Siletz and Confederated Tribes of Coos, Lower Umpqua and Siuslaw. These are 3 of 6 reservations that were looked into by the author at The Oregonian, while the other three did not respond to requests for their nudity laws.
So in a nutshell, yes you can be naked in secluded public places, although you better be ready to handle the conflicts if they arise.
While nudity laws aren't usually on the books apparently, four cities have enacted stricter bans on nudity in Oregon, as quoted by The Oregonian:
Ashland says it's illegal for anyone older than 8 to "intentionally expose his or her genitalia while in an exterior public place."
In Happy Valley you can't expose your genitals in public "if the exposure reasonably would be expected to alarm or annoy another person."
Portland and Eugene use almost the exact same language, banning nudity in a public place "open or available to persons of the opposite sex." This runs contrary to popular belief in Portland, where the courts have only made exceptions for nudity during protests (see: naked cycling and the nude airport protester).
Counties can also establish bans of their own, but it's extremely rare in Oregon (Lane County's detailed ban is the glaring exception). It's also worth noting that all of the local laws refer specifically to exposure of "genitals," which opens a possible loophole for women to go topless in town without technically violating city codes. 
Hazards of hiking nekked
Of course, it's common sense to know you're going to be a bit more exposed while lettin' it hang in mother nature. Poison ivy,  poison oak, and poison sumac are all very real concerns if you choose to do so and can produce some pretty nasty rashes. If you're going to hike nude, you better ready up and learn how to identify these plants at all costs. Suburns, mosquitoes, and ticks can all also be a serious threat.
To hike clothed or not
While there may be some gray areas in the laws, it generally seems pretty harmless – at least if you are in Oregon. If you want to check out some places where nudity is not only allowed but encouraged, make sure and check out our article on 20 fun places to get naked.