Last updated on May 8th, 2019 at 01:00 pm
The Cannon Beach Fat Bike Festival is one of the best events of the year!  If you ride a fat tire bike, there's no better place to be than riding your bike around Hug Point on the scenic Oregon coast with fellow fat bike enthusiasts.  With races, poker rides with awesome prizes, tasty food, amazing beer and good company, you can't go wrong!
Sign up for monthly emails full of local travel inspiration and fun trip ideas. In each newsletter we'll share upcoming events, new things to do, hot dining spots and great travel ideas.
Check out this video of last years amazing Cannon Beach Fat Bike Festival!
What Is A Fat Bike Festival?
A fat bike is an off-road bicycle with extra wide tires perfect for soft unstable terrain like snow, mud, and sand.  A fat bike festival is a place for fat bike enthusiasts and riders to get together and spend a weekend enjoying each others company, enjoying good food, and riding fat bikes.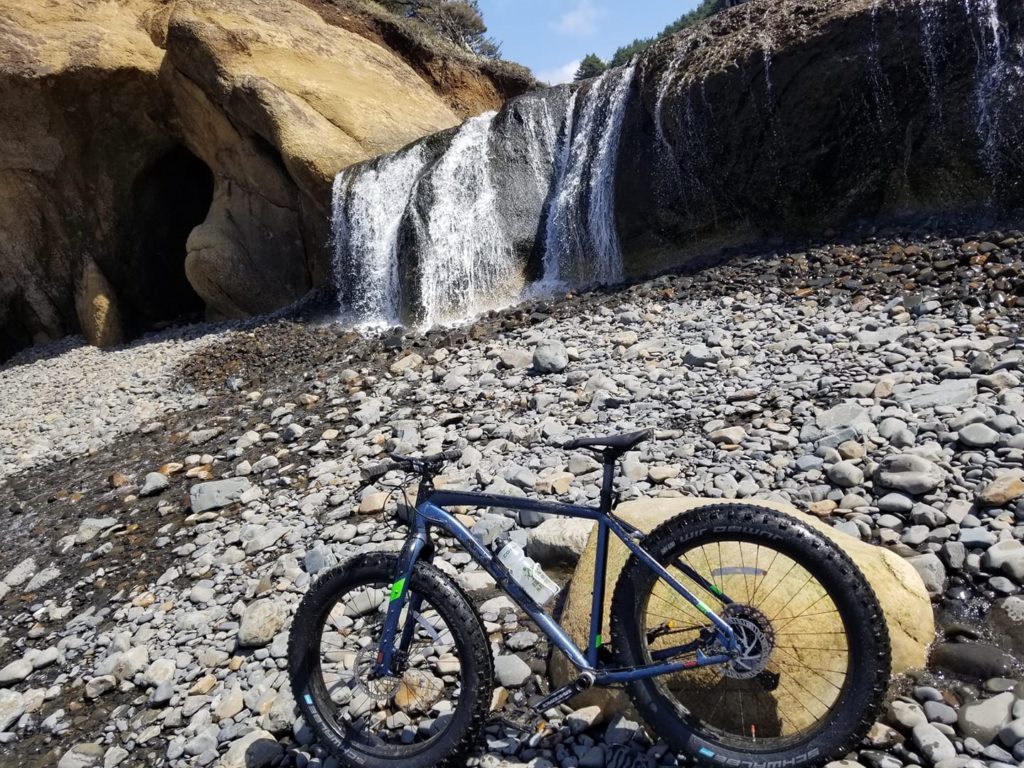 What makes Oregon's Cannon Beach Fat Bike festival so special is that it takes place on one of the most scenic coastlines in the Pacific Northwest.  Riders will get to ride their bikes around Hug Point, around the community of Cannon Beach, and to a nearby waterfall.  There's nothing quite like a sunset beach ride, or enjoying good brews around a full moon bonfire, and you won't find a better group of people to enjoy riding with!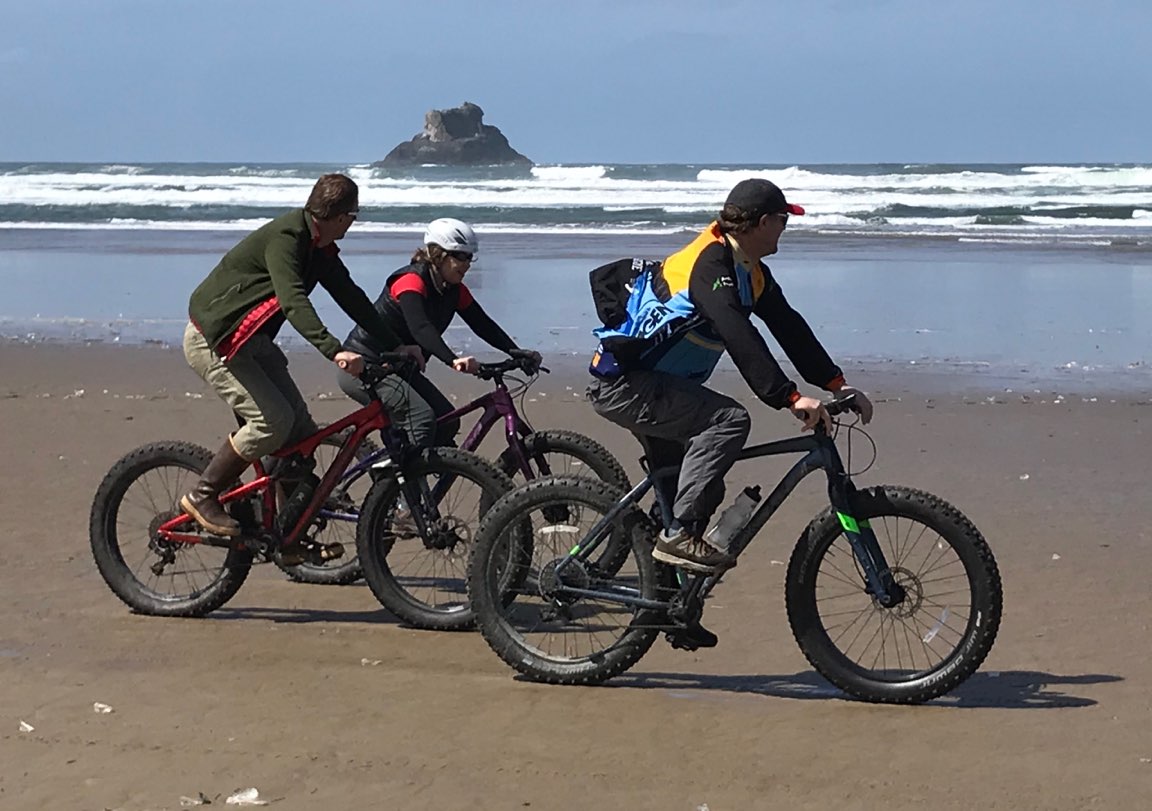 Fat Bike Festival Event Schedule:

Dates: May 17th – May 19th 2019
Friday, May 17th
5-7 pm: Welcome Party & Registration/Packet Pick Up.
7 pm: Four mile sunset group ride from Ecola Creek to Tolovana and back to kick off the weekend.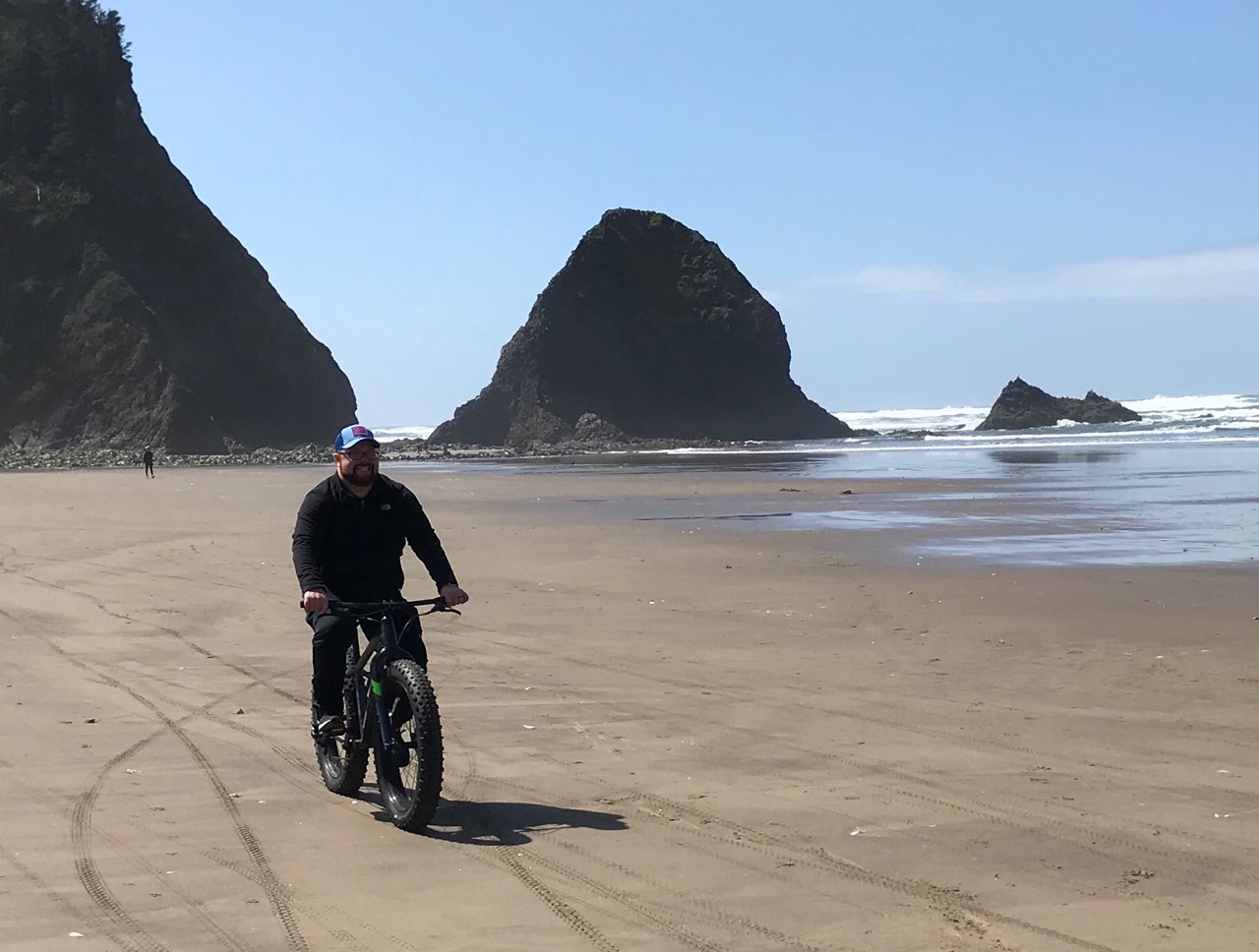 Saturday, May 18th
8 am: Registration/Packet Pick Up
8:30-11:30 am: 13-mile beach ride from Ecola Creek to waterfall and back.
12 pm – 4 pm: Scavenger Hunt/Poker Ride in Cannon Beach. Win awesome prizes!  Final stop at Pelican Brewery!
6:30 pm: Group ride to Full Moon Beach Bonfire.
7-9 pm: Full Moon Beach Party with s'mores, beverages and beach games (bike limbo, criterium, and slow and fast races).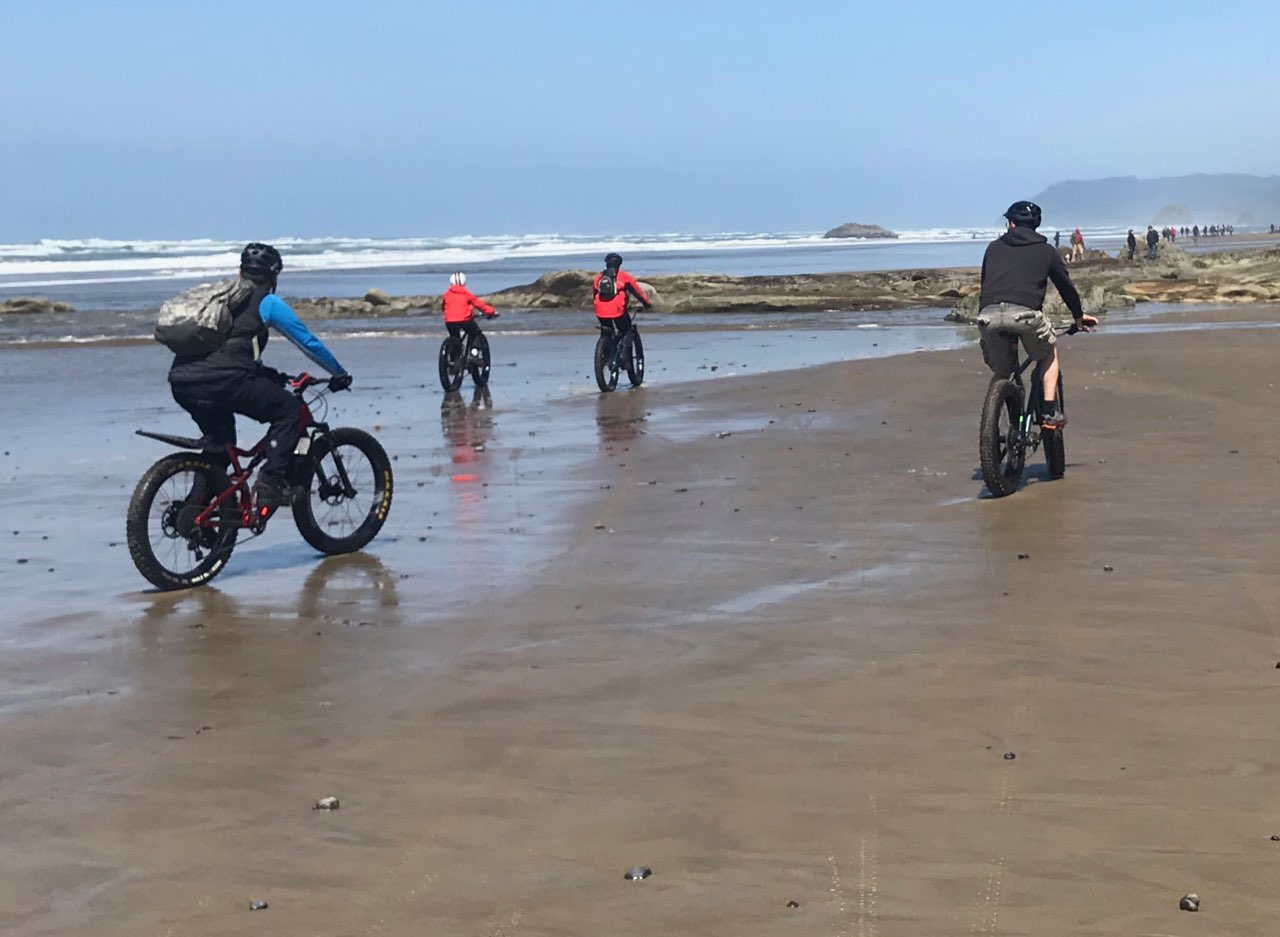 Sunday, May 19th
11 am – 1 pm: Fat Bike Beach Art Project and/or Beach Clean-up with Surfrider and HRAP.
12 pm – 2 pm: Bike Mural Window Project with HRAP.
Cannon Beach Fat Bike Festival Registration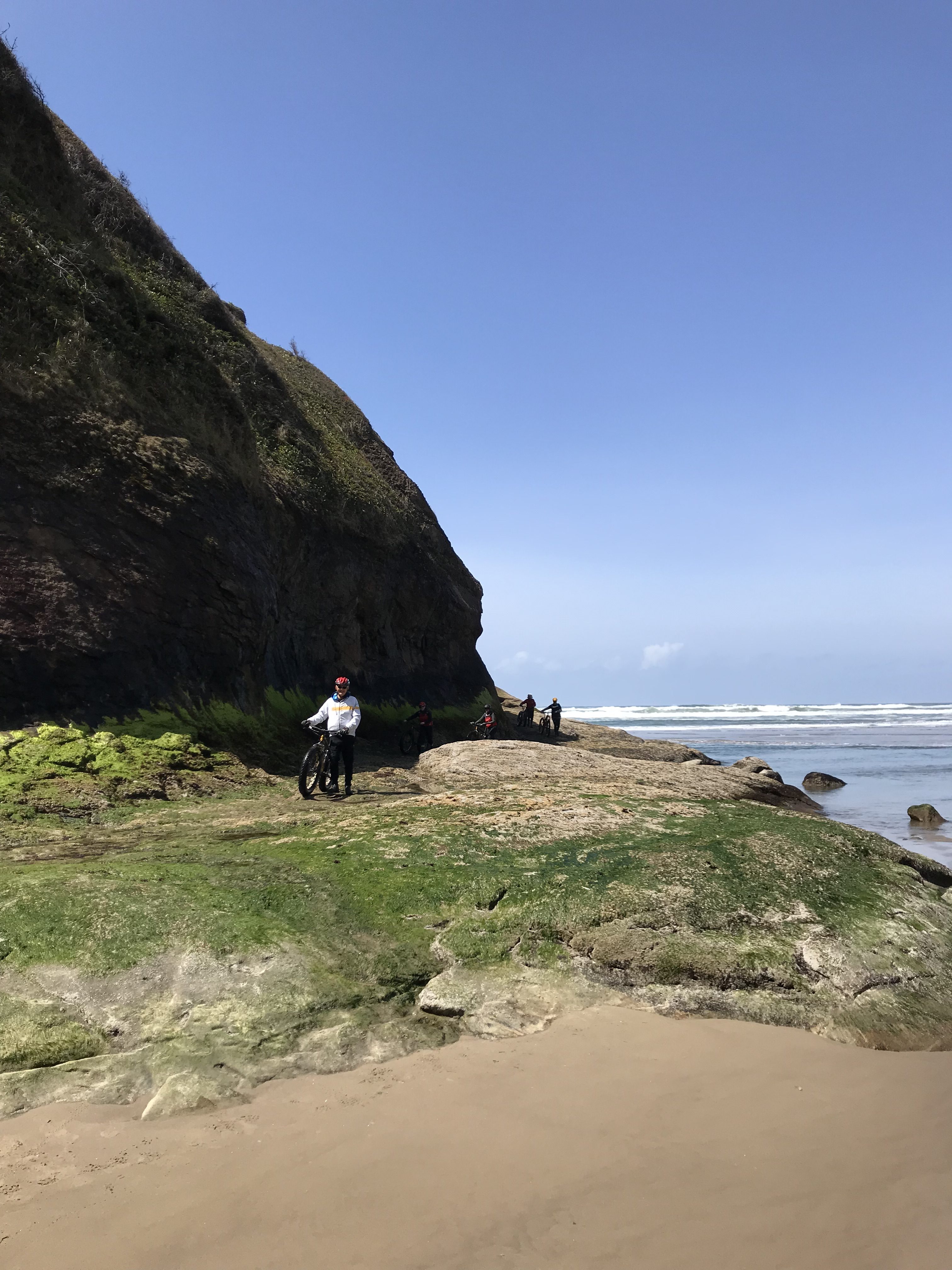 Register here now to reserve your spot at the Cannon Beach Fat Bike Festival! Tickets cost between $15 and $37.  Register by May 13th to get your Event T-shirt!
You'll also want to reserve a place to stay before everything books up.  Check out this link for some great places to stay.
Need a Fat Bike? Here are your options
Option One: Rent a fat bike from Oregon Rides to use for the entire festival or one day. Event participant's cost is $100 for the entire event or $50 per day. You will need to call ahead of time to reserve and pay for your rental at 541-265-9917. The rental can include overnight storage if you do not have a place to keep the bike.
Option Two: Demo a Fat Back fat bike for specific events for free. There will be a dozen demo bikes available and even a couple of bikes available for sale! The demo bikes are available on a first come first serve basis. To make arrangements to use one of the Fat Back Bikes, please email: [email protected]
Fat Back bikes will be at our Packet pick up and welcome party on Friday night from 5-7PM and bikes will be available for Friday night sunset ride, Saturday's long ride to Hug Point waterfall, for scavenger hunt and at Full Moon Bonfire on Saturday night for everyone to ride these awesome Fat Bikes.
Don't Have a Bike?  No worries!
Now offering an option to just participate in the Saturday scavenger hunt and bonfire and you don't even need a fat bike to do this! Friends & Family joining you can opt to participate in the Scavenger Hunt which takes place all around the town of Cannon Beach between 12-4PM. They can also join in on the bonfire which takes place from 7-9PM and we will have Fat Bikes available for people to demo from Fat Back Bicycles. There will be fun beach bike games, a bonfire, s'mores & beverages. The bonfire is located in front Wayfarer Restaurant and SurfSand Resort and is easy to reach on foot or bike from town. The fee for Scavenger Hunt & bonfire only is $15.
If you're looking for more information, such as where parking will be available, look at the official event website.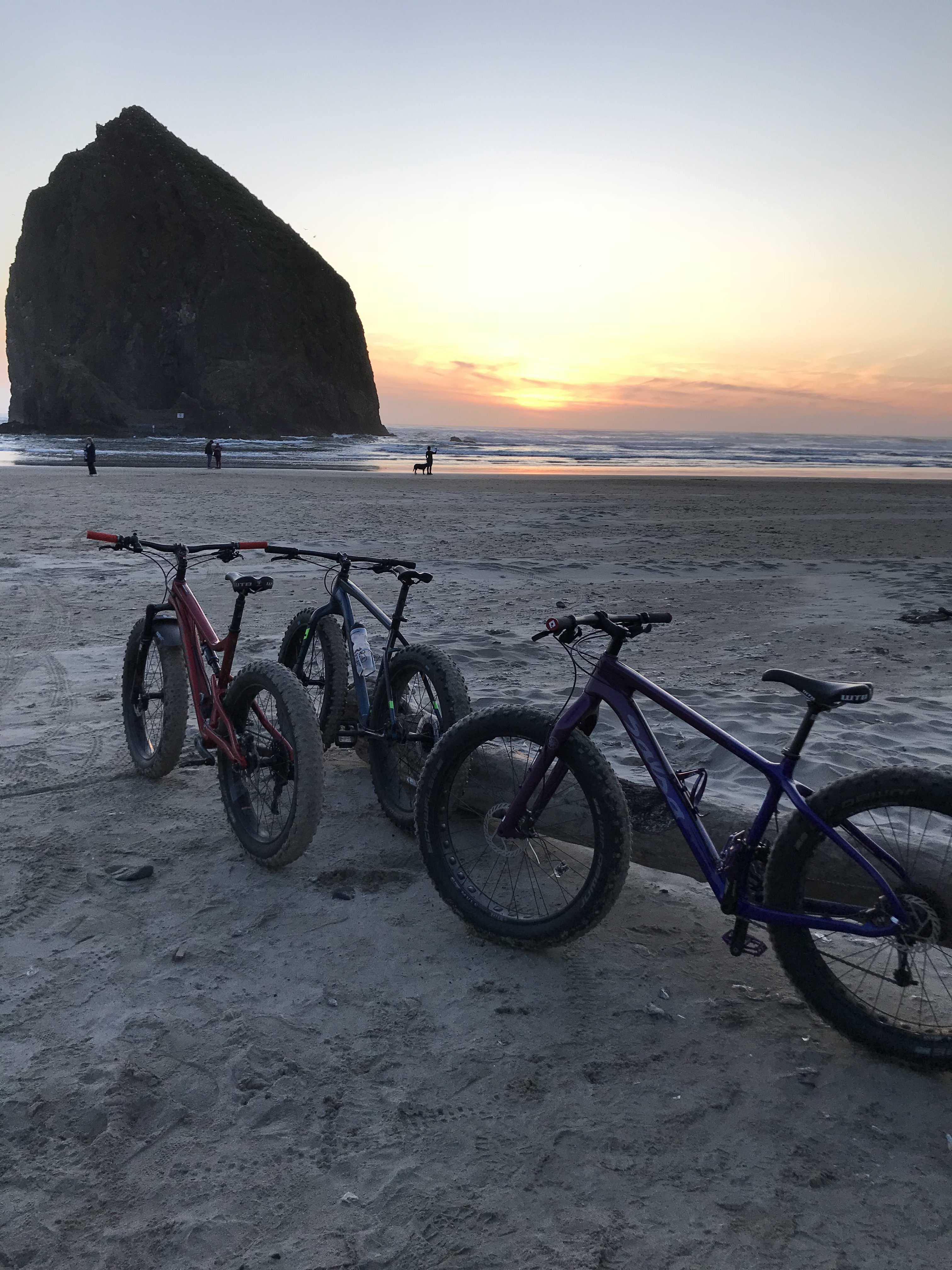 It's time to get out and make some amazing memories with your family and friends this May.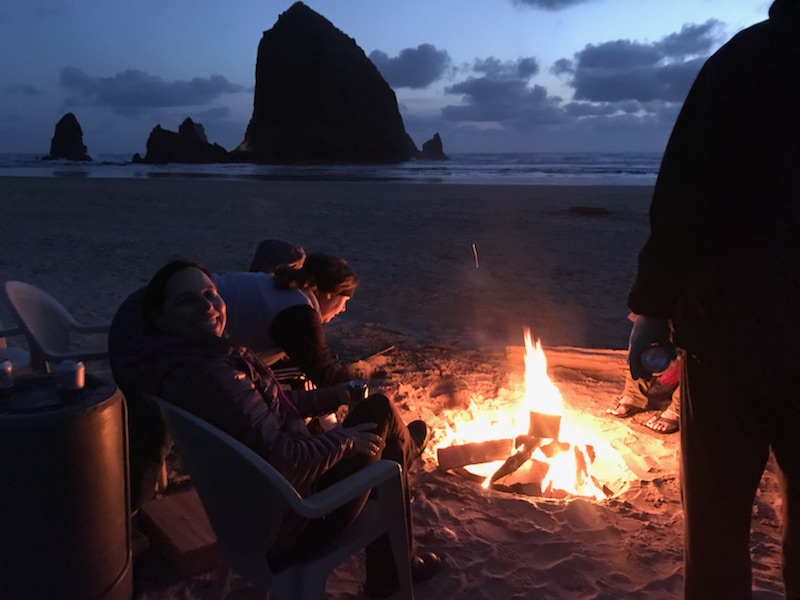 There will be fat bikes available for people to demo if they don't yet have their own, but you should bring your own if you have one or borrow or rent one if you'd like to ride all weekend.  This will be an amazing experience to share with family and friends on the Oregon coast.  Tag the people you want to go with!