Snow started coming down Sunday in many parts of Oregon and doesn't look to be slowing down anytime soon. According to the latest report, there is enough cold air expected to be in place for a snowstorm to hit the heavily populated Interstate 5 corridor of Oregon as well as southwestern Washington.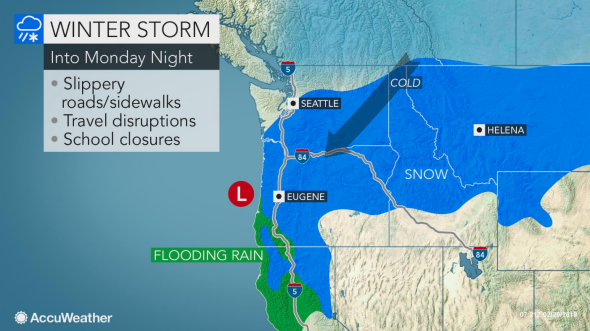 Many schools are delayed or closed, and a winter weather advisory is in effect for the Portland and Vancouver areas until the early afternoon, as well as the South Willamette Valley in Oregon.
According to the National Weather Service, snow is already sticking to roads in areas above 300 to 500 feet around 5:45 a.m.
Conditions are starting to worsen across for #pdxtraffic this morning as snow increases. Roads are mostly wet, but snow is starting to stick on roads in the hills above 300-500′. Expect this heavier #pdxsnow to continue until 7-8am, then decrease later this morning. #orwx #pdxtst pic.twitter.com/4aAMq1IrRz

— NWS Portland (@NWSPortland) February 25, 2019
The snowstorm so far looks to be the worst between Portland and Eugene, with some areas having an excess of 6 inches. Crossing the Oregon Cascades at this time is said to be pretty much impossible, as an avalanche was reported to have closed U.S. Highway 20 west of Santiam Pass on Monday morning.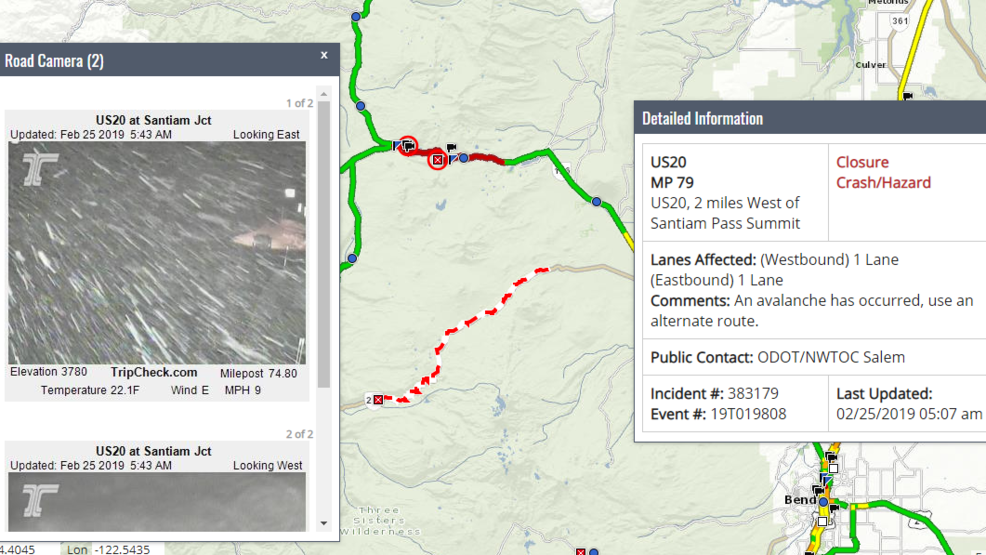 KVAL reports as of 5:30 a.m., storm impacts had also closed:
Oregon 138 West closed between Sutherlin and Elkton (MP 11-24)
Oregon 38 west of Elkton between MP 29-37
U.S. 101 south of Bandon at Four Mile (MP 282)
Highway 58 is also said to be closed for 73 miles, going from Pleasant Hill to U.S. Highway 97 in Central Oregon.
The Oregon Coast was not left out either, as Highway 126W is said to be closed from Veneta to Mapleton.
Travel is very risky at this time, with highways being closed due to snow or flooding, and the list is growing. The following are weather advisories from the Oregon Department of Transportation. For updates and road cams, visit Tripcheck.com.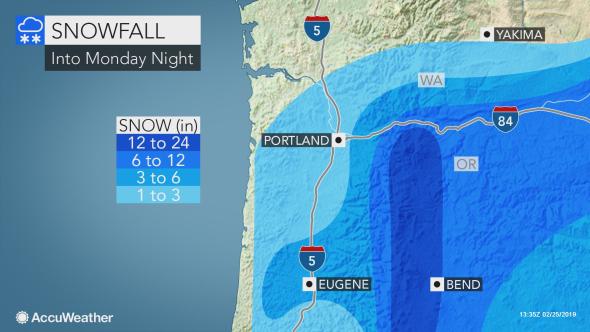 Siskiyous, south and central Cascades: Heavy snow is expected. Snow accumulations of 2 to 3 feet in the crater and Diamond Lake areas with local amounts of 4 feet in the highest elevations. 10 to 20 inches near Lake of the woods and Mount Ashland ski area. Winds could gust as high as 50 MPH in exposed areas which would create near-blizzard conditions at times. This warning does not affect interstate 5 at Siskiyou Summit where lighter snow accumulations of 3 to 6 inches are expected.
* Where
The southern Oregon Cascades, and portions of the siskiyous. This includes highways 58, 62, 138, 230, 140, and at Diamond Lake and crater Lake. This also includes the Mt. Ashland ski road.
* When
Until 10 PM PST Monday.
* Additional details
Travel will be very difficult to impossible. Strong winds and large quantities of snow could cause tree damage. Areas of strong winds with heavy snow will cause near blizzard-like white-out conditions.
* View the hazard area in detail at
https://www.wrh.noaa.gov/mfr/hazard
South, Central Coast, Curry County Coast
* Winds
South 30 to 40 MPH with gusts in excess of 60 MPH.
* Timing
Through mid-morning Monday.
* Locations include
Portions of the southern Oregon coast along and south of cape blanco, including Gold Beach, humbug mountain, and other headlands and exposed areas along highway 101.
* Impacts
Driving may become difficult to even hazardous along and near the coast on and near highway 101, especially along elevated and exposed portions. Strong winds combined with heavy rainfall could result in downed trees and Power outages.
* View the hazard area in detail at
https://www.wrh.noaa.gov/mfr/hazard
Klamath Basin, north and east Klamath County
Heavy snow and blowing snow expected. Total snow accumulations of 2 to 6 inches in the advisory area, and 8 to 14 inches in the warning area. Winds gusting as high as 55 MPH. Visibilities may be reduced to near zero at times.
* Where
Heavy snow and blowing snow are expected along highway 140 between Bly and Lakeview, highway 97 north of Modoc point, and the cities of Chiloquin, Chemult, and Crescent. Lesser snow amounts, and blowing snow are expected along other portions of highway 140 and in the cities of Sprague River, Bly, Beatty, and Olene.
* When
From 4 AM Sunday to 10 PM PST Monday. Heaviest snowfall is expected Sunday afternoon through Monday morning, with the strongest winds peaking Sunday morning and again Monday morning.
* Additional details
Travel could be very difficult to impossible. Visibilities could be significantly reduced by blowing snow in more exposed areas where winds are gusty.
* View the hazard area in detail at
https://www.wrh.noaa.gov/mfr/hazard
Central Douglas County
Heavy wet snow. Additional snow accumulations of 3 to 6 inches.
Central Douglas county 
* When
Until 10 AM PST Monday.
* Additional details
Plan on slippery road conditions and low visibility. Travel may become difficult during periods of heavy snow.
* View the hazard area in detail at
https://www.wrh.noaa.gov/mfr/hazard