If you're in anywhere in the Eugene area, then you already know there's definitely more snow coming. How much is anyone's guess, with early forecasts from National Weather Service calling for up to 2 inches in Eugene. According to NBC 16 Chief Meteorologist Carmen Rose, we could even see more than that.
Rose suggests with heavy snow toward our south, at least 1 to 4 inches of snow along the Valley floor from Roseburg up through Eugene and Springfield – with fresh powder in the foothills at anywhere from 2 to 6 inches. With concerns already of downed trees and powerlines, new snow will absolutely be problematic. According to the report, the Oregon Coast will mostly see rain showers and some snow showers over the higher terrain.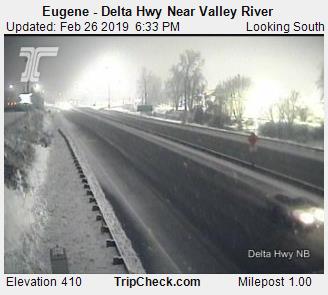 By Monday morning, Eugene Airport had already reported 11 inches of snow, which makes it officially the snowiest snowstorm on record and the most observed in February in over 100 years. 10.5 inches was reported in Springfield, and 8″ in Junction City. Out toward Pleasant Hill, it was reported at least 13.5 inches of snowfall.
We're expected to see snow showers continue through the night, up until around 8am tomorrow.
What is with people still sleeping on the Streets when it is 32 below and snow? @EugenePolice @cityofeugene #Eugene #EugeneMorning pic.twitter.com/FNLHEjf6Uw

— Thomas Price (@TBrave) February 26, 2019
The most snow Eugene has had on record is 10.1 inches, which was set Feb. 24, 1917 at a time when it snowed for several days, with nearly 20 inches falling.
With 11 inches of snow since Sunday night, 8.5 inches of it came since midnight Monday morning, making Feb. 25, 2019 sliding in at 2nd place for the snowiest February day on record.
With tens of thousands of Oregonians having their power knocked out by the storm, it could easily be a week before some get their power turned back on.
And some may remember back in 1969, where between Jan 25. and 26 Eugene set an all-time record for the snowiest 24-hour period with just under 2 feet at 22.9 inches. According to KVAL, the climate records for Eugene go as far back as 1890.
As bad as it gets, be lucky it's not "Meanwhile, about 200 passengers and crew members remained in Oakridge after their Amtrak train struck a tree that had fallen on the track early Sunday evening", that bad. #Eugene https://t.co/U7WDs0804T

— call me what u want (@Integralartist1) February 26, 2019