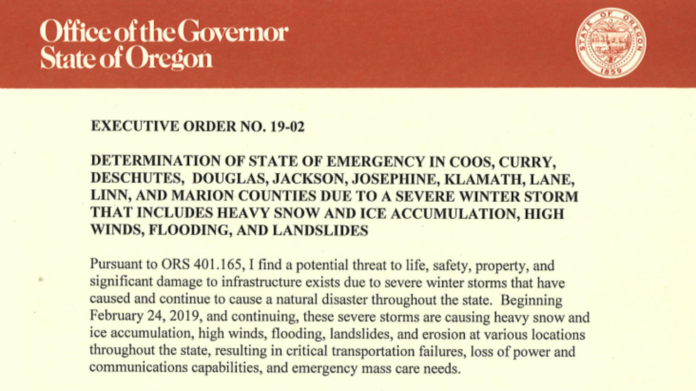 With thousands of Oregonians still without power and chaos across the state due to the latest winter snowstorm, Governor Kate Brown has declared a state of emergency in 10 of Oregon's 36 counties.
Governor Brown Declares State of Emergency in Ten Counties Due to Severe Winter Storm Conditions. Follow the link below and stay tuned for updates here. #OregonEM #orwxhttps://t.co/hVUtsbY3jw: NewsDetail https://t.co/BK74ApJ4GS

— OregonOEM (@OregonOEM) February 28, 2019
In response to requests from local officials, Coos, Curry, Deschutes, Douglas, Jackson, Josephine, Klamath, Lane, Linn and Marion County are now declared as a state of emergency that's reported to be in effect for 30 days, unless Brown terminates it sooner.
"As our state and local authorities continue to work hard to clear roads, reconnect power, and ensure the safety of the community, this declaration will provide additional resources and the potential for federal highway system funds in the future," Brown said. "I urge all Oregonians to follow the recommendations of local authorities, and avoid travel while ODOT crews work on the roads and restore core services."
State of Emergency in Orego… by on Scribd
State Search and Rescue Coordinator & U.S. Coast Guard with local authorities in Douglas County rescued a 73-old-man stranded on a forested hill near Drain on Wednesday afternoon. It is another example of the amazing work that our Search and Rescue community does! #OregonEM #orwx pic.twitter.com/wfZW7tLaid

— OregonOEM (@OregonOEM) February 28, 2019
Another coordination meeting @OregonOEM to discuss response to ongoing winter storms including @NWS brief, impacted jurisdictions brief, EOC activations updates, current priorities, resource gaps, and Emergency Support Function updates from @OregonDOT and others. #orwx #OregonEM pic.twitter.com/tda4fYVY2h

— OregonOEM (@OregonOEM) February 27, 2019
Radar showing the areas of light snow expanding at 420 AM this morning for the north half of the Willamette Valley. #orwx #wawx pic.twitter.com/QZZou6aTH9

— NWS Portland (@NWSPortland) February 27, 2019
Travelers in E. OR should expect congestion at the many truck chain-up & chain-off areas along I-84 & other routes. This morning, dozens of commercial vehicles are stopped at the MP 280 WB truck chain area, located about 5 mi W of North Powder. 1 of 3 pic.twitter.com/ATDGFXuZ1X

— Oregon DOT (@OregonDOT) February 26, 2019