Last updated on November 23rd, 2019 at 01:37 pm
Have you grabbed your official 2020 Oregon Calendar yet? Our calendars make for awesome gifts during the holidays! Available in limited stock, hit the link here to grab yours today.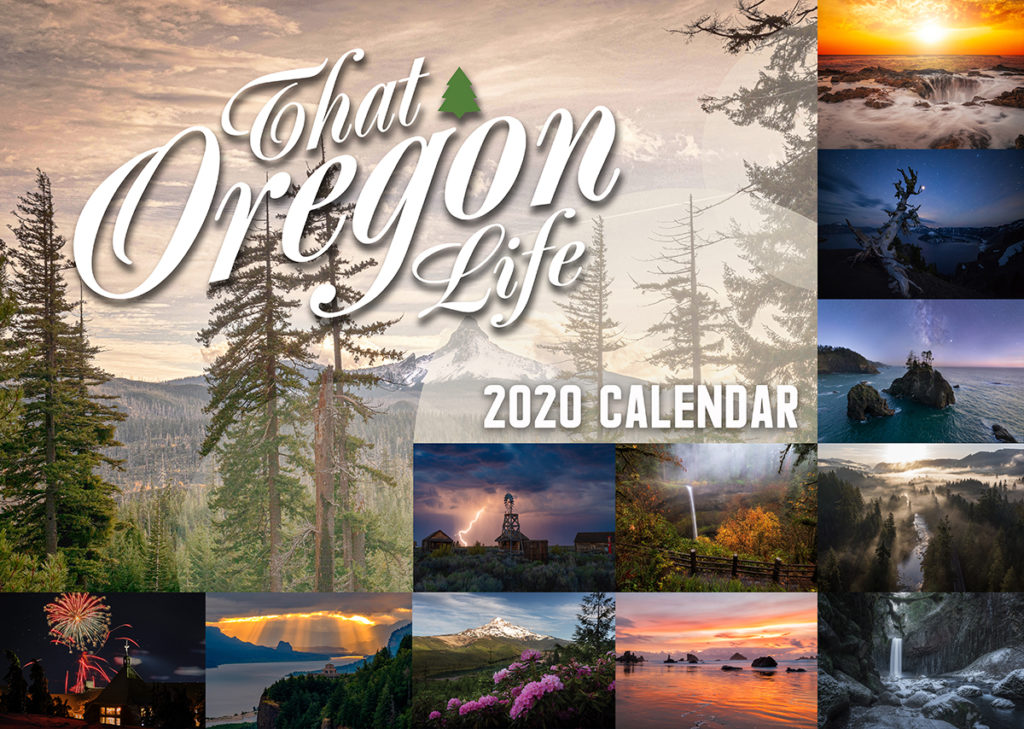 One of the best parts about the holidays is reliving your most beloved family traditions. From picking out the perfect Christmas tree with the fam to driving down a street full of Christmas lights, you'll want to make this holiday season in Oregon the best one ever.
If you're looking to add some new traditions into the mix this year, you'll definitely want to attend this magical parade in the charming town of Hood River. Avoid the crowded malls and do your holiday shopping in Hood River's charming downtown. Enjoy delicious food, wine tasting, theater performances and more throughout the holiday season. The Hood River Holiday Kick-off Party and Parade takes place in downtown Hood River on Friday, December 6, 2019.
Friday, December 6th: Parade Starts at 6:00pm | Line-up begins at 5pm on Oak Street
Free shuttle from CAT for the parade!
Avoid the hassle of parking, Ride the CAT bus throughout the Holidays! Shuttle from the Hood River Heights and Cascade St Shopping Center to downtown on December 6th. 
4 PM-6 PM and 7-8:30 PM
Visit their website for more info https://www.ridecatbus.org/
Please note, in the last five years the Hood River Holidays parade and tree lighting has tripled in attendance. You may have noticed some change the last few years as we have worked to adapt to the growth of attendance and parade participants. Please note the changes to the parade route and registration below. It is imperative that we all work together to keep this event SAFE for attendees and children. Any changes that have been made are to increase the safety of the event. Thank you for your understanding, and we can't wait to celebrate with you!
Please check in/ line up at the start of the parade near Oak St. and 7th Street between 5-6pm. The parade line up is first come first in line, with the exception of any sponsor floats.
Floats/Groups must PRE-REGISTER to participate in the 2019 Holiday Parade. Pre-registration closes December 3rd. Pre-registration will help with the length and the organization of the parade.
The parade starts at Oak St and 7th St. and ends at Oak St and First St. Note: The parade will NOT turn right at 2nd St., it will continue to an additional block to First St. See below for more staging parade route details.
At the end of the parade route, floats/groups have two options you must turn left to leave and drive away from the parade or you must turn right to park your float in a reserved parking lot on State Street and attend the tree lighting.
These changes have been made for safety of spectators and parade floats/groups. As the event has grown so has the concern for safety.
Questions? Email 

[email protected]
Please adhere to the following rules to keep the parade safe and fun. Thank you!
If you need space to park a vehicle to ride on a float or walk in a group, please park in the Hood River County parking lot on State Street between 6th and 7th (adjacent to the church) or Hood River News parking lot at 6th and State Street—then proceed to the parade line up starting at 5pm. Please allow extra time because parking and access may be challenging due to street closures starting at 5pm.
You may have Santa-like decorations, but you may not have a human Santa as part of your float or group. There is only ONE Santa and Mrs. Clause who will be riding with the Hood River Fire Department
Your entry must be decorated with a holiday theme and be designed for a family audience. Our goal is to encourage the holiday spirit, and this is a family event—so please no edgy messages or political campaigns.
It is important that you stay in line and keep the parade moving forward. You must follow our designated route please. Think safety first in all your actions. The parade will end at 1st St. If you want to park and come back to enjoy the tree lighting ceremony, you may park in the reserved parking lot at 1st St. and State St. and walk a block to the tree lighting at 2nd and State Street.
Please no littering on the parade route. Provide a cleanup person or bags for animals. You will not be permitted into the event if you have violated this rule in past years.
Please keep Hood River beautiful!
When & Where
Friday, December 6th: Parade Starts at 6:00pm | Line-up begins at 5pm on Oak Street