If you're looking for one more thing to add to your summer to-do list, you'll surely want to make a stop in Tillamook for one of the most popular attractions in the state. According to the creamery's website, the grand opening date is officially set and the doors for the brand new Tillamook Creamery will open its doors on June 20, 2018. 
The new Creamery comes after a year and a half of construction on the Oregon Coast, after they closed their doors to the old facility last March. The new visiting center was designed by the award-winning Seattle-based architecture firm Olson Kundig and looks to be quite the upgrade from the old center.
A larger dining area with more indoor seating and a spacious outdoor covered patio for visitors to enjoy year-round.
A new menu, showcasing Tillamook products and other high quality, wholesome real food ingredients, including wood fire pizzas, Tillamook's favorite grilled cheese sandwiches and much more. The new menu will also feature wine and beer from the Pacific Northwest.
An expanded Tillamook Ice Cream counter, available for indoor and seasonal outdoor service.
A new coffee and yogurt bar where visitors can purchase coffee and espresso drinks and customize their favorite Tillamook Yogurt with a variety of toppings.
A large retail space featuring Tillamook products and high-quality gifts and souvenirs available for purchase all in one, easy-to-shop area.
An enhanced viewing experience of Tillamook's cheese production and packaging operations with better acoustics and exhibit signage, as well as a small theater space where visitors can view short videos about how Tillamook products are made.
An in-depth farm exhibit where visitors can learn about cows, dairy technology and life on the farm.
More samples than ever before!
The new 38,500-square-foot facility will be nearly 50 percent bigger than the old one, designed to accommodate 1.3 million annual visitors. For the time being, at least until June 18, the temporary visitor facility will remain open. It's worth noting all facilities will be closed to the public on June 19, as they transition from their temporary facility to the new Creamery building.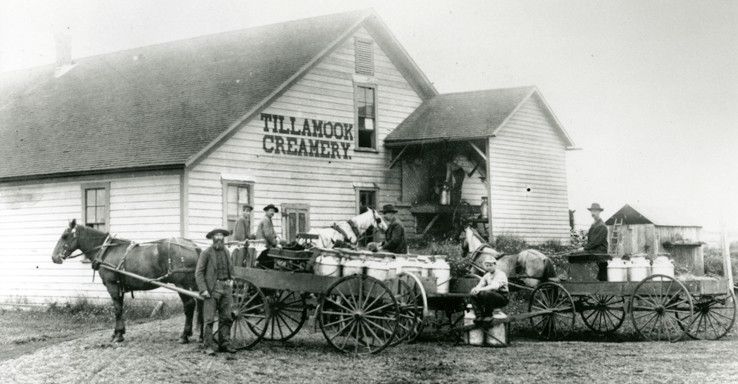 Source: Tillamook