Ready or not, it looks like the Willamette Valley could very likely be seeing more snowfall as soon as Tuesday. As of right now, Portland is already seeing snowfall. The latest report expects one to three inches to cover the valley floor in both Portland and Salem, and it may even stick. Some areas may get as much as 5 inches of snow.
The Willamette Valley is due for at least a couple of inches. Temperatures could are expected to drop to a bone-chilling 20 degrees or lower.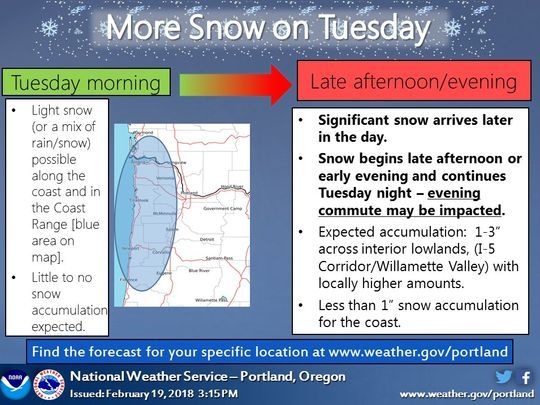 A winter storm advisory has been issued by the National Weather Service, that will likely start around 4 p.m. and last through Tuesday to 6 a.m. According to the Portland Bureau of Transportation and ODOT, they will use salt on area roads if necessary.
KGW reports moisture is expected to end by 4 a.m. with partly cloudy skies following, and temperatures rising to around 40 degrees.
Last year in January, you may remember Governor Kate Brown declaring a state of emergency due to the snow. Hit the link here and check out this amazing drone footage capturing a snow-covered Portland.
Source: KGW