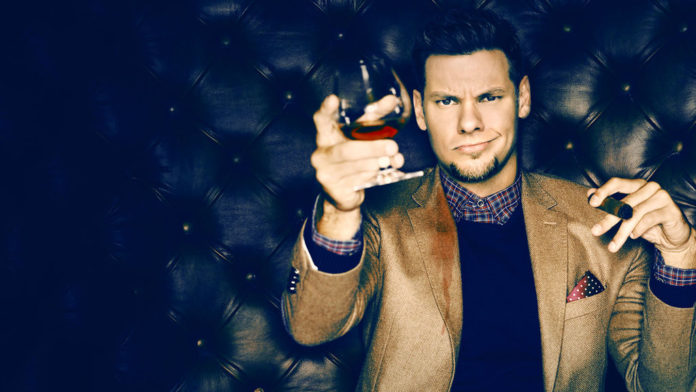 The smell of sawdust floods your nose while the sounds of squeaks & squeals from emerging pups waking up drowns out the music on the radio that sits above the door way. Today I'm meeting American-Meridional cavalier comedian Theo Von at a hamster ranch just south of Portland to talk about hamsters, what he's doing when he's not touring, and I get his opinions on some Oregon related topics. 
Theo Von is a name you're familiar with if you're a fan of stand up comedy; whether it's his currently-streaming Netflix special called "No Offense", or his #1 iTunes album called '30lb Bag of Hamster Bones', or even his appearances on the widely popular podcast "Fighter & The Kid" where he was crowned Guest of the Year (beating out 'Pitch Perfect' actor Skylar Astin & 'Atypical' actor Michael Rapaport). If his name doesn't jar your memory then wait a moment and let him speak, his suave southern accent comes across charming and approachable while it eases you into what he's about to say. 
Are you wondering why we are at a homestead for hamsters? It's a fair question because this isn't typically somewhere people would meet for an interview. or even to just take a tour. Theo used to sell hamsters as a kid and even has a well-known story of selling them outside of concerts in Louisiana in the '90's and in the short amount of time that he commandeered that position he made bundles of money but also got into fights, and now he has cemented his legacy in the rodent universe by having a number one iTunes comedy album in relation to the critters that a lot of kids have as a pet growing up. 
 
He hosts his own show called 'This Past Weekend' where he talks about his recent weekend experiences, plays voice-mails that callers leave on his hotline pertaining to his topics, and gives out introspective advice to those that may have a need for it. This is how a gentleman named Austin, a self-proclaimed hamster wrangler, found out about Theo's experiences in the business and that he was coming to Portland to perform. He told me that after hearing that he knew he had to call Theo and invite him to talk shop. Austin lives with his family in an RV on the plantation taking care of hamsters and many other animals as to give his family a new experience outside of the rat race, no pun intended. 
In trying to get to know Theo I wanted to find out what he does when he's not performing or what he just does for fun. "Basically just deal with my mental health, try not to masturbate," he says. "Sometimes I do yoga sometimes. Other than that nothing, just worry about stuff." Theo, a successful touring comedian with his first special debuting on Netflix and his follow up album coming out at #1 – what can he constantly worry about? I asked him if he's ever content with where he is and he told me "That's a good question, I don't think so. Probably not. I think I would be a little bit more if I had like, I just don't have Los Angeles. So I think it's a constant battle to try and create this environment there to feel comfortable in. It's one of the reasons I started podcasting,  I want to have my own freedom. Eventually if I can get 100,000 subscribers, I use that as a ballpark figure, then I can move where I want."
Freedom. That speaks volumes to me, someone who worked in several different artistic outlets the majority of my adult life having rarely ever had a 'real' job, and then moving 3,000 miles away from anyone and everyone I knew to the Pacific Northwest because I knew this is where I would find my peace, my freedom.
"I wouldn't mind living in Louisiana for a little bit, I could maybe see myself living out here for a little while. It just depends. Chicago, you know. I wouldn't mind going to another country for 6 months and trying it, if I knew I could still survive." Ari Shaffir, a fellow comic, did something similar where he disappeared and traveled for several months through Asian countries and did it using little to no technology and kept quiet on social media. "Well he's brave," says Theo. "And I don't do drugs and alcohol. So I think it's more fun to travel far away and do drugs. Easier to meet people and stuff."
Theo looks through the different homes of hamsters ranging from Syrians to Dwarves, and I had no idea they ranged so widely. I am partial to the dwarves but only because of how cute they are – I am sure they have a little hamster complex and act out inappropriately. While taking different cell phone videos of the cuddly little creatures he toured and asked the shop owner, Christina, many questions and shared stories from his own experiences. "I was 12, maybe 13. We used to go to concerts and sell them," he says. "Santana, Sublime, Green Day." You can see his face light up several times as he peers into the boxes and listens to the fun facts about what's going on, at one point even saying "Dang, I want to be buried in here. If I die throw my ashes in some of these cages."
I got to talking to Von about Oregon and how I like to spend most of my time outdoors and up on a mountain, or finding some new place I've never been before. He expressed a shared interest by telling me "We like to hike, I used to do it more. I did Mount Kilimanjaro about three years ago but, we've been meaning to go on a hike somewhere but we just haven't had the time." For the record, Mount Kilimanjaro is a currently inactive strato-volcano in northern Tanzania, near the border of Kenya. At 19,340 ft. above sea level, Kilimanjaro is Africa's highest peak and the world's highest free-standing mountain. Mount Hood is 11,239 ft and is the highest mountain in the state of Oregon and a major outdoor recreation site in the Pacific Northwest, located about 50 miles east of Portland the mountain is visible from the city on clear days and usually forms the backdrop for the Portland skyline in postcards and photographs of the city.

 
In 2009 Von started "crank texting" (sending a text message to random phone numbers to incite conversations), and began his crank texting blog which was picked up as a column by College Humor a year later. "I'm trying to get a book out about it but legally I don't know if I can. I just e-mailed an attorney about it yesterday actually," he says. "The book's a story about how I was kind of lonely and I didn't communicate on the road so instead I would text strangers and make my life there with little text wars." One of the things I admire most about Theo is he is open and honest even when the information isn't necessarily one that shows him in the best light, and while none of it is negative or dismissive, most people seem to feel unnecessary shame about certain things they do and hearing it is his art, his work, and his personal life it is refreshing to hear upfront honesty.  "Sometimes a text will come through and I'll reply as the person they think I am," he tells me regarding if he still crank texts, "but they could also be crank texting me, I have no clue who they are."
He is just as interested in hamsters as I am him because we both came prepared with questions. After taking a tour of the facilities and seeing all the amenities that the shop has to offer he asks the owner questions such as "How long have you worked here?", "How many hamps run through this building every year?", "Do you have a favorite type?", "Have you ever done anything Dark Arts-y where you try to match them up with other animals?". A lot of this was filmed and I gave him some of the footage I recorded so by the time this article is released there will be a video out there for the hamster meet-and-greet. I went to his Saturday show and got a shirt from him with the most adorable hamster design on it with the phrase 'Got Hamps?' which just goes to show how invested into this topic he is.  
 
Harvey's Comedy Club has been bringing standup comedians to Portland for more than two decades, opened in 1979 as Harvey's Restaurant and Lounge. In 1992, Barry Kolin transitioned it into a comedy club. Originally Harvey's was set up as a "clean" comedy club. Some acts, notably Louis C.K., rebelled against that requirement. Louis is quoted as saying "There were some comedy clubs around the country that were legendary. That lasted out the death of comedy in the 90s … These were the Meccas. When you could get a week at Acme, you know you could continue having the will to do this shit for another few months. A week at the Punchline in San Fran could get you through the next week at Harvey's in Portland."
"Comics hate when someone puts some parameters on their act," Kolin told The Oregonian in 2015, after Louis C.K. insulted Harvey's in an email to fans. "I didn't know! I was brand new to the comedy business." Harvey's temporarily closed down in 2017 when Kolin decided to retire, but reopened less than a month after shutting it's doors once new owners bought it to preserve it's history. Theo Von's debut at Harvey's was a good one as he had sold out shows Thursday-Sunday. I attended the Saturday show as his guest and it was a great show thanks to featuring comic Mike Masilotti, who just moved to L.A. from Seattle, and of course Theo himself.
For the last portion of the interview I just get his thoughts on a few different things. On the topic of what he's doing after a Netflix special, #1 album and being guest of the year on the celebrated podcast 'Fighter and the Kid' starring comic Bryan Callen and former UFC brute-turned-comedian Brenden Schaub. "You got to get someone to give you a special. I think it's tough today to have a southern accent and get work. [Some people] can be very close minded." Famed actor Michael Rapaport was a canidate for Guest of the Year for the same show, and on par with his schtick, Michael made some jokes about Theo and the other candidates on a recent episode so I had to get Theo's thoughts on it, "He's a mut bro", he says jokingly, "he's old. He's old school, you know?"
Speed Round Questions!
Favorite podcast to be a guest on? "Being on Joe Rogan is like being on the tonight show. That was really interesting because I'm fascinated by Joe. But I think they're all different. The thing is, it's like someone invites you into their home kind of a little bit. I like spending time in other people's homes and stuff."
On topic of Oregon comedians:
Ron Funches? "I was just texting with Ron, he's gonna do this pilot I'm filming for Comedy Central next week."
Matt Braunger? "Oh, I love Matt!"
Preacher Lawson? "I love Preacher. He's from here?"
Portland has more strip clubs and breweries per-capita than anywhere else: "I don't like strip clubs and I don't drink beer but if that keeps people motivated that's cool. I wouldn't mind seeing some grass roots stripping, you know?"
Oregon has the highest suicide rate supported by being one of the first states to legalize physician assisted suicide: "Good, we need more of them. More people's time to go."
In Stanfield no more than 2 people can share the same drink: "I think that's fair, dude. If it's family they should allow 3, if it's family."
Oregon set a record for having the largest single organism on Earth, the world's "biggest living thing" is the honey mushroom covers 2200 acres (3 1/2 miles) and is estimated to be over 2400 years old: "I think it's probably gonna cost us a lot when it files for it's social security."
Boring, Oregon has a sister city in Scotland named 'Dull' & together these two towns hold 'Dull and Boring celebrations' annually on August 9th in Oregon: "Bull & Doring. I think Bull & Doring would be a good name for the festival."
Are you into the paranormal: "I don't mind it. Yeah I think some times, more in the winter than the summer." 
Conclusion
Theo is one of those comedians you feel like you can relate to because of his honesty and silliness and because of that he comes across as someone you want to know, someone you want to hangout with. I am glad to have been able to start this new series with him and allow people in the great Pacific Northwest a chance to get to know him a little more outside of his comedic routine. He will be at 

Tacoma Comedy Club March 15-16 and then at Spokane Comedy Club on March 17. I highly recommend you get your tickets and enjoy the show!