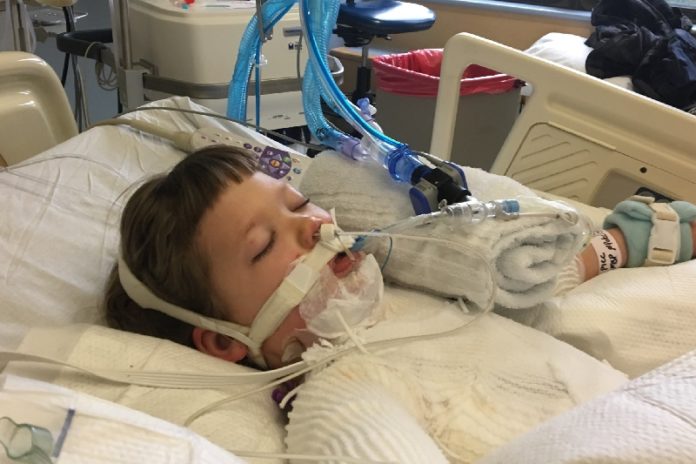 A little girl in Baker City needs all the love she can get right now after she was severely burned in an accident. The horror unfolded when 6-year-old Moira Reeves' untied dress belt caught fire, as she was standing in front of a wood stove at her home January 20. The flames quickly spread across her body as a result of the nylon dress she was wearing.
The fire burned around 30 percent of her body, suffering second and third-degree burns. She has since undergone two surgeries at the Legacy Oregon Burn Center, where she was flown by LifeFlight air ambulance. She spent her sixth birthday on January 26 under sedation in the hospital, with her mother who came from Texas to stay with her.
According to her mom, her oldest son, Liam, who is 14, was stoking the stove around 6 o'clock the night when his little sister's dress caught fire.
Moira was able to walk to the car and the couple raced to the hospital, which is just minutes away, with her mother driving and her father holding Moira on his lap.
Moira has since been moved to Randall Children's Hospital where she's recovering for the next couple of months.
This little angel is not able to color and draw quite yet, so her family has come up with a fun way to help her learn and brighten up her day. They have provided her with a large map of the United States, and is asking for people from all over the country to send her a letter with a fun fact about their state.
We encourage everyone to take a few minutes from their day and send her a letter. Here's the address to mail the letter to:
Randall Children's Hospital
Moira Reeves
2801 N Gantenbein Ave
Room 506
Portland, Oregon 97227 
Her family needs all the help they can get right now. As their insurance coverage helps covers medical costs, they have no help for the expenses incurred while traveling back and forth to Portland.
A Go Fund Me account has been established to help the family with expenses. Hit the link here to read more: https://www.gofundme.com/51i3ylc
Source: Baker City Herald