Sadly a 47-year old man who was swept away from Oregon's coast in Depoe Bay by strong waves has been presumed dead. A search team was sent out to look for the man, but after 12 hours they were not able to find him.
"The report is that he hopped over the wall and climbed down the rocks to get a better look at the Spouting Horn," U.S. Coast Guard Chief Adam Johnson told KATU.com. "And when he was looking down into one of the crevices, a wave came up and knocked him over, he fell into the hole and was washed out to sea."
Video of Cape Disappointment shutting down. Someone get hurt @StormHour @KGWNews @MarkNelsenKPTV @fox12oregon @KATUNews @fox12weather @WeatherNation @BMacTV @Oregonian @NoraHartPdx @WayneGarciaKPTV @BMacTV @PeteFerryman @ClaireKOIN @KGWNews @wweek @NWSPortland @weatherchannel pic.twitter.com/TdfnbGFawG

— Clifford Paguio (@clifford_paguio) January 18, 2018
The U.S. Coast Guard announced they were no longer searching for the man in Depoe Bay. He had reportedly ventured over a sea wall to get a better look at the ocean during the storm earlier in the day.
According to a meteorologist from weather.com, Jonathan Belles, the waves are being whipped up by a strong area of low pressure off British Columbia's coast. This has resulted in a strong fetch of northwest winds being driven toward both the Oregon and Washington coasts. Waves were reported to reach has high as 60 feet, with some said to be twice the size of a two-story home.
Unreal photo opportunities today at Cape Disappointment, WA. Can't wait to dig through these photos in more detail later. #WAwx #ORwx @NWSPortland @WeatherNation pic.twitter.com/izoB5kPAkV

— Evan Bentley (@evan_bentley) January 18, 2018
As reported by several news sites, the Sea Gypsy Motel was also damaged. One woman was swept across the room as a wave crashed into her condo.
Extensive damage to the Gypsy Motel in Lincoln City, Oregon with several ground floor windows blown out by rogue waves. Tragically, reports that a male was swept out to sea in Depoe Bay this afternoon, near Lincoin City. (????David Willis) @TheWeatherNetUS pic.twitter.com/ci2Sf0eluR

— Tyler Hamilton (@50ShadesofVan) January 18, 2018
According to The Oregonian, the man was a resident in Newport, and originally came from Mexico. The Kyllo's Seafood and Grill also had significant damage due to the waves.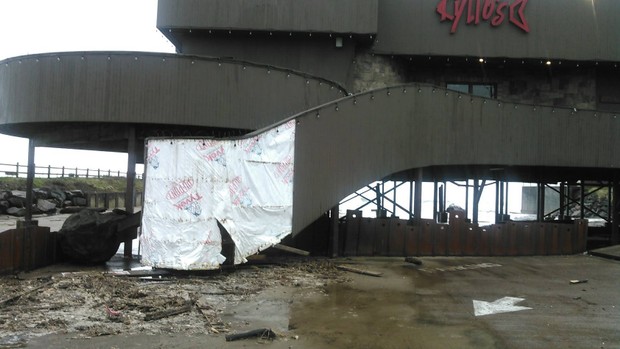 According to a report by KGW, at least one woman suffered an injury when she was knocked over Thursday morning by a wave on the beach at Road's End in Lincoln City. The woman was taken to a hospital with non life-threatening injuries and the beach was closed after the incident.
Very large seas are impacting the Oregon and Washington coastal waters. Seas of this magnitude only occur every couple of years, on average. High surf conditions will create extreme danger on beaches and coastal jetties through the rest of the day. #orwx #wawx pic.twitter.com/7FzUP0rTmH

— NWS Portland (@NWSPortland) January 18, 2018
Here's a crazy video from The Oregonian, showing large waves as they push into Cannon Beach:
According to the reports, The National Weather Service did issue warnings prior about the high surf and coastal flooding, urging anyone near the coast to stay away from beaches and jetties.
"Ocean water will rush much further up beaches and jetties than normal. Structures and roads located immediately at beach level will likely be inundated by waves and damaged by debris," the weather service wrote. "Many beaches, jetties, and rocky outcroppings will be covered by deep water."