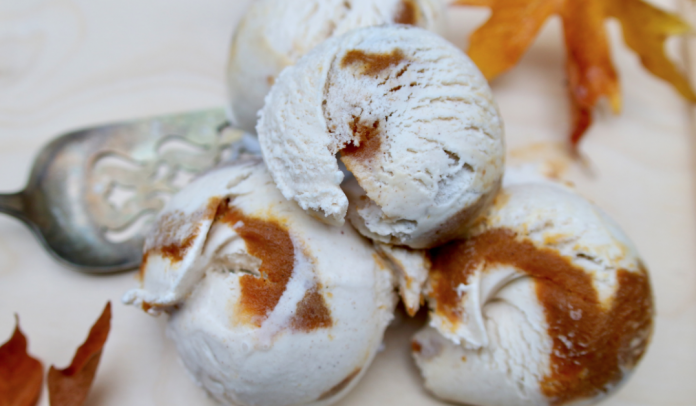 When you sit down at the table for Thanksgiving dinner this year, you're going to want to try a little bit of everything. And if you're like me, you'll most likely go back for seconds until your belly feels like it's about to explode. This year, we're not encouraging anyone to give up their turkey dinner, but you may also want to enjoy all the flavors of Thanksgiving in an ice cream with your loved ones, courtesy of Salt & Straw.
Through the month of November, you can order their five-pint "Thanksgiving Dinner of Ice Cream Series," as follows (descriptions via Los Angeles Magazine):
— Sweet Potato Casserole with Maple Pecans ("Sweet potatoes are roasted down and mixed with cream and sugar to make a sweet, spicy, sticky ice cream. Then Oregon pecans are mixed and caramelized with maple sugar. It is then of course topped off with hand-churned ribbons of Salt & Straw's own delicious homemade gooey maple fluff.")

— Buttered Mashed Potatoes & Gravy ("Salt & Straw has made over 600 different flavors of ice cream, and this is hands-down the most savory one ever served. Salt & Straw makes a potato- flavored ice cream, thanks to the real potatoes boiled down until the starch turns to sugar, and then stirs in their own homemade gravy fudge made from two mashed-up recipes, pun very much intended.")

— Apple Cranberry Stuffing

— Salted Caramel Thanksgiving Turkey ("Turkey stock is cooked and mixed with sugar, spices and onions down until it bubbles into a caramel, which creates the base of the salted caramel ice cream. And Salt & Straw also roasts turkey skin until it's crispy and then candy-coat it and mix bits of that in, too.")

— Spiced Goat Cheese & Pumpkin Pie ("It starts with goat-cheese ice cream, which is sprinkled with pumpkin pie spices, but the generous helping of mashed pumpkin folded and swirled in really steals the show.")
Founded in 2011 by cousins Kim and Tyler Malek, Salt & Straw currently has ice cream kitchens and scoop shops located in Portland, Los Angeles and San Francisco. They have quickly become one of the most popular ice creameries on the west coast. If you're in the Portland area you'll definitely want to check out their soft serve dessert bar, Wiz Bang Bar as well.
All five pints are available now for $65 plus shipping.
Portland Locations
Yay or nay..?
h/t boingboing