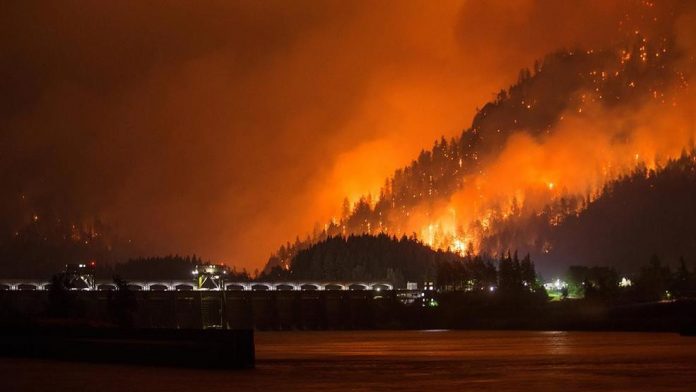 In light of the devastating Eagle Creek fire that scorched major swaths of the Columbia River Gorge near Portland, the 15-year-old Vancouver boy responsible for the damage has officially been charged by the state of Oregon. Reckless burning, depositing burning materials on forest lands, unlawful fireworks possession, criminal mischief and recklessly endangering other people are among the charges he is up against.
As expected, the boy's name or any validation that he is currently in custody is not being released at this time. Jim Patterson, who is director of River County Juvenile Department, declined to release any information about the time or date of the 15-year-old's court appearances.
According to OregonLive, the Hood River County District Attorney's Office announced Thursday the teen made an appearance recently in Hood River County Circuit Court and was arraigned on a juvenile court petition.
The fire which began Saturday, September 2 around 4 pm, during a hot summer Labor Day weekend, was reportedly started by fireworks when a boy threw them into the Eagle Creek Canyon. The group of friends was described as giggling and even taking videos from their cell phone while it happened.
"I saw this shorter kid lob this smoke bomb down into the canyon," Liz FitzGerald, 48, of Portland told The Oregonian/OregonLive. "I was probably 4 feet away from him. I said, 'Do you realize how dangerous this is? There's a raging forest fire up the trail. This place is so dry.'"
Unless a juvenile faces Measure 11 crimes, typically their names are not reported in the news. In this case, none of the accusations fall under Measure 11. At this time, it is not clear if anyone else will be facing charges.
The 48,831-acre wildfire has changed the scenic gorge drastically, and it will be quite some time before things look normal again. Hundreds were evacuated from their homes while smoke covered Portland and the surrounding area.
Head over to The Oregonian to read more on this story.