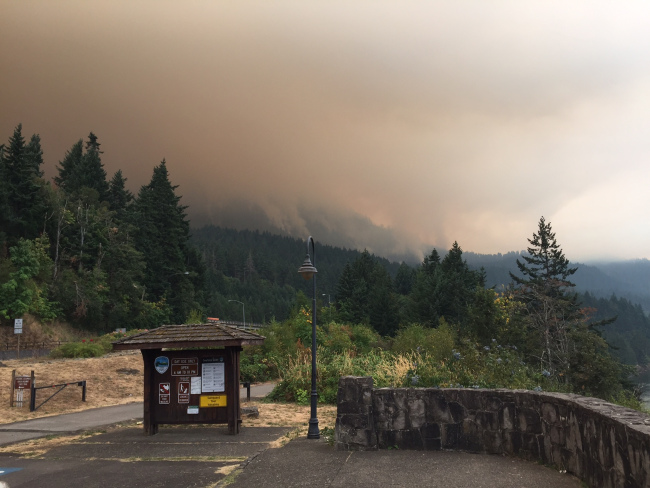 A fire only around half a mile from Cascade Locks, Oregon, forced the Hood River County Sheriff to issue a level 3 (Go) evacuation notice last night to residences south of Interstate 84. KGW is reporting all residences north of Interstate 84 are under Level 2 (Be Set) evacuation notice. To make matters worse, 140 hikers were reportedly trapped overnight by the Eagle Creek Trail.
Last bus is out. Great job everyone! pic.twitter.com/J0YLpPVw6u

— Mountain Wave SAR (@MountainWaveSAR) September 3, 2017
The good news is the hikers have been rescued, with the US Forest Service reporting a total of 52 people on the first bus. The hikers are to be dropped off in the parking lot of the Cascade Salmon Hatchery, located at the head of the Eagle Creek trailhead, where they can then reunite with families and friends.
The view from the trail this morning. pic.twitter.com/pJrOhFLXD8

— Mountain Wave SAR (@MountainWaveSAR) September 3, 2017
According to the news, at this time the Forest Service is unsure if any of the hikers were injured. The Eagle Creek Fire grew over 3,000 acres overnight and was reported Saturday afternoon near Eagle Creek Campground in the Columbia River Gorge National Scenic Area.
At this time, the Oregon State Police is investigating the fire as it is said to be caused by people.
For the latest updates on the fire, click here or call 541-392-1632. Hood River County has also activated an evacuation hotline at 541-387-6941