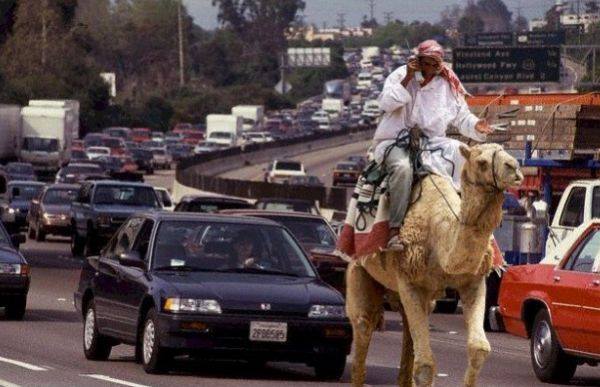 Could we really see 1,000,000 people coming to Oregon for the solar eclipse? It's starting to look that way as Oregon is already experiencing a serious eclipse-related traffic jam.
A narrow stretch U.S. Highway 26 had a line of 20 to 30 miles of nightmare traffic on Thursday for a single eclipse event, and Oregon Department of Transportation (ODOT) spokesperson Dave Thompson recently told TIME magazine.
Oregon State Police have tweeted formidable photos of the endless stretch of vehicles, shot from above on its fish and wildlife plane.
#Oreclipse traffic backed up for 15 miles on HWY 26, all the way to Prineville now. Photos from our fish and wildlife plane. pic.twitter.com/FYOoNOOgXX

— Oregon State Police (@ORStatePolice) August 17, 2017
With the 30,000 people expected for the five-day-event that began Thursday, cars were being let in in a way that caused a bottleneck and choked Highway 26 east of Prineville, Oregon. A maintenance district manager was sent to the event by ODOT and cleared up the traffic by Thursday afternoon. "Luckily we got there fast," Thompson says.
It's official. #SolarEclipse traffic is backed up from Big Summit Prairie to Prineville on Hwy 26 Ebound pic.twitter.com/vDKxCFedQj

— Ochoco NF (@OchocoNatForest) August 17, 2017
Transportation officials in the Northwest are suggesting the traffic will be worse than you can imagine during next Monday's total solar eclipse. A lot worse.
"Waking up early to leave the Seattle area to head south the morning of the eclipse is not a good idea," Bart Treece wrote in a blog post, who is southwest region communications manager for Washington State Department of Transportation.
The latest from OregonLive warns travelers to expect heavy congestion on most roads headed into the eclipse zone, including Newport, McMinnville, Salem, Corvallis, Madras, John Day, Baker City and dozens of other communities across the state.
Also the state has asked motorists to avoid parking on the shoulders, where they could easily block emergency vehicles. Travelers are advised to keep their gas tanks full as possible, as you could be stuck in traffic for hours and smaller communities could easily see shortages of fuel.
OregonLive also reports ODOT at this time is not expected to be closing any roads. According to the report today, most roads are fairly clear right now as well, although ODOT is advising eclipse travelers to head for their destination as soon as possible.
Travel times on key routes in Oregon
12:31pm update: Oregon 242 remains closed due to wildfire. Oregon 20 is also threatened.
Near Sisters, the Milli Fire has closed access to Oregon 242, the McKenziw Highway, an east-west scenic byway through the Cascades.
OregonLive is reporting the fire is also very close to Highway 20 – a key route from I5 near Corvallis to Sisters and on to Madras, a huge area for the eclipse.
"That's a road we do not want to close," ODOT spokesman Dave Thompson said. "But we might have to because of safety concerns because of the fire. It's something we're watching very closely."
A fire near I5 on also closed a lane on the freeway, backing up traffic nearly 10 miles.
Expect extreme delays I-5 MP 53, between #Rogue River & Grants Pass. @swofire on scene. Traffic backed up at least 10 miles NB.
UPDATE pic.twitter.com/mv1WSLeybP

— Oregon DOT (@OregonDOT) August 17, 2017
KGW reports Washington State Department of Transportation (WSDOT) expects major thoroughfares into Oregon will be slow going, including the following highways:
*Interstate 5 – Vancouver to Eugene
*Interstate 82 – Benton County
*US 97 – Klickitat County
*State Route 14 – Columbia River Gorge
*US 197 – Dallesport
*Interstate 205 – Clark County to Portland
*State Route 433 – The Lewis and Clark Bridge in Longview
*State Route 4 – Longview to Naselle
*State Route 401 – Naselle to Dismal Nitch
*US 101 – Ilwaco to Astoria
More things not to do during eclipse
Make sure you have a reliable vehicle. And pack plenty of supplies in the case you get stranded. It could be for a few days!
Don't park your car on the shoulder. Like we mentioned earlier, this could block emergency vehicles.
Don't try driving and looking at the eclipse. Do we really need to say it?
Go check out TripCheck to see the latest camera feeds on roads all over Oregon.
Sources: TIME, OregonLive, KGW