COLUMBUS, OHIO — Easily the worst nightmare imaginable, a swinging and spinning amusement park ride known as the Fire Ball broke apart on the opening day of the Ohio State Fair on Wednesday, hurling people through the air, which resulted in at least one death and injuring seven others.
According to authorities, three people who were hurt by the ride remained hospitalized and in critical condition tonight.
"The fair is about the best things in life, and tonight with this accident it becomes a terrible, terrible tragedy," said Republican Gov. John Kasich.
The Fire Ball is described as an "aggressive thrill" ride by Amusements of America, the company providing rides at the fair this year. Since its debut in 2002, the Fire Ball, according to the company's website has become "one of the most popular thrill rides on the AOA Midway." It's described as swinging riders 40 feet above the midway while spinning them at 13 revolutions per minute.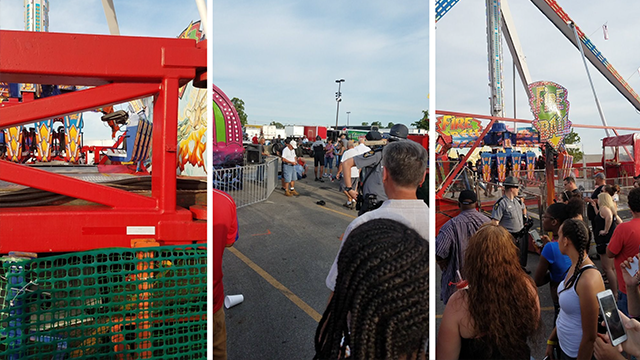 A full investigation has been ordered and all fair rides are to be shut down until additional safety inspections can be completed. The fair has tweeted: "There has been a report of a ride incident. We are investigating and will report information as available."
Gov. Kasich's statement on tonight's incident at the Ohio State Fair. pic.twitter.com/PFjfHWMIab

— John Kasich (@JohnKasich) July 27, 2017
The man killed was one of many people who were thrown from the ride when it malfunctioned, Columbus Fire Battalion Chief Steve Martin said earlier.