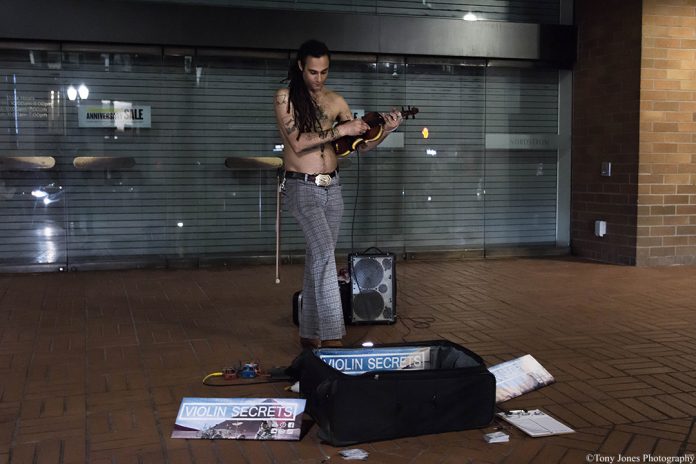 Walk downtown Portland in the Pioneer Square area on any given night and you're likely to find a man with no shirt, plaid slacks, a giant belt-buckle, brown suede shoes and dreads swaying in the wind from his rhythmic movement set to the emotion of his own music. This man's name is Djinn Maury but that may not be what you recognize him by, as he has a sign that adorns the front of his case that reads 'Violin Secrets'.
Those secrets become more clear as you listen to the overlay of elements that he creates as he builds a composition that is unique and apparent. The vibes come across as something vaguely Romanian, almost as if you're in a gypsy camp watching something sorrowful or powerful happening around you. Romani music (often referred to as Gypsy, which is considered a derogatory term) is the music of the Romani people, who have their origins in northern India, but today live mostly in Europe.
Djinn, pronounced Jin, is 31 and originates from Seattle but has found himself in Portland for the last decade. A street performer not quite a street performer as he markets himself well and as well as plays shows, when asked were he got his inspiration for the looper and violin he told me "It was basically just a fluke," he said. "I had a loop pedal for looping guitar and then just messing around with it I realized that it sounded pretty good." A self-taught violinist is an accomplishment in itself but to take it to another level by freestyle layering supporting beats to create a backing instrumental is just amazing.
I had to ask him what exactly Violin Secrets mean he told me it means "It's just electronic violin taken to the fullest extent it can be" and I have to agree with him as far as a one-man show goes. Once you step off the MAX in Pioneer Square at night you can hear his melodic symphonies echoing off the walls of the cascading buildings downtown like a thousand people whispering for you to "Come this way" as if in a daze and being summoned.
Performing multiple hours a night and multiple nights a week downtown you would think that you would end up repeating songs unless you have a Metallica-like discography to pick and choose from, but Djinn tells me his track-list is "Infinite. I make them all up." So every performance is unique even if you hear hints of something familiar, it is just an inspired piece being recalled from muscle memory.
While he didn't know Reggie Watts, an improv-musician that creates music using only his voice, a keyboard, and a looping machine, he does tell me that his influences are "kind of like classic tunes, I listen to a lot of world music." He continues by saying "Gypsy stuff, Irish, classical. Lately I've been listening to a lot of EDM, but I dont really take any of that stuff into what I do. It's just what I listen to" and while he may feel that way we all end up putting our surroundings into our art and some of that seeps into his work even if it's on a sub-conscious level.
I advocate that you look for him around Nordstrom the next time you're out and about downtown Portland in the evening time as it only takes 10 seconds to grab your attention and the next 5 minutes to make you feel something you didn't know you would feel. Check out the video below, he started a new piece as I was walking up and wows me from the get-go. Let me know what you think!