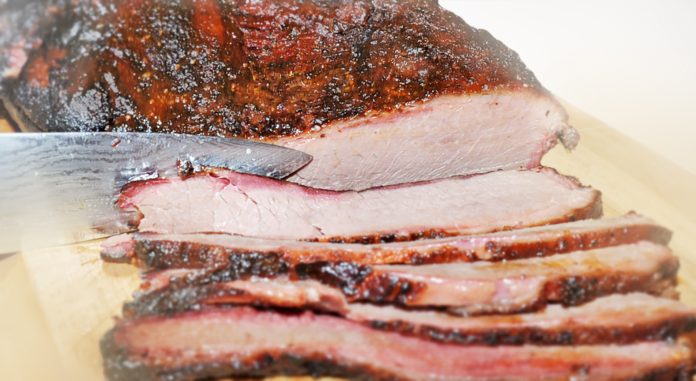 Last updated on July 5th, 2017 at 01:20 pm
Now that Oregon's most talked-about barbecue has sold out every day since moving from Happy Valley to their new location in Salem, we hunted down Christopher Sarff, owner of Cindy Lou's BBQ, to find out what their secret to success is. Turns out, it takes a lot of work, a lot of heart, a lot of hands, and a bit of luck.
Who Was Cindy Lou?
Wait, you might be thinking, if the owner's name is Christopher, why call it Cindy Lou's? Cindy Lou was Sarff's mom, a kind-hearted, hard-working, giving person who was known for putting others before herself and sharing her delicious food (especially her mac and cheese and rice!) with friends and neighbors in her community. A native Oregonian, Cindy Lou found herself divorced with two children to care for in Dallas, Oregon. As a newly single mom, she learned a trade to provide for her kids: construction. She worked in construction for 20 years, and even taught her son the trade. Sarff was working building houses when Cindy Lou passed away in 2011.
"I chose the name Cindy Lou's to honor my mom," Sarff says. "I get to talk about her every day, and share her recipes."
How It All Happened
A few years after his mother passed away, Sarff took a graveyard delivery job in Beaverton to learn the layout of the Portland Metro area. During the day, he opened a baseball-themed food cart that sold burgers. It was a hit! In just 18 months, the cart brought in over $250,000 in sales.
Along with business management classes at Mercy Corps, the burger cart taught him the ropes of the food industry. But working all night delivering bread and all day serving up sliders to workers at Nike and Intel left little time for other things–sleep, for example. He still wanted to honor Cindy Lou and share her recipes with Oregon. There was one big step still to take: buying a new food cart. Sarff had all his ducks in a row and was ready to buy cart to start his BBQ business, but then fate stepped in.
Winning a Food Cart
By chance one night, Sarff found himself at the Happy Valley Station food cart pod for the first time, where they were advertising a raffle to win a new food cart. Five finalists were to be drawn, then there would be a cook-off. The drawing was the next day. Sarff bought a $100 ticket and waited. The next day, as luck would have it, was Christmas morning. The finalists were to be announced on Facebook. Along with family, Sarff watched and was shocked to hear his name called first! He was in the cook-off!
The competition was fierce, and food was judged by the mayor of Happy Valley and local food critics. Four of the five judges chose his succulent barbecue dishes for first place, winning him the cart and the chance to open a business that would serve as a tasty tribute to his mother.
Along with his father (who is a professional chef) and others, he opened Cindy Lou's BBQ in Happy Valley. In only 10 months at the food cart pod, Cindy Lou's served over 10,000 meals. Popular specials included pulled pork sandwiches, brisket, and baby back ribs.
Small-Batch Cooking With Care
At Cindy Lou's BBQ, everything is made from scratch and in small batches with a focus on quality. Everything from sauces and rubs to baked beans with baby back rib pieces to hand-chopped coleslaw and house dressing are prepared by hand with love. Their meat is unique. You won't find Texas-style, Memphis-style, Carolina-style, or some-other-place-style barbecue at Cindy Lou's; you'll find Sarff's own style using three different woods for the smoking process. Most ingredients in their award-winning dishes are locally sourced. Tillamook cheddar and butter in Cindy Lou's own mac and cheese recipe make the dish one you can't miss.
New Location
This past spring, Sarff started missing his hometown of Salem. There were many carts in his pod in Happy Valley and he wanted to stand out. On June 28th, Cindy Lou's BBQ celebrated their soft opening at their shiny new location at BeeHive Station, a food cart pod at 5669 Commercial St SE in Salem. "I'm so happy to have a permanent spot in our hometown," says Sarff. "It took four years and a lot of hard work, but it's a great move for us. I'm proud to bring Cindy Lou's amazing recipes to Salem. Salem needed barbecue."
Cindy Lou's BBQ is family-owned and operated. Make sure to stop by and say hi! Follow Cindy Lou's on Facebook to get updates on specials and what's on the menu.
Hours: 11:00AM – 7:00PM, Monday through Saturday
Phone: 503-290-8019
Location: BeeHive Station, 5669 Commercial St SE, Salem, OR 97306