The second annual Oregon Cannabis Growers' & Consumers' Fair is coming soon, and it's not just for recreational canna-fans. Folks interested in exploring the medical aspects of this versatile plant will be in for a treat.
A new feature to the show is "Canna Help You," an exhibit wherein a licensed medical professional with experience in cannabis will provide information and education for attendees to discuss with their primary care providers regarding cannabis as a wellness supplement. Not a substitute for a doctor's office, this will be purely informative and educational for the purposes of destigmatizing the use of medical cannabis. There will be a full array of topicals, transdermal patches and edibles on display.
This is a once in a lifetime opportunity to ask the questions YOU want answered. Ever wondered what the heck terpene is? Or what the difference is between indica and sativa strains? Topics include use of cannabis flower, extracts and oils, vape cartridges, and new products coming to market soon, such as new Metatonic Syrup and TABZ.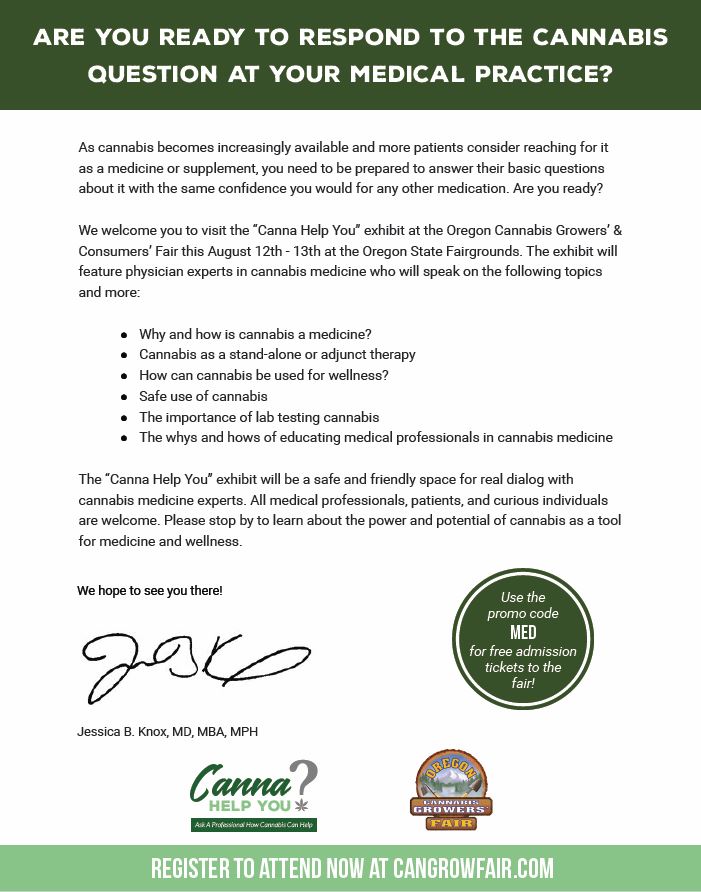 ---
More Event Details:
Who: Adults Ages 21+
What: Oregon Cannabis Growers' & Consumers' Fair
When: Saturday, August 12 10am – 5pm & Sunday, August 13 10am – 3pm
Where: Oregon State Fair & Exposition Center, 2330 17th Street Northeast, Salem, OR 97301
Why: Live Plant Competition, Education, and Networking in Oregon's Cannabis Industry
How: Tickets Available Online Here