For the first time ever, there will be live, flowering cannabis plants and product on display at the Oregon Cannabis Growers' & Consumers' Fair.
This is a once-in-a-lifetime opportunity to see over 60 growers compete for best in show, and the organizers have also told us they have two booths left and a few sponsorship opportunities available! However, the OLCC has mandated that all entries must be entered by July 30th or they will not be allowed to display flowering plants or product at the fair.
Canna Help You Desk at the Fair
"Canna Help You" is a new exhibit at the Oregon Cannabis Growers' & Consumers' Fair wherein a licensed medical professional with experience in cannabis will provide information and education for attendees to discuss with their primary care providers regarding cannabis as a wellness supplement. Not to be a substitute for a doctor's office visit, Canna Help You is purely for educational purposes of the use of medical cannabis.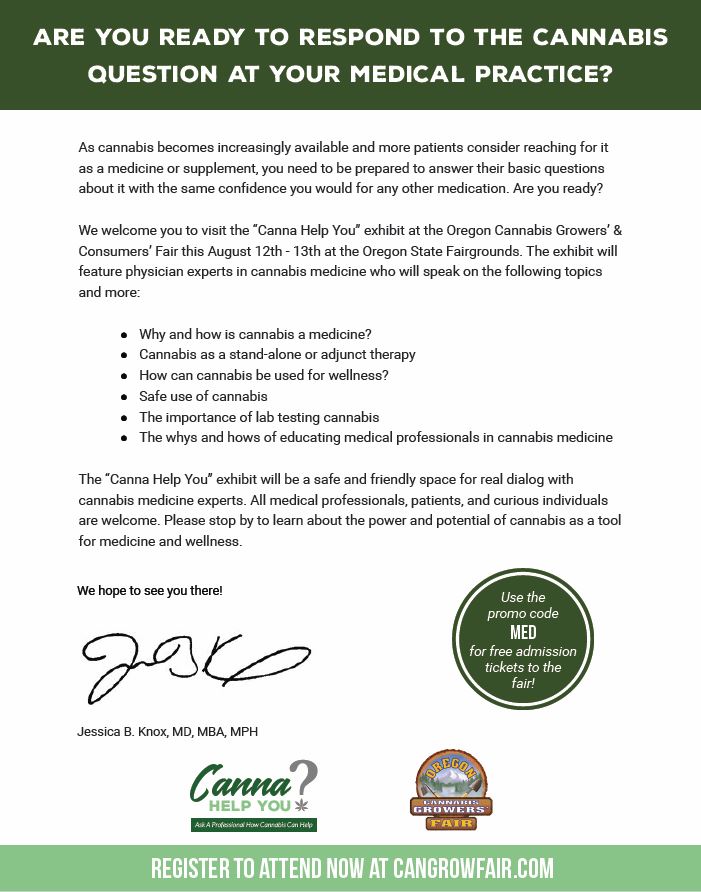 More Event Details:
If you want to learn more about cannabis, whether as a consumer or businessperson, you won't want to miss this event. Tickets are now available to adults ages 21 and up and can be purchased online here.

Who: Adults Ages 21+
What: Oregon Cannabis Growers' & Consumers' Fair
When: Saturday, August 12 10am – 5pm & Sunday, August 13 10am – 3pm
Where: Oregon State Fair & Exposition Center, 2330 17th Street Northeast, Salem, OR 97301
Why: Live Plant Competition, Education, and Networking in Oregon's Cannabis Industry
How: Tickets Available Online Here