Oregonians near and far love water sports, so knowing how to throw a rescue line is a necessary skill if you live in Oregon. From boating and floating, to wakeboarding and fishing, we all love water sports, so knowing how to throw a line for fun or for rescue is important.
---
PSA: The largest PRO Wakeboarding Contest in Portland, Oregon is happening this Saturday, and admission is free. Join us and come mix and mingle with PRO athletes from around the world. More event info below.
---
The Butterfly Coil
The following method, called the butterfly coil, is fast, effective, and easier than you might think. Learn how to do it now before you get on a boat or go for a swim. Having the knowledge now could save a life or be very useful on the water.
Begin by holding the end of your rescue rope in your throwing hand (for ease of writing, let's presume you are throwing with your right hand). It is vitally important to NOT MOVE your right hand once you have a grip on the rope and while you're making the coil. Keep your arm firmly in place as we continue here.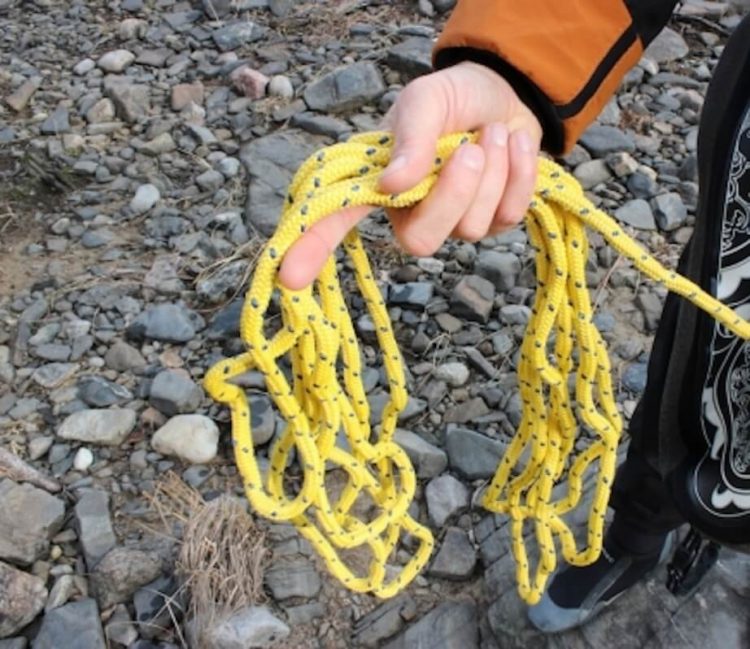 Another common mistake I see is that people will switch hands while or after making the coil. This has the potential to jumble the rope and ruin your throw's effectiveness. Once you've committed to your throwing hand, do not let go of the rope until you're throwing it.
With a firm grip on the rope in your right hand, pull a roughly arm-length stretch of rope and lay it over into your right hand so that you have a loop hanging towards your body. Adjust your grip so you're holding both sections of rope and preventing it from moving around as you pull another length to the opposite side and lay it back coming to the opposite direction. You should now have one loop on either side of your palm – notice that it looks sort of like a butterfly.
Repeat this process back and forth, remembering to keep your right hand still, until you are holding a good handful of rope (or as much as you can comfortably grip and throw). When you are ready to throw your rescue line, throw it underhand so as to not muck up the line in a wind-up.
If you have enough rope to secure the back end to something like a rock or tree if you're on a river shore or a mast or railing if you're on a boat, do that. Otherwise, always keep at least one hand tightly gripped on the rope until you have successfully reeled in the person to whom you threw it.
To see how exactly to make and throw a butterfly coil, give a quick watch to the YouTube video below.
---
Hangtime
Hangtime is the largest Double Up PRO Wakeboarding Contest in Portland, brought to you by Active Water Sports and Yacht Harbor Club Apartments, along with Nautique, Rockstar Energy, and River Pig Saloon to bring you this epic community event designed to bring boat enthusiasts together.
What: Hangtime Professional Wakeboard Contest
Where: Yacht Harbor Club, 11505 NE Yacht Harbor Dr, Portland
When: Saturday, July 22 11:00 am – 7:00 pm
Why: Watch Pro Athletes Compete on the Water & Mingle With Other Boat Lovers
How: Attendance is Free! Register Online Here.
If you're driving to the event July 22nd, take exit 308 to Jantzen Beach. If you're coming by boat, the nearest boat launch is James Gleason Memorial Boat Ramp. Get there early because parking will fill up fast!
<
HANGTIME from Active Water Sports on Vimeo.
---