The 4th Of July is going to be awesome anywhere you go, but it's especially awesome pretty much anywhere on The Oregon Coast. We have compiled a list, courtesy of BeachConnection, of all the best events and firework shows happening on the 4th of July in 2017, all over the Oregon Coast.
Astoria: About 9:50 p.m. fireworks will be launched over the Columbia River, from the East End Mooring Basin.
Warrenton: There will be a 4th of July Parade happening downtown, starting at around 3 p.m. Head over to Astoria for the firework show afterward.
Seaside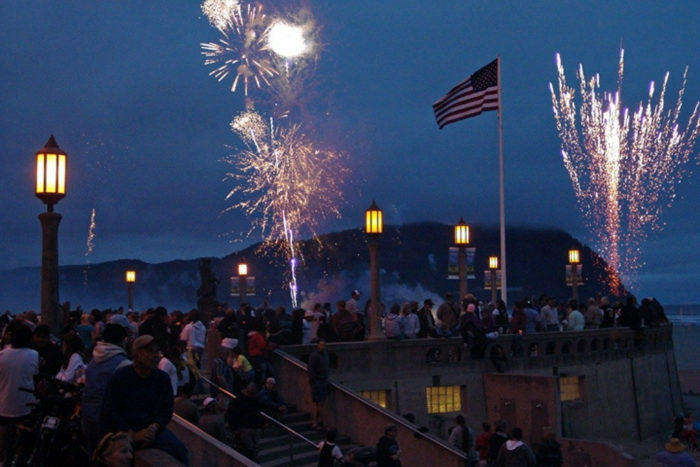 Seaside's Fireworks show: Exploding over the north Oregon coast town of Seaside, this 25-minute incredible show is timed to music. Tune into KSWB on your radio at 8:40 a.m. for synchronized music. Around 10,000 people gather along this stretch of beach to see the magic. To avoid up to 90 minutes exiting after the show, we suggest visitors find parking on the east side of the Necanicum River. Earlier in the day Drum & Bugle Corps will be having a concert as well as the Stunt Kite Presentation on the beach.
Seaside's 4th of July Old Fashioned Social: Visit around 11 a.m. for Seaside's traditional social including food, music, games, face painting, a silent auction, a funny cake walk, and much more. This family-oriented event also offers free tours of the Seaside History Museum. Call 503-738-7065 for more info.
Cannon Beach: Enjoy the Independence Day Parade at one of the most popular beaches in the United States, starting at 11 a.m., heading north on Spring St, this parade begins at the staging area between Gower and Monroe St
Pancake Breakfast in Manzanita: Here's a great deal for anyone looking for a hot breakfast at the old fire hall, on 5th and Laneda. All food is under $10, and served from 8 a.m. to 11 a.m. in support of the local Neah-Kah-Nie athletic teams.
Manzanita parade: This years' theme parade is There's No Place Like Home and starts on Classic Ave at 1 p.m. The public is welcome to join in, the more the merrier! Head over to the Manzanita City Hall and Manzanita Visitors Center for registration forms.
Seymour: A cover band show at 1 p.m. will be playing at Nehalem Bay Winery, near Manzanita at 34965 Highway 53. Call (503) 368-WINE for more.
Rockaway Beach 4th of July: Don't miss the Independence Day Parade at 11 a.m. 75 Years of Fun starts at noon and goes on until 4 pm.m., also featuring the 10th Annual Dachshund Races at Phyllis Baker City Park on 2nd Street. All day along the Ocean's Edge Wayside you can find hot dogs and fireworks for sale. Come dusk the big show includes a flyover by National Guard jets. (503) 355-8108 for more.
Lincoln City Fireworks: This gorgeous show bursts above the skies in Siletz Bay at dusk, and can be seen from anywhere on the beach, from Gleneden Beach up to Road's End.
Gleneden Beach 4th of July Celebration: Head over to Gleneden Beach Loop and feast on a delicious Pancake Breakfast, served 8 until 11 a.m. Between 9 and 3 p.m. is a Craft Fair and Food Court at Eden Hall, as well as the 23rd Annual 4th of July Parade starting at 1 p.m. – around 5 miles south of Lincoln City.
Newport Fireworks at Dusk: One of my personal favorite shows, which I will most likely be seeing again this year is happening at the shore of Yaquina Bay. With the incredible show reflecting off the water, this show is extra impressive as the explosions will echo and bounce off the surrounding hills and mountains. The flares are pretty awesome too, which can be seen shooting off boats on the water.
Fireworks in Waldport: Starting at dusk, head over to Alsea Bay to see a great show and even be seen from vantage points miles away on the central Oregon Coast.
All you can eat pancakes at Yachats Lions: Feast on as many pancakes as your tummy can handle with scrambled eggs, choice of ham or sausage, milk, tea or coffee. They suggest donations of at least $7 with all proceeds going to local nonprofit organizations. The breakfast is held 7:30 a.m. to 11 a.m. at the Yachats Lions Hall on W 4th & Pontiac. Yachats, Oregon. Call (541) 547-5171 for more.
Yachats la de da Parade: Starting at noon, this parade happens through downtown. Grab a spot on the beach by the mouth of the Yachats River and see the 2:30 p.m. Duck Race!
Yachats Fireworks at Sundown: All over the small town of Yachats you can see the beautiful show, with fireworks being launched from the main access in back of downtown.
Pie and Ice Cream Social: Come try some famous pie at the Yachats Ladies Club pie socials. Each slice is a whopping 6th of a pie and will set you back about $4, with a scoop of ice cream for an extra buck. There will be plenty of beverages sold as well. The event starts at 10:30 a.m. at the Yachats Ladies ClubHouse, located on W 3rd St & Pontiac.
Old Town Independence Day Celebration: We can't forget Florence. The festivities are set to begin at noon including food, music, and plenty of other activities. At dusk, massive mortars will be launched from a barge on the beautiful Siuslaw River.