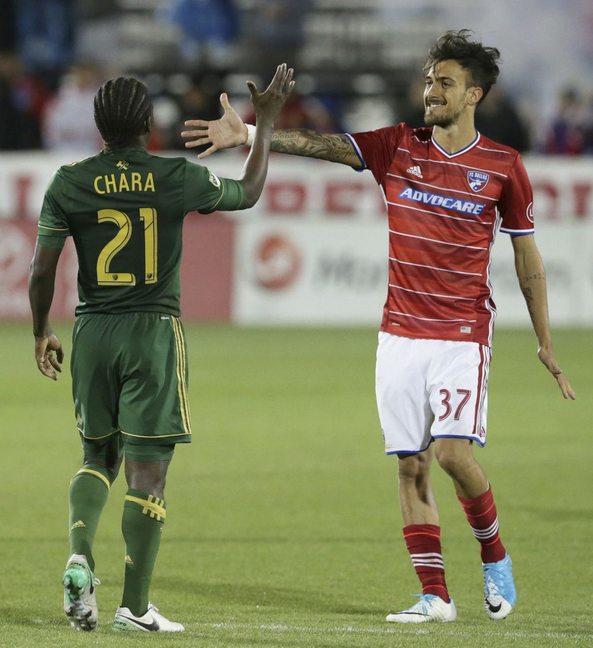 Thunder and lightning were crashing in Dallas as the Timbers clashed with FC Dallas on Saturday night. While the weather in Texas was a bit more akin to the volatile NW weather the Timbers players are used to, both sides didn't seem impacted by the wetness in the 2-2 tie.
The Timbers saw the return of Fenando Adi from his one-game suspension but were still without starting Keeper Jake Gleeson, who remains out with a hip flexor. The big absence however, was in the Midfield with Diego Valeri out with a "minor, grade one hip strain," which he suffered against Vancouver.
Some shuffling was required to make up for the absence of El Maestro, and that meant slotting Dairon Asprilla in on the wing. Sebastian Blanco was put in the Maestro spot, with David Guzman and Darlington Nagbe shouldering more as well. The new formation looked to be working well, as Asprilla earned a free kick, and Guzman found the head of Adi, putting the Timbers up 1-0 in the 30th minute.
Just like you draw it up. #FCDvPOR #RCTID pic.twitter.com/Zu7NSF135C

— Portland Timbers (@TimbersFC) April 30, 2017
Most of the action in this game was reserved for the second half though. Dallas was able to level the score off some guy named Max Urruti. Don't know much about the guy but his ridiculous goal to equalize in the 61st minute was reminiscent of a former Timbers player who left after the 2015 season.
We didn't have to wait long for a retort though, as Blanco became the beneficiary of some great passing and footwork from Nagbe, Alvas Powell, and sub Darren Mattocks. And I'm not trying to downgrade Blanco's contribution to this game. He stepped up to fill in a major hole, and his goal was a thing of beauty, as he made the extra touch to open some space, and blasted it to the right of the Keeper, as he made him move left.
Sebastián Blanco nets his first in Green & Gold. #RCTID #FCDvPOR pic.twitter.com/FfGEn30x0A

— Portland Timbers (@TimbersFC) April 30, 2017
The next goal would take even less time, coming just nine minutes later in the 80th minute, as the Dallas Defender, Hernan Grana, made a brilliant cross to Forward Tesho Akindele knotting the game up at it's eventual final of 2-2. The excitement wasn't over there though.
Jeff Attinella was making his second start in a row for the injured Gleeson, and kept the Timbers in this one late. He came up with a big save earlier in the second half, and another one again in the 85th minute. There's always some anxiety that comes with starting a backup Keeper, but Attinella came strong and keep the Timbers in this one.
Clutch.

Matchcenter: https://t.co/aQG13rT5PI #RCTID #FCDvPOR pic.twitter.com/KYzgL5kFmR

— Portland Timbers (@TimbersFC) April 30, 2017
Diego Chara also deserves to be mentioned as a the defensive-minded Midfielder once again proved why he's one of the league's best. He recorded six tackles in this match, and consistently shut down Dallas attacks before they could materialize.
.@DiegoChara21 ????

Matchcenter: https://t.co/CNH6chDMWC #RCTID #FCDvPOR pic.twitter.com/gH4D2e1l2K

— Portland Timbers (@TimbersFC) April 30, 2017
Next up the Timbers travel to San Jose to face the Quakes on May 6. Valeri should be available for that match, as well as Jake Gleeson. The matchup at Avaya Stadium will kick-off at 7 p.m. PST.