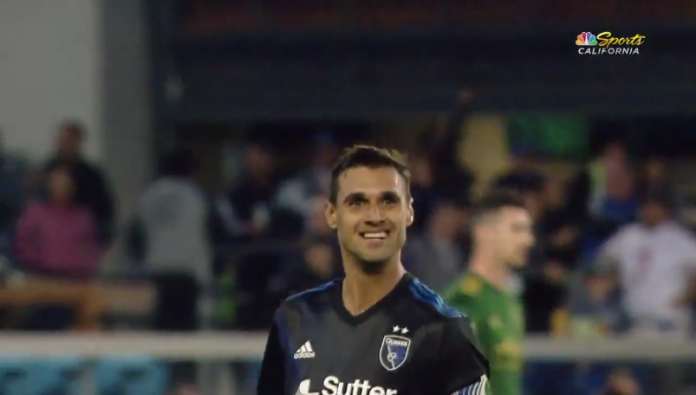 No Darlington Nagbe. No Diego Valerie. No problem, right? Well maybe not so fast. Turns out, yes problem. The Timbers came out with what can be described as a lackluster first half, and not a great second half, to fall to the Earthquakes, in San Jose, 0-3.
San Jose came out swinging, as they put their first goal in just eight minutes into this contest on a pile up in front of Portland's net. Backup Keeper, Jeff Attinella, making his third straight start, was helpless to stop the onslaught, and the defense couldn't clear.
Hyka… CHUUUUUUUUU. ⚡️⚡️⚡️⚡️⚡️⚡️⚡️#ForwardAsOne | #SJvPOR pic.twitter.com/teow4cCjLC

— San Jose Earthquakes (@SJEarthquakes) May 7, 2017
The first half was San Jose's though. They outshot Portland 11-5 with a whopping 7 of those being on target, while the Timbers only mustered one on San Jose Keeper, David Bingham. Bingham played well, but the real problem for the Timbers was Earthquakes Forward, Chris Wondolowski. Coming into this match he had scored eight goals in 12 matches against Portland. In the 31st minute he scored his ninth in 13 with a tremendous strike from just inside the 18-yard box.
Spot = picked. ???? Wondo doubles the lead!#ForwardAsOne | #SJvPOR pic.twitter.com/cgKcYSixog

— San Jose Earthquakes (@SJEarthquakes) May 7, 2017
The Earthquakes would go into halftime up 2-0 and thoroughly dominating the Timbers in the opening 45 minutes. This was definitely not the Timbers we are used to seeing this season. Even in their worst moments, they haven't been dominated in such a manner. Unfortunately, their woes continued in the second half.
Apparently not content with nine goals against the Timbers, Wondolowski put another one through ten minutes into the second half. This was helped by some very sloppy defending, and seemed like the Timbers defense was counting more on an offsides call than being in position. So, it's now 10 goals in 13 games against the Timbers for Wondolowski.
If there is anything that can be seen as a positive in this one was two guys got to make their Timbers debuts. Both Victor Arboleda and Jeremy Ebobisse got time on the pitch, which is a hallmark of a blowout such as this. Arboleda got a solid 27 minutes on the pitch, when he subbed in for Darren Mattocks. That's a good chunk of time for the 20-year-old Colombian.
Ebobisse, the fourth overall pick in the MLS Superdraft this year, subbed in for Fenando Adi with only seven minutes remaining. He's also 20-years-old, and was able to get some decent touches in the closing minutes.
While there is nothing to be happy about with a result like this, it's not the worst thing to happen. You're without two cornerstone Midfielders, and on your backup Keeper. While San Jose isn't exactly a stalwart, they are fifth in the Western Conference standings, and are a formidable team in a young season.
Up next the Timbers return home for a matchup with expansion side Atlanta United on Sunday, May 14th. This will be their only home game for the entire month, so if you're thinking of seeing the Timbers, you might want to see if you can get tickets to this one or wait until June 2nd.