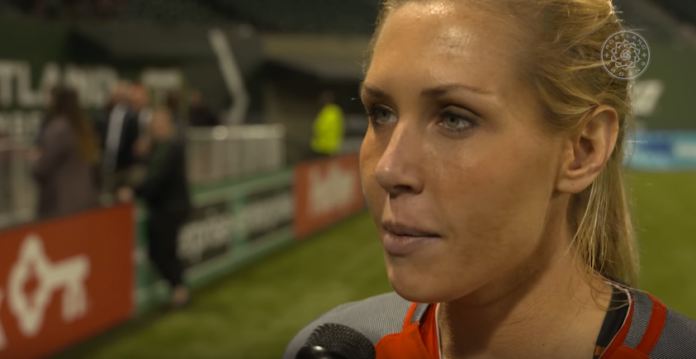 Well, this game didn't go quite like the last meeting between these two teams at Providence Park, which ended with a 1-0 Thorns victory. However, this one brought some serious action, and was definitely one that will go down in the history of this rivalry. Nothing like a good derby match on a beautiful day.
The fans did not have to wait long for a goal. Unfortunately though, the fans celebrating first were Seattle fans. Jessica Fishlock uncorked an incredible strike from just outside the 18 yard box to the top left corner. Thorns Keeper, Adrianna Franch, made an attempt to block it, but the shot was just too good. Just like that, the visiting Reign were up 1-0 in the first minute.
???????? = ???????????? pic.twitter.com/d5AqVmaPsv

— Seattle Reign FC (@ReignFC) May 7, 2017
Despite this early strike, the Thorns did not lose hope or look to be rattled. The Riveters sure didn't lose hope. They continued to be raucous the entire game, and prove why the Thorns have one of the best home field advantages in any league.
The Thorns continued to play their game, and had some decent crosses from the wings. The Seattle defense was ready though, and seemed to be playing with numerical advantages at times. Their Midfielders did well coming back and helping their Defenders swarm the ball. Although, this came to work in the Thorns favor.
Hayley Raso, who once again played with speed and was in perpetual motion, crossed a ball into the middle after a beautiful run down the right wing. Seattle's goal-scorer Fishlock was rushing back and did a great job of getting to the ball just after it passed Thorns Captain, Christine Sinclair. The only issue being her slide put the ball in the back of her own net. We were locked at 1-1 late in the first half.
36′ – GOAL! Thorns equalize as Raso crosses, Reign's Fishlock scores on an OG! It's 1-1!
????️ on @go90zone | https://t.co/p8EVBHbrkq #BAONPDX pic.twitter.com/mon8qfwEVz

— Portland Thorns FC (@ThornsFC) May 7, 2017
The home team's fortunes were short-lived however, as a mere two minutes later Seattle was back on top. Seattle's Rebekah Stott broke in on the right wing, and threaded the Thorns Defenders, ultimately getting the ball to teammate Merritt Mathias, who put home the go-ahead goal in the 39th minute. Seattle would remain in the lead into the break.
✌️✌️✌️ #PORvSEA #LetItReign pic.twitter.com/JKtv74d76W

— Seattle Reign FC (@ReignFC) May 7, 2017
There's a few ways a team can go when getting scored on like the Thorns did in the first half, especially when it comes to what's said at the half. The Thorns took the path of a veteran laden team who can't get rattled that easily. "It was the calmest halftime and conversation that we've had," said coach Mark Parsons. "Not just me but the whole changing room."
It proved valuable for the second half. The big change was Meghan Klingenberg starting the second half with Meghan Cox coming out. Klingenberg, who's been dealing with a hamstring injury, was on the bench last game, but did not see any action. You could tell she had been itching for game time.
The whole Thorns defense looked better in the second half though. With the Two Emily's, Menges and Sonnett, in the middle, and Klingenberg and Celeste Boureille on the outside, they shut it down. This was no easy task, as the Thorns were pushing for an equalizer, exposing themselves to counters.
A couple times in the last ten minutes Menges shut down sure rushes, or a developing attack with strength, grit, but was also smart to not go about it in a manner that would get her a card. It was brilliant defending, which was also much needed, as Seattle was really pressing for that insurance goal. That would never come though.
Raso, this time on the left wing, got some space and made a great cut toward the box. Her cross went off a Seattle Defender, but popped right out to Klingenberg who made a nice chip into the middle. Allie Long, came in like a heat-seeking missile, heading the ball to the under side of the crossbar, and we were once again tied, this time 2-2.
.@ALLIE_LONG = Clutch. #BAONPDX pic.twitter.com/nx565vd1Lw

— Portland Thorns FC (@ThornsFC) May 7, 2017
No better place to score a big goal, than in front of the Riveters. Long, and Raso, had an incredible game all-around, posting 95.2% on 62 passes, which is insane. The Captain had a chance to grab an unreal go-ahead goal in the 90th minute, but was stopped by a Seattle Defender on the goal.
It was a very back-and-forth game between two very good teams. I thought Amandine Henry had a great game in the midfield as well, on both sides of the ball. Things were getting a bit aggressive out there at times, with Long and Henry getting fouled hard a couple times. However, neither made rash moves, or went for hard retaliations that could ultimately hurt the team through cards or ejections.
While three points would have been nice, this was a good result. Seattle came out strong, and really commanded the first half, but the Thorns didn't falter or back down. They kept their composure and battled the whole game – all without Tobin Heath, who remained out with a back injury. They also stayed unbeaten at Providence Park in their last seven regular season games.
Up next the Thorns travel to Kansas City for a Saturday, May 13th matchup with FC Kansas City, before returning home for two against the Boston Breakers on May 19th and 27th.