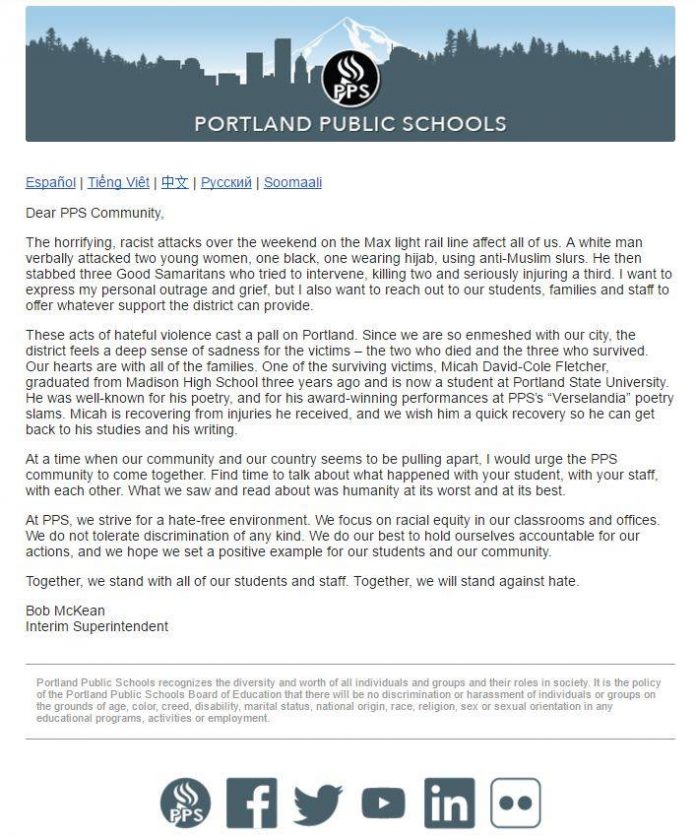 This email was submitted by one of our contributors who would like to remain anonymous, so I am post this on her behalf with the message below this call to action from the Portland Public Schools Interim Superintendent.
"At a time when our community and our country seems to be pulling apart, I would urge the PPS community to come together. Find time to talk about what happened with your student, with your staff, with each other. What we saw and read was humanity at its worst and at its best." – Bob McKean, Interim Superintendent
I would personally like to applaud Portland Public Schools for confronting these evil acts of hate, while providing as much support as possible for the community during this time of "outrage and grief."
Here is the personal message from the anonymous contributor, who is a proud parent of two students that attend Portland Public Schools:
"Portland Public Schools administration has been incredibly protective of all children in the school system regarding issues surrounding the politics of heritage. Regardless of national and internal politics and budget debates, the acting superintendent has been extremely sensitive to the needs of all children. This is not the first time. When Trump took office, parents received an email stating that if any immigration officials showed up on school campuses, emergency lock-down protocol would go into effect and no child would be removed from the premises. Knowing that my children and their peers are safe, regardless of how they came to be enrolled, is very reassuring in these complicated times." – Anonymous Parent of Portland Public Schools Student(s).