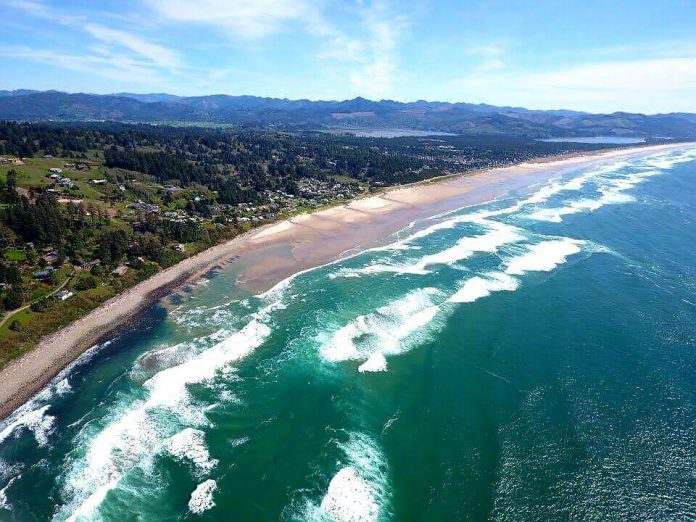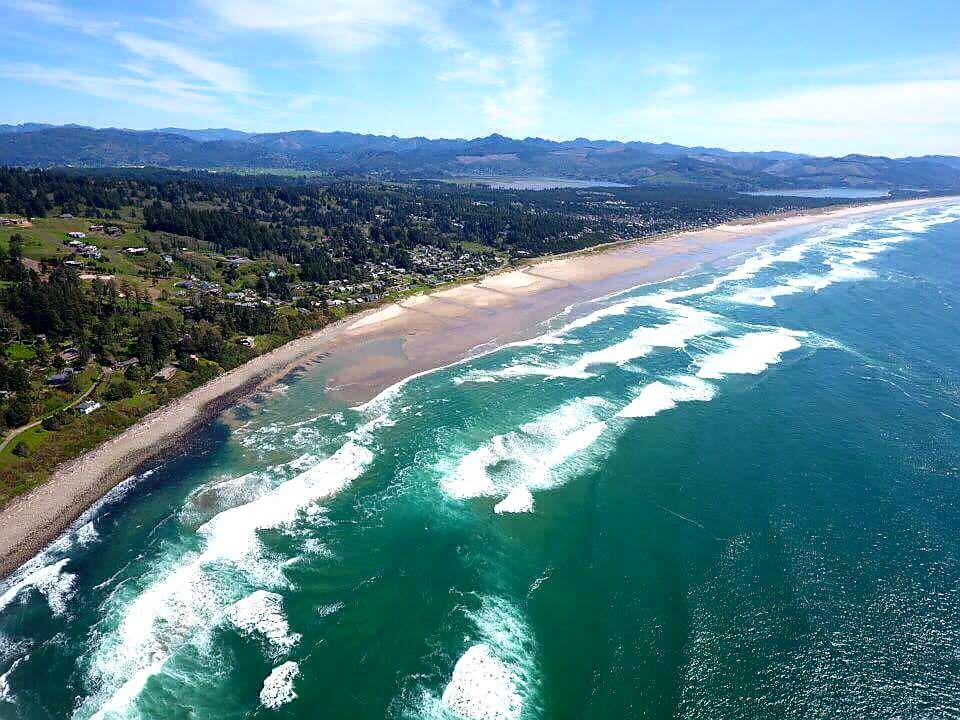 Oregon Ocean Day is going to be the biggest little beach cleanup ever. That's right folks, I said biggest little beach cleanup ever, because we will not be picking up big pieces of trash, we're only picking up small plastic fragments that are washing ashore, and we're encouraging all Oregonians across the nation to join the fun. After all, Oregon is not just a State, it's a state of mind.
This will be the largest plastic fragment beach cleanup of its kind in Oregon. You will not get dirty and it's free to come have great time healing Oregon's coastline. Come enjoy a walk on the beach and make an impact at the same time. Join us for this monumental event on June 11th along the Oregon Coast.
We will be stationed in Manzanita Beach, with satellite teams up and down the entire coastline. Our mobile eco-command center on-board JMI's GROUND FORCE #1 Party Bus will also be in Manzanita, Oregon ready to rock out with all the volunteers. Get ready for the most fun beach cleanup you've ever seen.
Oregon Ocean Day Celebration
Getting involved is fun and easy too, just pick up some plastic as you enjoy a peaceful walk on the beach. Ocean Blue Project will be hosting the Oregon Ocean Day Beach Cleanup Celebration in Manzanita, Oregon on June 11th from 1pm to 4pm on the beach.
Who: Ocean Blue Project & Volunteers Like You!
What: Oregon Ocean Day Celebration 
When: Sunday, June 11th, 2017 – 1 pm to 4 pm
Where: Manzanita Beach, Oregon (110 Ocean Rd, Manzanita, OR 97130)
Why: Celebrate Cleaner Oceans & Clean up Plastic
SIGN UP: Tickets are FREE, Online Waiver Here
More Information:
All volunteers must complete sign up waiver form on Ocean Blue Project. All ages welcome; minors under the age of 18 must be accompanied by an adult. No drop-offs, please. Community service hours can be awarded if requested, and groups welcome. Items you will not want to forget: Refillable Drinking Container, Warm Clothing, and Rain Gear!
No Plastic Bags, Please
Ocean Blue will provide drinking water, gloves, reusable collection containers if possible because we do not use plastic bags at our clean ups.
Upcycling
This year, we will be sending the Oregon beach plastic to be upcycled into shampoo bottles for P&G's Head & Shoulders because keeping the rubbish out of landfills is priceless.
Sign Up Now
Sign up online to complete the required waiver form using Ocean Blue Project's Google Sign Up Form or call (541) 286-7015 for assistance.
The Bigger The Better
That Oregon Life is sponsoring this cause that Ocean Blue is making possible. Ocean Blue Director Richard Arterbury stated that with local support, we plan to open 15 plastic fragment collection sites on the Oregon Coast. The project of collecting beach plastic and shipping the fragments to be made into reusable products has grown and Ocean Blue will need donations and support to expand efficiently and carry out this ocean of a cause.
Our last event with Ocean Blue was so big—together we reached over 1.3 million people—and even Governor Kate Brown proclaimed it to be a Statewide Beach Cleanup Awareness Day. Let's keep the momentum going and have even more fun making a difference. Here is a copy of the proclamation signed by Governor Kate Brown that your support has garnered.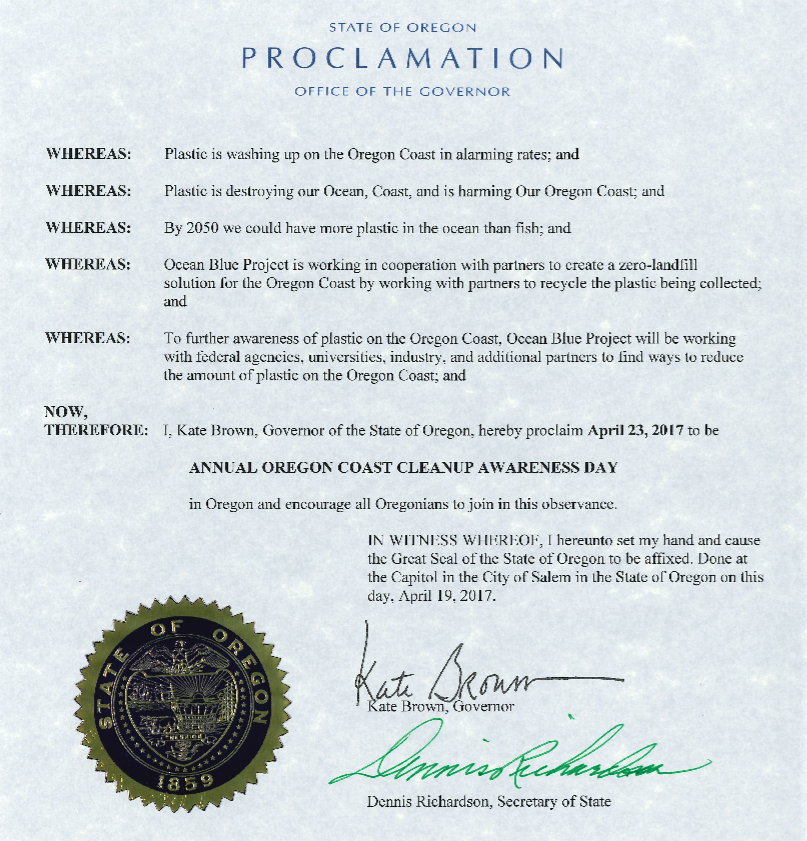 Oregon-Minded organizations behind this coastal clean up effort:
Ocean Blue Project
That Oregon Life
Total Market Exposure
Patagonia
LOOPTWORKS
Starkwood Chiropractic
Oregon Active
Tillamook Cheese Factory
The Healthy Foundation
JMI Limousine
Redefyne Moving
The American Flag Store
P&G
Head & Shoulders
Terracycle
Clean Ones
Kinco