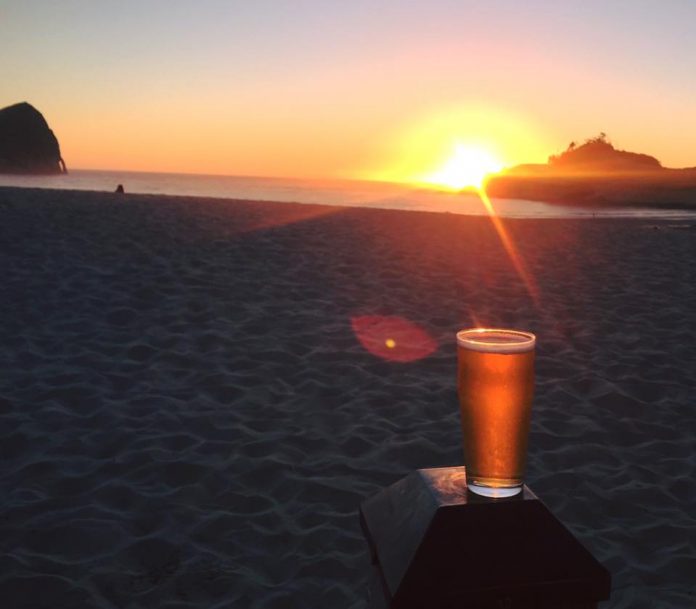 Do you love drinking refreshing Oregon brews while eating fresh Oregon salmon? Then you need to to drink more beer!
Beer it Forward
Tillamook County's own Pelican Brewing Company is celebrating American Craft Beer Week and supporting Oregon coastal habitats with their new Five Fin west coast pilsner. Made with both Pacific Northwestern and German hops, a portion of proceeds of sales of this bold beer will go to support a massive habitat restoration project on Oregon's North Coast called the Salmon Superhwy project. Pelican Brewing invites Oregonians everywhere to #beeritforward (think "pay it forward") by buying a Five Fin pilsner and performing simple acts of kindness in your community.
Pelican Brewing co-founder Mary Jones said, "We know we are more than lucky to live and work in a place as beautiful as Tillamook County, and at Pelican we don't take our environment for granted. Pelican has long invested both time and money in programs designed to protect this beautiful area. Among other environmental and sustainability initiatives, we are proud to support the Salmon Superhighway and encourage the private business community to join us in this important endeavor."
Born at the Beach
Founded in 1996 in Pacific City, Pelican Brewing was truly "Born at the Beach" with a passion for quenching Oregonians' thirst for great beer. Now, they're one of the most popular brewing companies in Oregon.
That's why we're excited to announce that Pelican Brewing Company is providing adult beverages for volunteers over the age of 21 to sample at the Oregon Ocean Day Beach Cleanup Celebration on June 11th from 1pm to 4pm in Manzanita, Oregon. We will picking up smaller microplastic fragments that are easy to pick up, so you will not get dirty. Plastic collected on Oregon Ocean Day is going towards our efforts to make world's 1st recycled shampoo bottle for the world's #1 shampoo brand, P&G's Head & Shoulders.
Salmon Superhwy
The Salmon Superhwy project is expected to last until 2024, and is a "strategic, comprehensive, intensive effort across a six-river landscape to reconnect fish populations with the habitat they need by updating road crossings and other barriers for absolute maximum return on investment." The ten-year project in the Tillamook-Nestucca watershed will help not only the populations of five different species of fish, but will also create about 400 jobs, boost tourism and the dairy industry with improved roadways, and ensure the future of fishing for these iconic Oregon animals.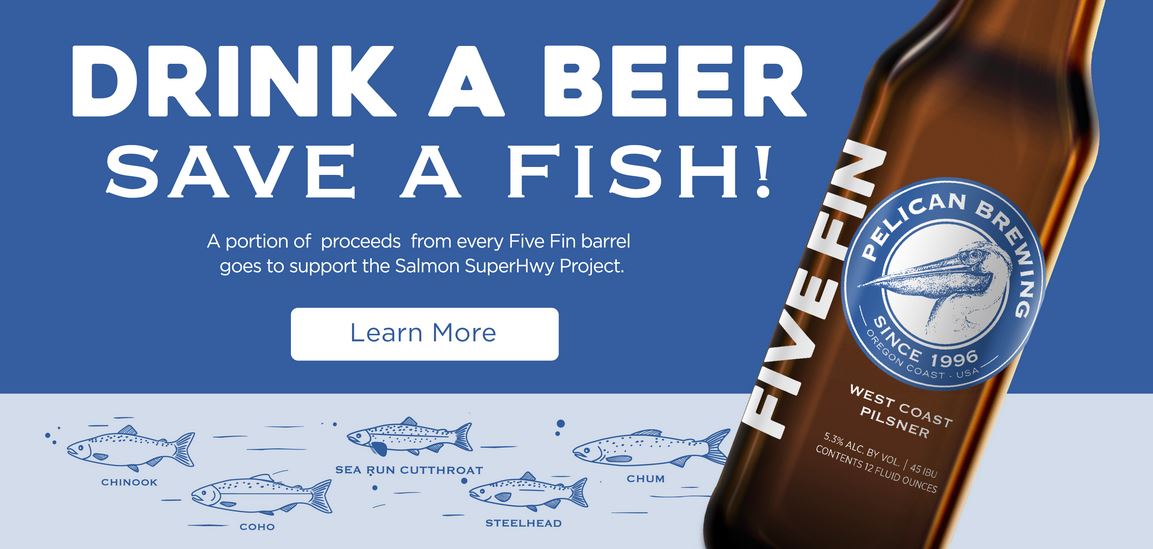 Pelican Brewing P.A.C.T.
The secret volunteer team at Pelican Brewing, called the Pelican Action Cleanup Team (P.A.C.T.), just finished cleaning up a road yesterday, and now they are saving salmon, one beer at a time.
Are you ready to beer it forward? Visit on of Pelican Brewing's three brewpubs on Oregon's coast or stop into your favorite bottle shop for a Five Fin pilsner.