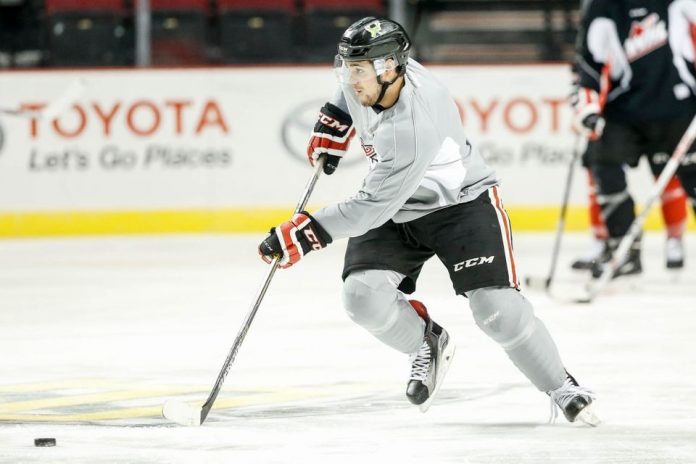 Starting against the B.C. Division champs, on the road, and after sneaking into the playoffs late in the season. Not too many people gave the Portland Winterhawks a chance in their opening round matchup. They didn't play like underdogs though.
I'm not sure what happened between Games 3 and 4, but something got into this team. Maybe it was getting beat by a combined 11-2. Or maybe it was realizing they actually started this series out with putting up four goals, away, and stealing home ice advantage? I don't know, and at this point don't really care, because the Winterhawks are playing amazing hockey.
It's been pretty at times, and hard-fought slugfests at others. They've gotten some nice leads, blown them, yet still fought back and won. It's been some very entertaining hockey to watch, and Monday night at Veteran's Memorial Coliseum it was no different.
The Prince George Cougars came out with some intense pressure from the opening faceoff, after all they were fighting for their playoff lives as well. The Winterhawks weathered the early storm, and really amped up the pressure in the final half of the opening frame. They went into the first intermission locked in at zeros, but an entertaining 20 minutes.
Like has happened so many other times in this series, one side had to breakthrough and spark on onslaught. Luckily for Portland, Colton Veloso uncorked a Hell of a shot, which fooled everyone into thinking it was off the crossbar. However, upon further review, it was ruled a goal, and we were off to the races.
Ryan Hughes, not wanting to be left out, and wanting to make Momma Hughes happy, got in on the scoring a couple minutes later. The Forward shoveled a backhand at a sharp angle and beat Cougars Goaltender Ty Edmonds. Winterhawks up 2-0 and Momma Hughes throwing out hugs!
.@r_hughes21 makes it 2-0! @pdxwinterhawks trying to take control of Game 6 on home ice. #PGvsPOR #WHLPlayoffs pic.twitter.com/1tBk08G7tS

— #WHLPlayoffs (@TheWHL) April 4, 2017

Alex Overhardt, made it 3-0 Winterhawks on a Power Play less than five minutes later, and Portland was off and running. After 40 minutes the Winterhawks were up 3-0, dominating shots at 33-18, and rolling to victory.
Make it 3-0 in the 2nd. Alex Overhardt adds another for the @pdxwinterhawks. #PGvsPOR #WHLPlayoffs pic.twitter.com/YdcwULlCkD

— #WHLPlayoffs (@TheWHL) April 4, 2017

The Cougars would get one back shortly into the third, but, like they've done so much in Games 4 and 5, the Winterhawks bent but did not break. Captain Keegan Iverson got the three-goal lead back off a nice pass from Skyler McKenzie.
Captain @iverke says, "NOPE." He replies 1:07 after the Cougars get on the board. It's 4-1. #PGvsPOR #WHLPlayoffs pic.twitter.com/BxOjM66cT5

— #WHLPlayoffs (@TheWHL) April 4, 2017

With just over a minute to go, Prince George brought the lead back to two, scoring on a Power Play, but it was long over by then. Horn blew, Winterhawks win 4-2, and take the series by the same margin.
Once again it was a full team effort with eight Winterhawks registering at least one point. Goaltender Cole Kehler looked sharp once again stopping 35 of 37 Cougars shots, and grabbing First Star honors. For a team with a dominate first line, they sure have spread out scoring and played some solid defense when it mattered most.
I don't want to take anything away from Prince George. They had an incredible season and were by no means pushovers. Ty Edmonds was incredible to watch, and I think he has a bright future. They had a great season to build on, and I wouldn't doubt to see them contending for the B.C. Division for awhile.
Next up for the Winterhawks are the Kelowna Rockets, also from the B.C. Division. I will have a playoff preview up later this week. The series starts Friday in Kelowna.