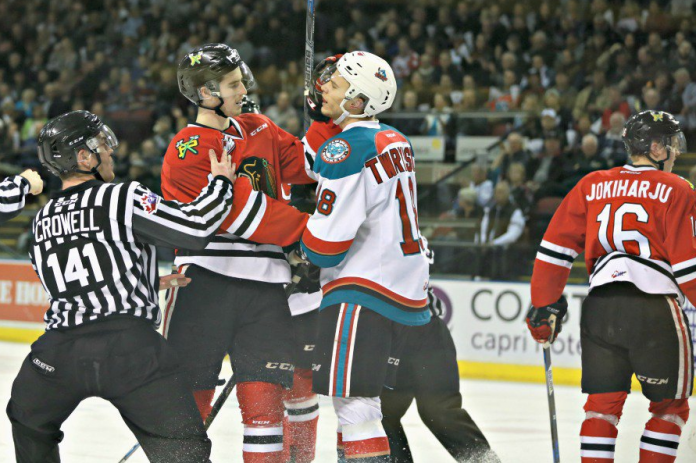 For some reason, the second period seems to be the downfall for the Winterhawks in these playoffs, and it was once again Wednesday night. After coming off a much-needed, and impressive, Game 3 victory, the Winterhawks dropped Game 4 on their home ice by a score of 7-2.
Like the other Winterhawk defeats, the game started well. Kelowna scored just under two minutes into the game, but Portland responded well, amping up the pressure toward the end of the opening period. Shots ended with them up 15-13 in shots, but then came that dreaded second period.
I try not to blame poor officiating on a loss, and I won't do that here, but this was some of the worst I've seen in a hockey game, ever. All around too. From penalty calls, to icings, to even allowing Kelowna to make a line-change after they iced the puck, the reffing was atrocious. It also allowed the game to get out of hand, with both sides trading dangerous hits.
Kelowna poured on five more goals in the second period, two on the Power Play and one on a Penalty Shot, which should not have happened as the Penalty should not have been called. The Winterhawks Defenseman mugged Kelowna Forward, Nick Merkley, but was also with him the whole way down the ice. As I said, atrocious. Again, not why Portland lost though.
Once again, the Winterhawks were unable to stop the momentum swing when their opponent got on a roll. The Penalty Shot goal was one of three goals scored in an eight minute span. The bleeding started and it couldn't stop. It was 6-1 to end the middle period, and if you can believe it, the third may have been the worst yet.
Since referees Colin Watt and Brett Iverson decided they were going to be inconsistent at best, the players decided to settle scores. Twenty-four penalties were called in the third, mostly Roughing, with seven of those being Misconducts. Great job guys. Calling that even an adequate officiating job would have been an insult. The only good thing was no one got severely hurt.
Cole Kehler was pulled after the second period, and while he gave up six goals on the scoresheet it was not all his fault. He was hung out to dry with odd-man rushes a-plenty, and Kelowna scoring one goal after Kehler had already made three saves. He did as well as anyone in that situation could have.
The Winterhawks will be getting Alex Overhardt back from suspension, but will be without Evan Weinger due his suspension. Kelowna will lose Carsen Twarnyski as he boarded Winterhawks Captain Keegan Iverson, in the third period…with a five-goal lead.
One thing is for sure: no matter how Game 5 turns out in Kelowna, there will surely be some fisticuffs to go around, especially if this poor officiating keeps up.